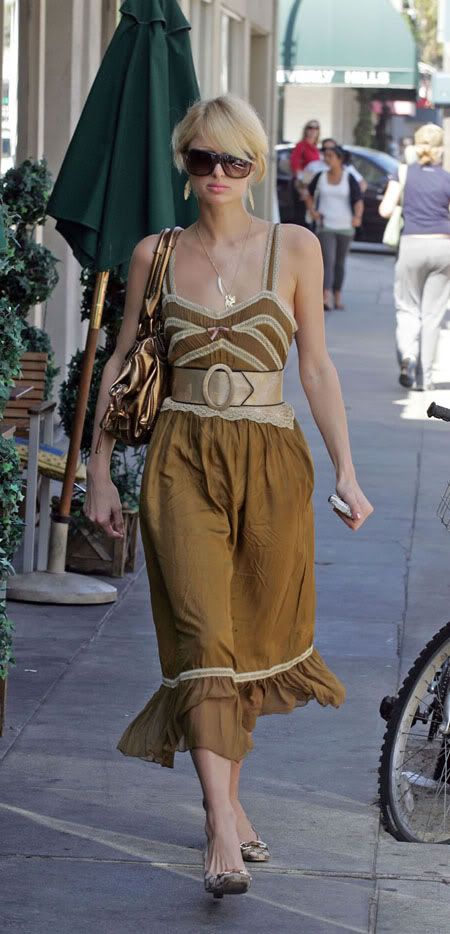 British singer Charlotte Church has a new talkshow in the works, and she wanted to book Paris Hilton for her first show to be aired this Friday. Instead of doing the show to, I don't know – promote her album – and asking for travel fees and expenses, Paris demanded £350,000 which is $662,000. (The article says that £350,000 is $442,000 USD, but that's incorrect.
Church balked and said that the fee was akin to buying a large house and that they'd have to do without Paris:
Charlotte, whose debut TV show begins this Friday on Britain's Channel 4, said Paris wanted the "obscene" amount to be interviewed.
She told Britain's Radio 1, "We asked Paris to be on the show. I thought it would be funny to make fun out of her because she's such an airhead but she wanted a ridiculous amount of money. Having her on would have cost us the price of a big house–£350,000. It's pathetic. It's not as if she would say anything earth changing."
Paris got 1/2 a million for showing up to a charity event in Austria, which is her definition of "working hard," so she probably thought the fee was justified. Maybe Paris can blame the failure of her new album on talkshows' unwillingness to meet her exhorbitant appearance fee.
Despite the strong showing of its first digitally airbrushed single, "Stars are Blind," Paris' album is tanking on the charts and is widely perceived to be a flop. Oh well, she'll still make money as long as she can slap her name onto shit.
According to The New York Post Paris Hilton's first music CD is being viewed as a failure!
Although the single Stars Are Blind made boom when first released, the CD as a whole isn't that much of a success!
The album sold 75,000 copies in the United States – a small number compared to Christina Aguilera's first-week sales of 320,000, according to Soundscan.
They also say that with no tour, Paris will not be able to pick up the album sales! The reason for that they say: "Obviously, she can't sing live."
Paris might not be able to sing live, but you see a lot of pictures of her all drunk with a microphone in her hand. You have to give the girl credit for trying.
Here she is at a nail salon and going to lunch with sister Nicky and shopping with Kim Kardashian. Paris' other BFF Caroline D'Amore must be feeling left out. Kardashian has a lot of junk in the trunk.[via]