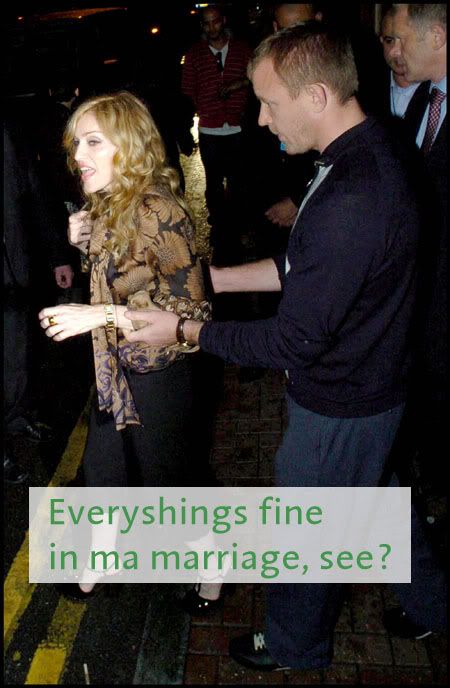 Madonna and her husband Guy Richie, who was once a director but became a stay-at-home dad after Madonna's influence ruined his career, have been plagued by breakup rumors for ages. In mid-May Madonna was seen out without her wedding ring, while Guy decided to take a month-long extreme sports vacation with some of his buddies.
Madonna said in an interview that she felt like a crap mother because she wanted to focus on her career, while her father-in-law speculated that she and Guy would stay together for their kids. Now Madonna has admitted that Guy doesn't really like her music and is not a fan, and that she really misses being single. In fact she sounds positively wistful for her old life without a family:
Madonna has admitted that her husband Guy Ritchie is not a fan of her music.
In an extraordinary interview published in France, the pop queen also said that she misses her single days when she could go out alone.
Talking about her recent hits, Madonna said her children Lourdes, 9, and Rocco, 6, were the only members of the family who really appreciated them.
"My children adore all that I do, they love dance music. My husband isn't a great fan," she admitted.
Madonna also confessed that family life could sometimes be stifling. She said: "Of course I regret losing the freedom of being able to go out alone to a club – dancing alone on a darkened dance floor without anyone to disturb me or to draw attention to me.
"I regret not being able to take advantage of such anonymity."
Madonna added: "Last week I went to a club where I danced with lots of my friends. It was very enjoyable.
"In turn, I go out from time to time with some of my dancers. Not every night, of course. I have a family."
Asked if she would rather spend a night at home, or go out for a "mad night" in a club, Madonna replied: "The small amount of free time that I have I reserve for my children. There's the ice rink, pizza, DVD or a horse ride with my daughter.
"That might seem boring to you, but that's how it is. The times have changed for me."
Madonna, you're 48 years old. This is how it is when you have a family. Get over it.
Meanwhile Guy and Madonna are reportedly fighting about schooling for their children. Madonna is dragging them all over the world on her tour, while Guy wants them to stay in England and have some continuity in their education:
Guy has grown increasingly unhappy with his wife taking Lourdes, nine, and five-year-old Rocco with her on her current "Confessions" world tour.
The "Snatch" director is reportedly fed up with the constant upheaval and has demanded the children be left in one place when the new school year begins next week.
A source told Britain's The Sun newspaper, "The kids already have schools in London and Los Angeles which they float between. Madonna thinks it's good for her children to be with mom and see the world but Guy disagrees-he's more traditional. It's causing a lot of tension."
Guy has put up with a lot of shit from Madonna over the years, but it sounds like he's putting his foot down on this one. How much longer do you think these two will last?
Here are Madonna and Guy after her 48th birthday party on August 16th. They look like everything is just fine. [via]