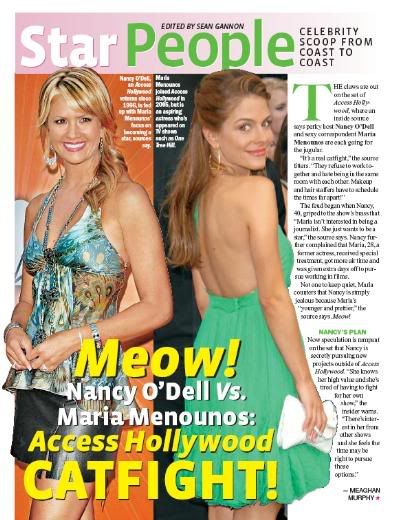 – Save up to 70% at the annual summer clearance sale at our advertiser, LEO Miami [LEO Miami]
– Access Hollywood hosts want to throw down! [I'm Not Obsessed]
– Paula Abdul's drunken Emmy night interview [Mollygood]
– Madonna ripped off the song and the style for her "Frozen" single. Agent Bedhead finds the evidence. [Agent Bedhead]
– "Trust the Man," the new film with David Duchovny, Julianne Moore, and Maggie Gyllenhaal is like having steak for dinner and a twinkie for dessert [Pajiba]
– Michelle Rodriguez and her girlfriend [Hot Momma Drama]
– Maggie Gyllenhaal at the premiere of "Sherrybaby" [In Case You Didn't Know]
– Natalie Portman dresses too young. [Bastardly]
– "World Trade Center" movie to donate $1.3 million to the September 11th memorial [Celebrific]
– Kid Rock is a pinhead [Cityrag]
– Kristin Cavallari wears a T-Shirt that says "You can have him," which would make a good dress for Nicole Richie [PopSugar]
– CNN Anchor Kyra Phillips talks smack about her sister in-law in the bathroom, gets it broadcast live on CNN. oops. [Glitterati]
– Britney Spears terrorizes Tokyo with breasts half their size [Metadish]
– Rosario Dawson licks a tiny thong [Popoholic]
– Beyonce's near nip-slip [yeeeah]
– Katie Holmes' secret plan to escape with Suri! [popbytes]
– Don't lose your summer romance, preserve the magic with neurotic obsessive behavior [College Humor]
– Artist shows that he doesn't know what baby crap looks like when he immortalizes Suri's poo [Celebrity-Babies]
– Uma Thurman is still with Andre Balzas so who is she kidding with all that talk about having trouble finding a date? [Celebrity-Moms]
– Jessica Simpson in yet another bad outfit at the skating release party for her CD [Jordan is your Homeboy]
– Pink wants to be a housewife [Celebguru]
Header picture from Glitterati.