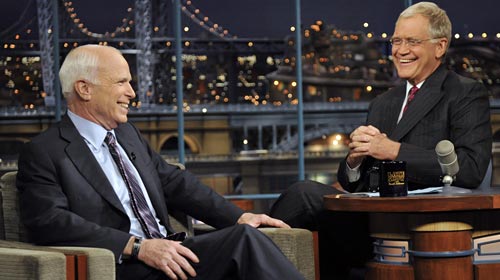 "Senator John McCain is on the show tonight…ehhhh, maybe I won't show!"
That's how David Letterman announced that Republican Presidential nominee was a guest on Thurday night's show, going on to say that he had Joe the Plumber booked for tonight's show, but he cancelled to do an interview with Katie Couric. No one thought Letterman was going to let McCain off easy, did they?
Dave prefaced McCain's appearance by once again rehashing the story of the Senators snub in the midst of the financial "cratering". Letterman also showed a stone-faced Keith Olbermann, who pinch hit for McCain last time, waiting in the studio wings to come on at a moment's notice. Before going to commercial, Dave brought up the undecideds still out there, who could go into the voting booth next month and start to pull the lever for McCain and think, "Wait, maybe not, I don't like that thing he did to Letterman, and I had to sit through two segments of Keith Olbermann."
But McCain came to the couch with a smile on his face, seemingly happy to face the music Letterman was going to play for him, shaking hands and giving a friendly hug to Dave. When Dave asked if he could stay, McCain said it depends on how bad it gets, with a laugh. Then, in a hell of a good natured admission, when Letterman asked him what happened, he said "I screwed up!"
As much as Letterman asked him, nicely, I might add, what happened, McCain never tried to roll over anything, he just straight up kept saying he screwed up. He also threw in there that he has had so much fun since his last interrogation, which drew an uneasy laugh from the studio audience.
McCain took the opportunity to apologize to Joe the Plumber, who has been inundated with reporters and telephone calls after being made the overwhelming star of the Presidential debates on Wednesday evening.
Dave gave McCain alot of crap for the missed show, but he also asked him some serious questions, most of which got answers fairly verbatim from the previous night's debate. They're talking points, and that's what all politicians do during election time, stick to the book so nothing that could come back to bite you in the ass comes out. When asked if Sarah Palin could come on the show, McCain said he would see what he could make happen, explaining there are only 19 days left until the election and she's campaigning very hard. Letterman was obviously, and relentlessly, picking at McCain for his choice of Palin as a running mate, but McCain never broke rank. There was a spirited debate about Obama and William Ayers, as well.
Senator McCain promised to make his first executive order an increase in David Letterman's taxes, and said he would personally see to it.
Note by Celebitchy: Here are links to the full interview on YouTube. It's a shame that Redlasso is still down and I would have preferred to see it there, where you know the clip is never going to disappear:
John McCain on David Letterman 10/16/08, Part 1, Part 2, Part 3, Part 4