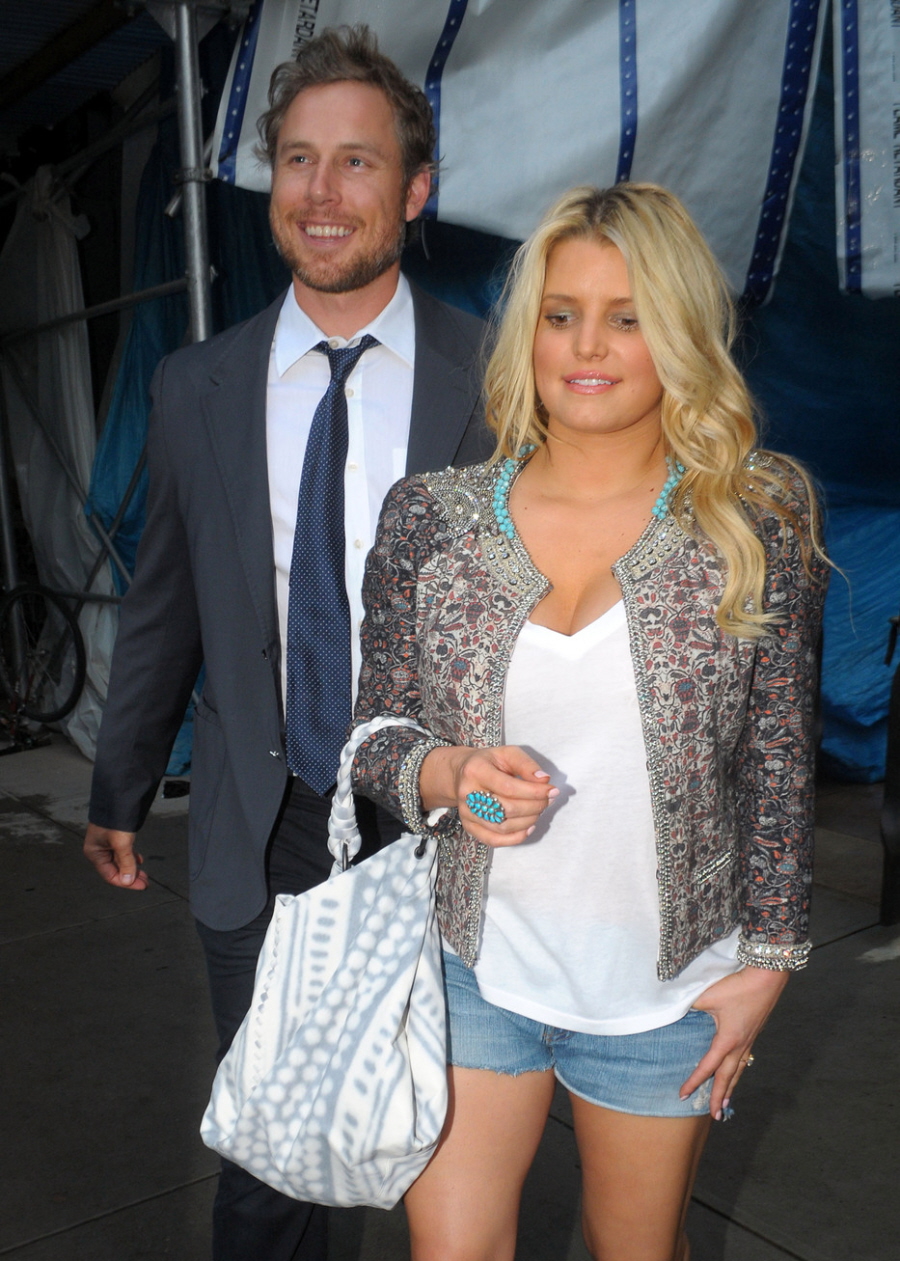 I haven't been paying much attention to Jessica Simpson lately. In my mind, she's been keeping a much lower profile over the past month, and she's been taking pains to not shove her engagement to her K-Fed in our faces. It's been kind of nice. Now, I don't really think these tabloid stories are Jessica's doing at all, mostly because they make her look so… pathetic. But there are several tabloid stories this week, so either the tab editors were just bored, or there really is some trouble in gold-digger paradise. First up – a sketchy interview with Eric Johnson's ex-wife's aunt. The aunt believes Eric is a famewhore who is only with Jessica for the money and attention. Oh, and the aunt believes her niece (Eric's ex-wife) is utterly blameless is everything:
Jessica Simpson does not look like an ecstatic bride-to-be – and things may only get worse! Along with a recent public meltdown over her weight struggles, Star has learned from family members close to Eric Johnson's ex-wife, Keri, that Jessica's future husband may not have the best intentions.

"I think Eric is marrying Jessica for all the wrong reasons," Keri's aunt, Laura Dangelo, tells Star. "All he is after is fame, and I think he's probably just using her."

The troubled six-year marriage between Eric and Keri ended so bitterly that she even returned a dog he gave her as a present!

"Keri is decent, loyal and hard working, their divorce really had to have been because of Eric – he always wanted more fame," says Laura. "I believe it was his narcissism that ended their marriage. If he couldn't make it work with Keri, I don't know how he'll make it work with any other girl."
[From Star Magazine, print edition]
Look, I don't think much of Eric either. But I'm not going to automatically believe that his ex is totally innocent and blameless either. Eric and Keri were separated (and headed for divorce) when Eric met Jessica. It's pretty obvious that in his mind, he was totally available. The way Keri and her family keep going on and on about this stuff looks really cheap and tacky. Besides, I don't trust a person who refuses to keep a dog that was given to her by her ex. You throw out your ex – not the dog. (Sidenote: that puppy has a new mommy – Jessica has adopted him!)
Next up: In Touch Weekly makes some claims about Jessica's pre-nup. Remember, she's a billion-dollar industry! That's a lot of chilidogs at stake. According to their source, Jessica wants a "no cheating" clause in the prenup, meaning that if Eric bones somebody else, he gets nothing.
With celebrity couples breaking up left and right – not to mention her own split from Nick Lachey in 2004 – it's no surprise Jessica Simpson is having fiancé Eric Johnson sign a prenup before their November 11 wedding.

But with her billion-dollar empire at stake, Jessica isn't taking any chances, and has put a strict no-cheating clause in hers.

"Jessica's biggest fear is that Eric will stray, so she insisted on that specific clause in her prenup," a friend reveals. This should put a stop to all those dumb blonde jokes, right?

"She's being fair with Eric in case things don't work out, but he won't get anything if he cheats."
[From In Touch Weekly, print edition]
I've never really understood those kinds of clauses in prenups. I just don't get how they're enforced. Yeah, an affair can and will be used as leverage in a divorce proceeding, but I don't think some of the specialty clauses really mean much in an actual divorce proceeding.
Last story: Page Six had a funny little item today about Jessica. She "crashed" a party in NYC, and she was only wearing shorts, a t-shirt, clogs and no makeup. She told Page Six, "I walked in here with sunglasses on my head, and I was, like, 'Oh, my! I have no makeup on.'" Then, "When fotogs asked Jessica to pose, a friend snapped, 'No pictures! She has no makeup on.'" Have you ever seen Jessica without makeup? She's really pretty. But that's a Southern thing… a lady should never be photographed without her face on.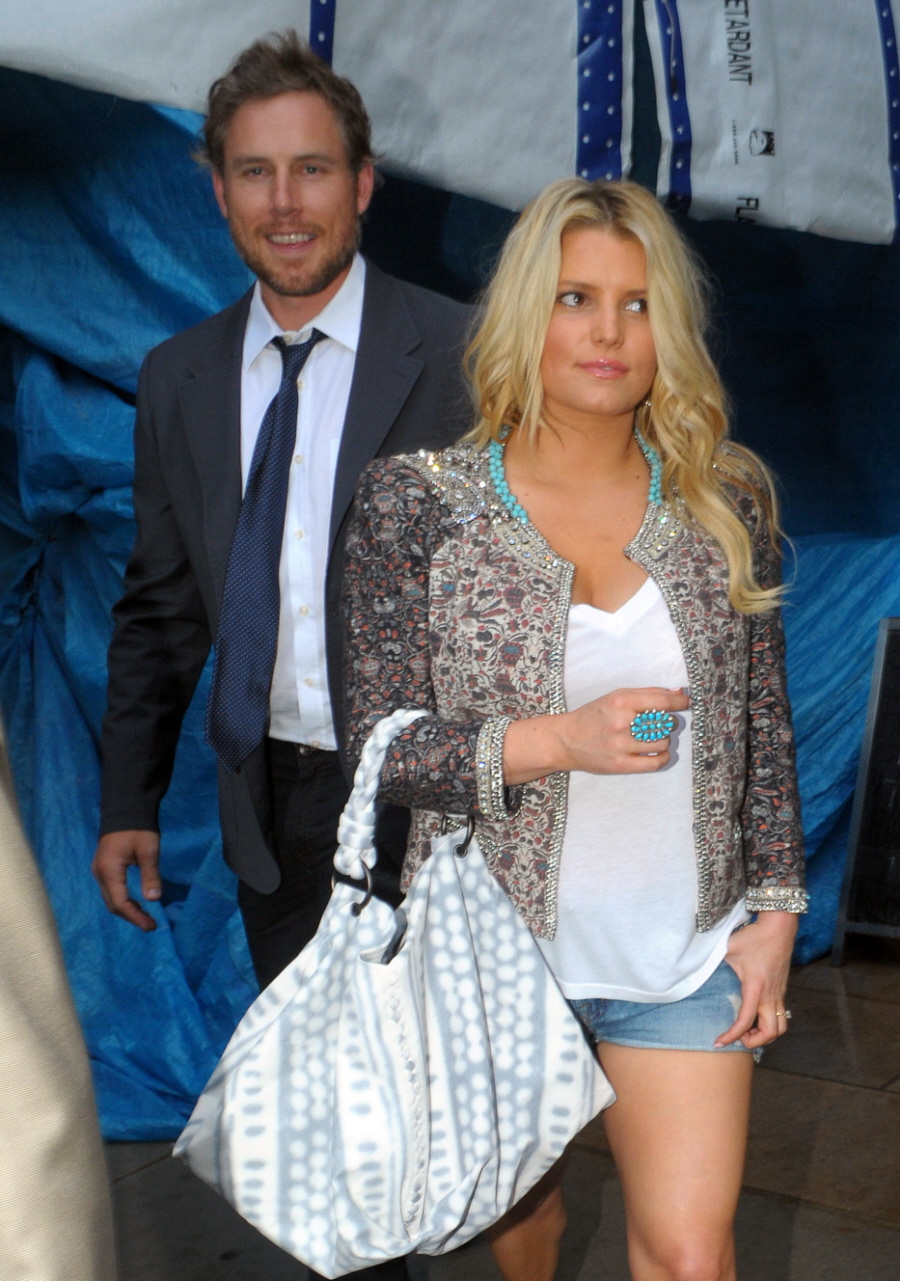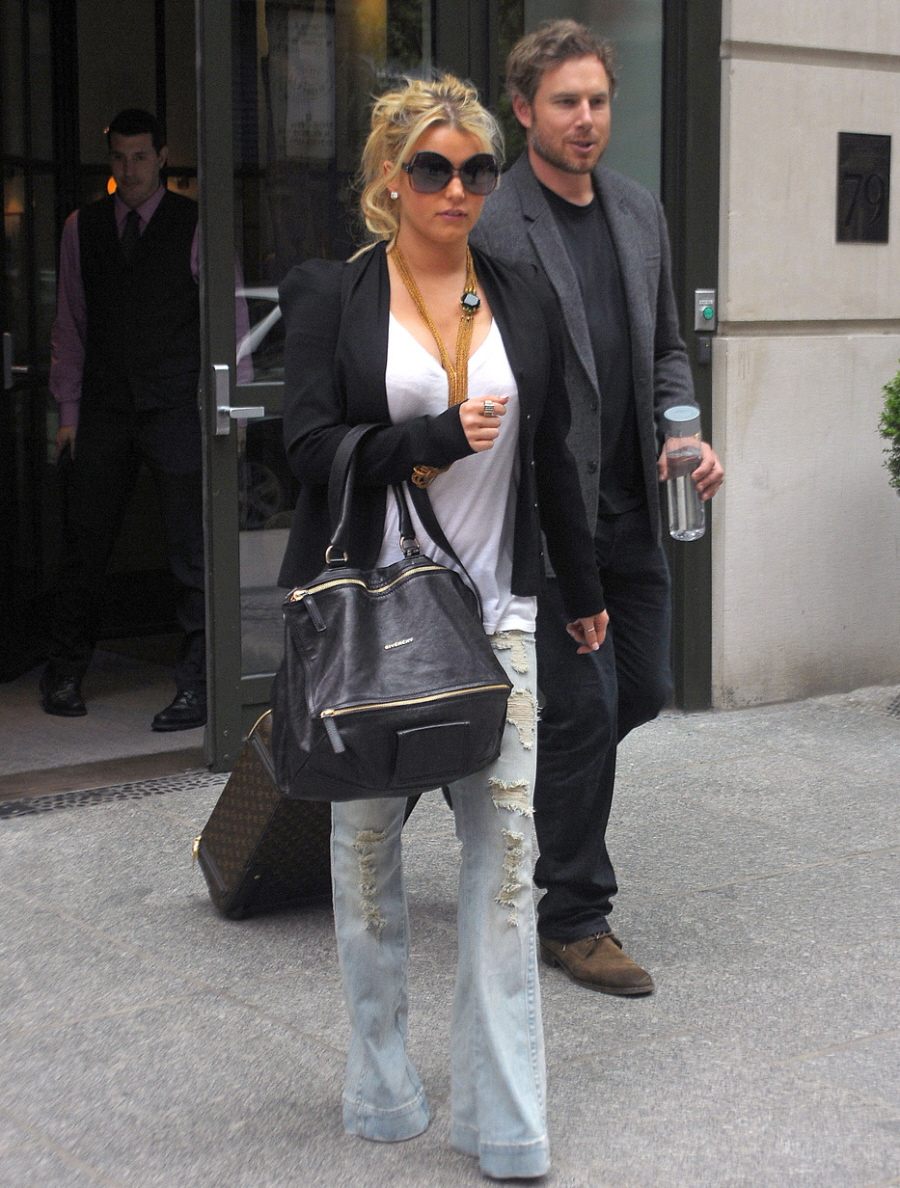 Photos courtesy of Pacific Coast News.