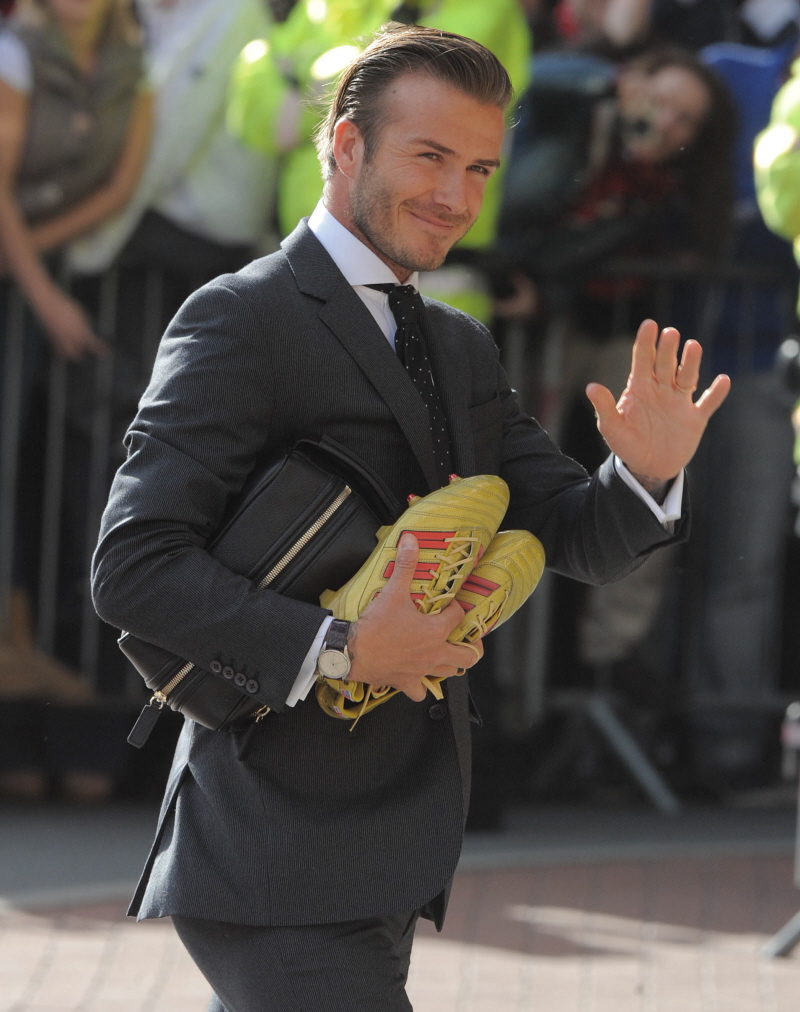 Okay, this one video has made me fall in love with David Beckham. He was recently on Craig Ferguson's show, and he was so, so lovely. His voice didn't even bug me! I think his voice seems to be getting deeper, honestly. He seemed very relaxed and sweet… sigh, he's my lover now. First, here are some quotes where David is talking about how much he loves Queen Elizabeth! For. Real.
He is one of the most famous men in Britain and David Beckham has revealed that even the Queen takes an interest in his personal life. The footballer has told how Her Majesty asked after his wife Victoria when he met her at a state dinner in London last week.

Beckham, 36, was speaking to the Queen at the dinner attended by Barack Obama when she inquired about his pregnant wife. The footballer said: 'Funnily enough she knew I was having a baby in six weeks. It shocked me that she knew. I love the Queen.'

The LA Galaxy player made the revelation during an appearance on a U.S. talk show hosted by Scottish-born comedian Craig Ferguson.

Beckham also spoke about Prince William and Harry and said: 'We have seen them grow up into real men and go through so much in such a short space of time.'

The footballer also spoke about his love of tattoos, revealing that he would let his sons go under the needle when they had reached a certain age.

But he said he wouldn't allow the daughter his wife Victoria, 37, is expecting later this summer to get a tattoo.

He said: 'I'm not sure I would let her get tattoos but the boys I couldn't really argue with.'

He added: 'While I love them personally, I'm not sure they're going to look great when I'm 75.'
[From The Mail]
He does say that he did not cry during the royal wedding, but it seems like he was getting a little bit choked up while talking about how much he likes "the boys" so maybe he did cry. Can I just say? I finally get it. I get why women drop like flies around him. I get why it's so easy for him to screw around. The man melts panties. Here's the video of the interview. Around 8:30 mark is when David starts talking about the dinner:
Photos courtesy of Fame.