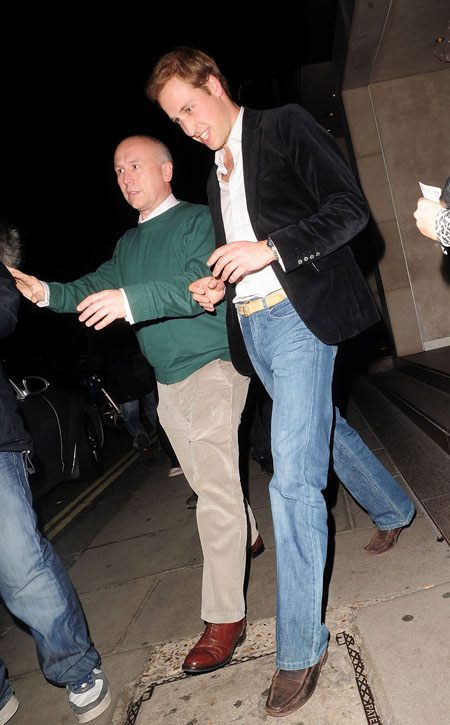 There are obviously some pretty awesome perks to being a member of the royal family. But there's also a downside – at least by most people's standards. You have to be very polite at social dinners. You have to be careful what you say. And if Paris Hilton wants to hang out with you, you probably have to do it. Most of us could deal with a little polite chitchat over lobster. It'd be stuffy and formal, but I think we could adapt. But I really don't feel like even the average person could handle 30 seconds of chatting about pink things and cell phone jewelry with Paris Hilton.
Unfortunately for Prince William, he got stuck hanging out with Paris Hilton on Wednesday night. Of all the royal duties, both official and unofficial, acting like you're having a good time with Paris has got to be one of the very most challenging. The British press is acting like they've caught Will doing something naughty, but I think he probably just lost a bet with Prince Harry and this was the punishment.
Oh dear, he WILL be in trouble when Kate Middleton finds out her Prince Charming spent the night getting Dirrty with two showgirls. We watched Prince William snuggle up to pop star Christina Aguilera and socialite Paris Hilton in the VIP room at Whisky Mist in London's Mayfair. The night was a right royal knees-up. We got there at midnight to see Wills, 26, and Prince Harry, 24, necking vodka cocktails and singing cheesy pop songs…

[Pairs] tried to cosy up to him on the couch and he even turned his shoulder and started talking to a mystery blonde on his right. But when that girl went to the loo, Paris moved in. We were about to rush to William's rescue, then we saw they were swapping phone numbers…

Half an hour later we saw Paris apply more lipgloss, while asking Wills: "Does this look OK?" Not the best chat-up line, but it seemed to work. Wills was glued to her side or the rest of the night. When Christina [Aguilera] sidled over on her way out at 2.30am, a miffed Jordan [Bratman] moaned to his missus: "You've already said bye – and SHE'S with him."

As the lights came on at 3.15am, the royal bodyguards tried to round up the Princes. But Wills was reluctant to go. "Make sure she [Paris] gets out of here OK," he ordered one flunkey.
[From the Mirror]
The Mirror says there was also an embarrassing incident when Wills went over to Christina Aguilera's table to say hello, but her minder didn't believe he was who he said he was. Apparently it took some convincing, but the prince eventually got a chance to chat with the singer, until Paris came along and made the whole evening about her.
The Mirror makes it sound like the prince was into Paris, but I'm assuming that's just for a good story. I can't imagine he could be interested in her as anything but a joke. Obviously he has a girlfriend, but even if he didn't, Paris is about as tacky as you could get. Though she does already have several tiaras, so maybe it would be a good fit after all.
Here's Prince William and Paris Hilton hitting the party scene at Whisky Mist in London on Wednesday night. Images thanks to WENN and Bauer-Griffin.