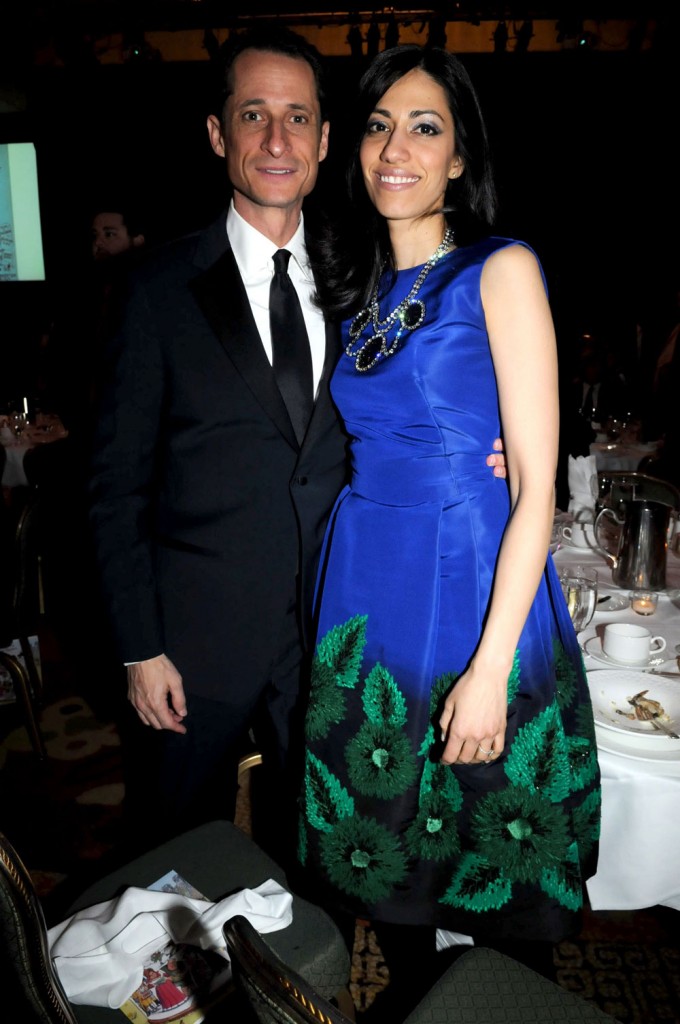 In a sad twist to the Weinergate scandal, the cybersexting Congressman's wife is reportedly pregnant. Huma Abedin, 35, has been married to 46 year-old Congressman Anthony Weiner since just July of last year. Abedin is a longterm aide to Hillary Clinton, and Bill Clinton even officiated the Weiner's wedding. (Hillary can probably teach Weiner's wife a thing or two about managing the political fallout from a cheating spouse who lies about it to the press. Obviously Weiner learned nothing from Bill Clinton's example.)
I would write that this is just a rumor and is not confirmed, but it's a rumor in a blog from the NY Times, and they write that several sources have confirmed the news. Weiner of course claims his wife isn't happy with his cyber sexing, but that she's sticking by him for now. The story that she's pregnant adds some perspective to her apparent decision to stay.
Representative Anthony D. Weiner and Huma Abedin are about to make news of a different kind: they are expecting their first child.

Ms. Abedin, 35, is in the early stages of pregnancy, according to three people with knowledge of the situation.

The pregnancy, which the couple has disclosed to close friends and family, adds a new dimension to questions about the future of their marriage.

Mr. Weiner, 46, has admitted to engaging in salacious online conversations with at least six women over the last few years, including an incident last month in which he sent a photograph of himself in underwear to a college student in Washington state. He apologized to his wife and declared that they have no intention of splitting up.

"We will weather this," Mr. Weiner said on Monday, during his emotional news conference. "I love her very much, and she loves me."

But Ms. Abedin, a longtime aide to Hillary Rodham Clinton, has remained silent about the topic as she keeps up a hectic schedule at the State Department.

Ms. Abedin returned to work this week and departed on Wednesday for a trip to Northern Africa with Ms. Clinton.

A State Department spokesman declined to comment Wednesday afternoon.
[From Cityroom NYTimes.com]
Yesterday Bedhead pointed me to this article in the NY Post in which Sex and The City actor Chris Noth commented on Weinergate. He made some interesting observations. "Imagine if sex didn't matter in politics, what would it be like?… I think media has changed our society not for the better. I think we would never have a John F. Kennedy with you guys around… I'd rather have [bleeped] some lady than [bleep] the country." A lot of people agree with that last sentiment, and think that puts this all in perspective. If you have a good politician who fools around on his wife (and in this case just virtually as far as we know), what does it matter? I think the fact that the guy lied to multiple news outlets about it afterwards and was arrogant and evasive does matter, and that it speaks to his character. Plus he wasn't just tweeting his dick to porn stars and single moms, he was sexting with 21 year-old college students. That's technically legal, but it still makes him a skeeve.
Now that Weiner's political future is up to question it leaves the field wide open for a potential Democratic candidate for mayor of New York City in 2013. Weiner was considering running for Mayor before we saw a photo of his dick in boxer briefs. (And a photo of his unclad erection has surfaced as well.)
Actor Alec Baldwin is reporting considering a run for mayor in 2013 in Weiner's stead. His rep told Entertainment Weekly "I wouldn't rule it out." If Schwarzenegger can be governor of California I guess Baldwin can be mayor of New York. We already know that Baldwin has anger management issues, but some more dirt will probably come out on him if he enters politics. Chris Noth pretty much called it.
Photos of the happy couple are from 3/6/11 and 5/14/09. Credit: WENN.com