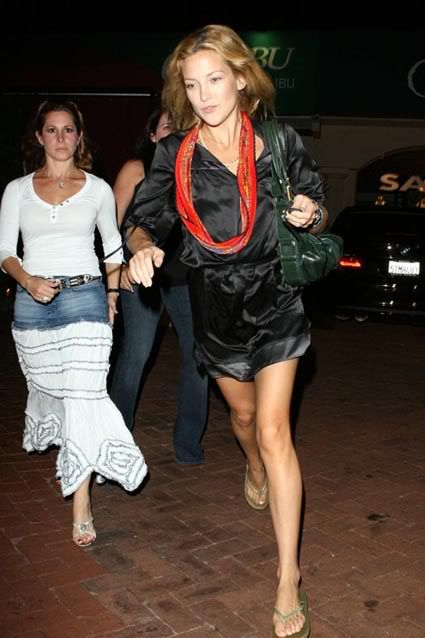 Thanks to Haute Gossip for pointing out that Kate Hudson has a bare left ring finger in these candids of her leaving Nobu in Malibu with some poorly-dressed friends on Friday. Word was that Kate and Chris Hudson might reconcile after announcing their separation just three weeks ago. They were seen out with their three year-old son, Ryder, and there was a rumor that they were going to attend a NASCAR event together. That doesn't seem too romantic, and it might not have been enough to save their marriage.
Chris was said to have involved Kate in threesomes and group sex while on tour with his band, The Black Crowes. There was a recent blind item in the NY Post that suggested that a famous woman involved in a high-profile breakup was more into the women in the menage a trois she was involved with than her husband. Many people assumed it was about Hudson. Let's hope the chicks she liked were hotter than the ones she's hanging out with now.
Pictures from Hollywood's Best.