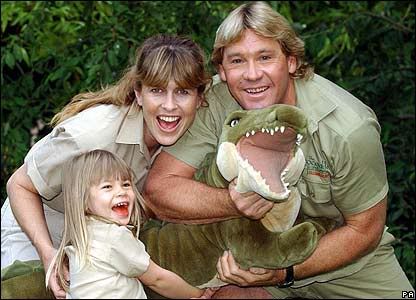 The cameras were rolling when Crocodile Hunter Steve Irwin met his demise at the unlikely end of a stingray, and Britain's Daily Star speculates that we'll get to see his horrible last moments, because he always told his crew to keep filming, even if he was in mortal danger:
Footage of Crocodile Hunter Steve Irwin being killed by a stingray will be shown on TV to honour his wishes.

The daredevil's cameramen captured the moment yesterday when the Aussie legend was stabbed through the heart by the fish's deadly barbed tail.
Steve had always ordered his crew to carry on filming even if he was mauled to death.
So the graphic footage showing Steve, 44, being speared to death off Australia's Great Barrier Reef is set for a sensational broadcast.
Queensland Police seized the tapes as the death sent shockwaves around the world.
But it is understood Steve's family have vowed to grant the real-life Crocodile Dundee his "dying wish".
Steve famously said: "My number one rule is to keep that camera rolling. Even if it's shaky or slightly out of focus, I don't give a rip!
"Even if a big big old alligator is chewing me up I want to go down and go, 'Crikey!' just before I die. That would be the ultimate for me."
An insider said: "This is exactly what Steve would have wanted. He knew the dangers and was totally up for the cameras to get everything."
The footage is said to graphically show Steve pulling out the stingray's barb before his death:
"It shows that Steve came over the top of the ray and the tail came up, and spiked him here (in the chest)," Stainton said after watching the footage.
"He pulled it out and the next minute he's gone. The cameraman had to shut down," he said.
"It's a very hard thing to watch because you're actually witnessing somebody die … it's terrible."
There are no details about when and if the footage will get shown, and it's clear that the Daily Star is just basing its conclusion on statements Irwin made. I for one would not want to see the film. I've heard of those "Faces of Death" films, and I've never watched one as I know the scenes would haunt me. It bothers me just to think about it.