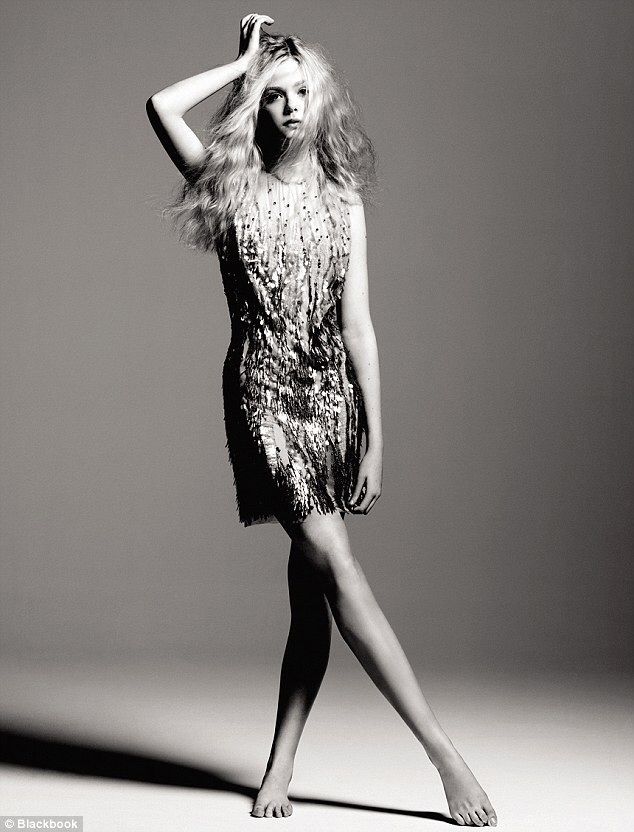 Elle Fanning is the star of Super 8, which comes out today. She's the 13-year-old little sister of Dakota Fanning. I can remember seeing Elle in an episode of Law & Order: SVU several years ago – and she was so tiny then! Puberty hit, and now she's got the same lanky, slender, coltish body that her sister has. But she's still 13! Still very much a GIRL. But she's also a movie star, right? So that's why she did a photo shoot and interview with Blackbook Magazine. And while most of the shots are just nice black-and-white fashion-y pics, with Elle styled to look slightly older, but still very girlish, there was one photo that kind of upset me. Here it is: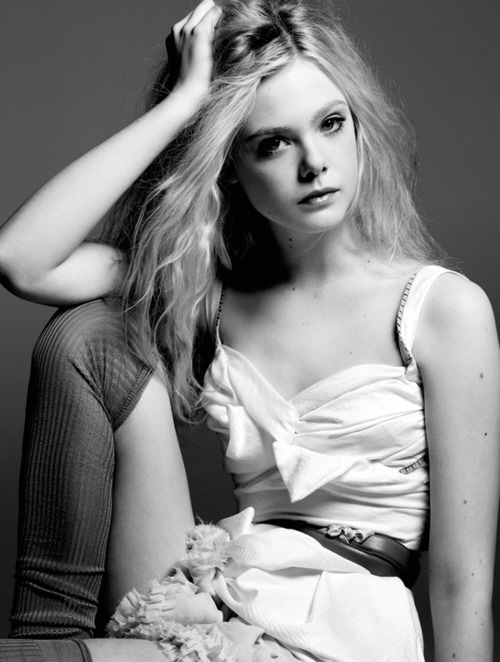 Now, I sucked in my breath and went "Oh, no." But it doesn't really offend me, it just depresses me. I get that 13-year-old girls today are way more advanced than I was (although I was a wild 13-year-old, honestly), but my complaint isn't about what Elle did or didn't do. This, I feel, is the fault of BlackBook and whoever styled and photographed her. They purposefully wanted a "Lolita" shot, probably to hype the magazine. Maybe Elle's people wanted it too, to hype the movie. But it's just gross. I'm sure that she's wearing a real dress or something in the shot, but it looks like lingerie. And they made her pose like an adult woman. Please don't do this again to a 13 year old kid, people. And you know what's even worse? Other sites tried to crop the image to make it less offensive too. I still think this version sucks: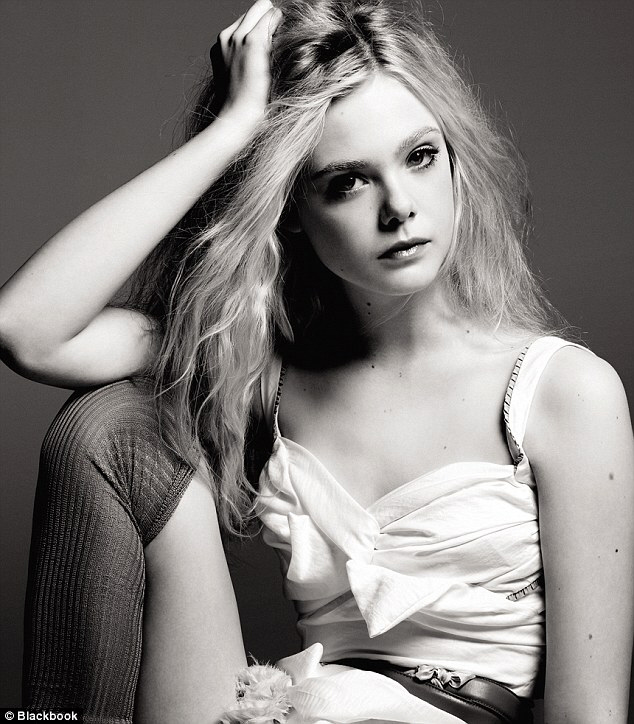 Anyway….here are some excerpts from Elle's interview. You can read the whole thing here.
How Elle seems: Talking to Fanning, one begins to appreciate the beguiling blend of childhood and professionalism she represents. She squeals, giggles, sprinkles her speech with cusp-of-teen parlance ("like," "oh my god," "you know?")—in short, she's genuinely delightful. She also handles an interview like a seasoned vet, summoning equal parts deflection and flattery. (Fanning on the possibility of future career clashes with Dakota: "We haven't gotten really competitive with movies yet. I don't think we ever will.") Like many children still on the lunch-pail side of puberty, Fanning is comfortable with herself. She's comfortable with her age, her acting, and her unique traits, which are just beginning to come into focus: goofiness, intelligence, the discipline of a prima ballerina.

Elle on Super 8: "We were sort of scared," says Fanning about maintaining the strict code of silence. "We didn't want to slip up and say anything." Even during the auditioning process, the plot of Super 8 remained obscure. Then the script arrived. "It was just, like, the biggest thing ever," Fanning trills in her helium-balloon falsetto. "J.J. was so good with us," she recalls of filming Super 8. "When we were doing the big train-crash sequence, all these explosions were going on, and there were so many people everywhere—and then you have these six kids. He had to take care of us and make sure that we weren't getting into trouble. There was fire." When he wasn't acting as a sort of paternal deus ex machina, issuing stage directions through his ever-present microphone, Abrams was "like one of the kids," according to Fanning. "He's obsessed with his iPhone, obsessed with Angry Birds. He'd just be sitting in his chair playing Angry Birds."

More on Super 8: "[Super 8] is based in the '70s [1979], around the same time Steven and J.J. were growing up," she says. "J.J. told me that Steven did exactly the same thing the kids in Super 8 are doing—he made crazy monster movies with his super 8 camera. You could tell he was really excited because he saw us doing what he did."

Meeting Francis Ford Coppola: "I feel like he's my Italian grandfather now!" He gave Fanning a piece of advice: "He told me, 'You always have to love it. You can never just act because someone else wants you to. You always have to feel it in your heart,' which, well, I thought that was great." Giggling, as if realizing it for the first time, she says, "And it's so true!"
[From BlackBook]
I hope she doesn't turn into one of those oddly mature teenagers, flashing her bits on her 16th birthday. Dakota seems well-adjusted (but who knows?), so there's hope.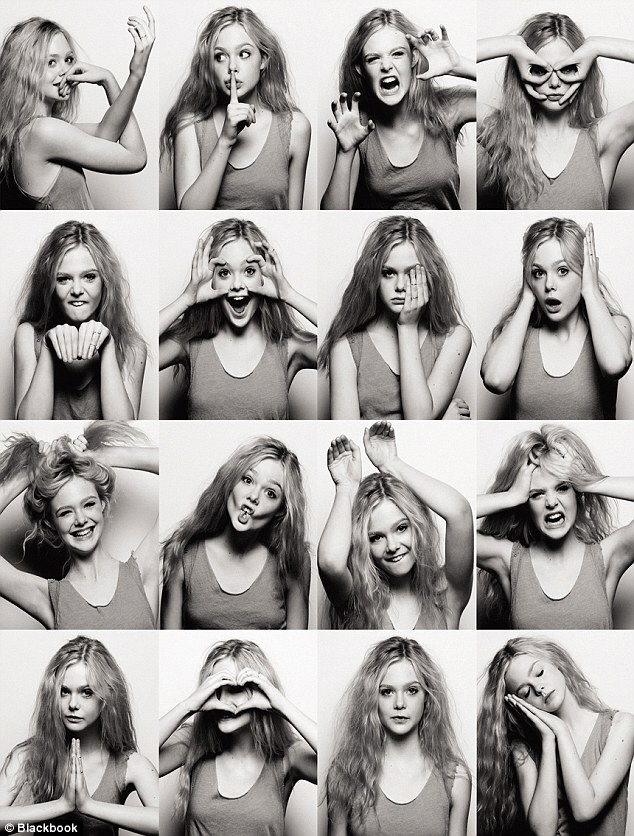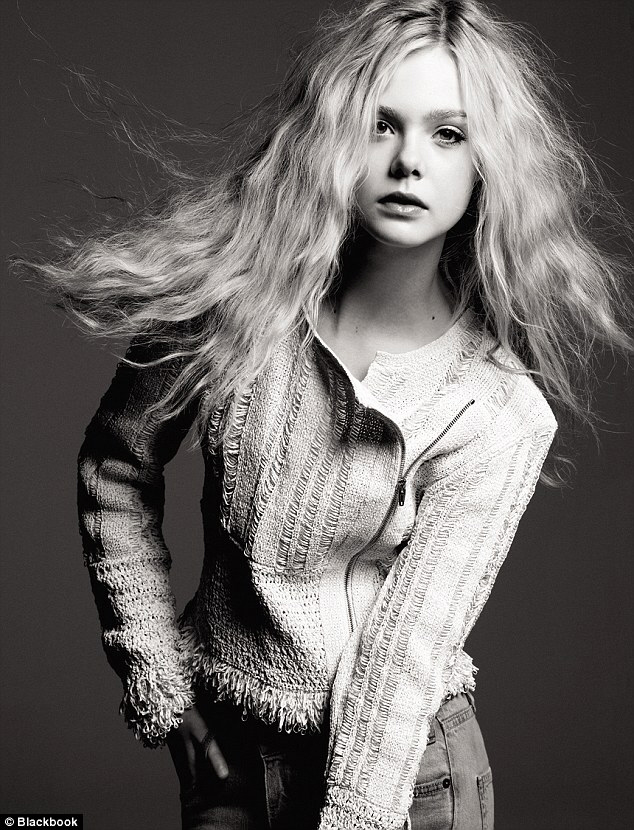 Photos courtesy of BlackBook.