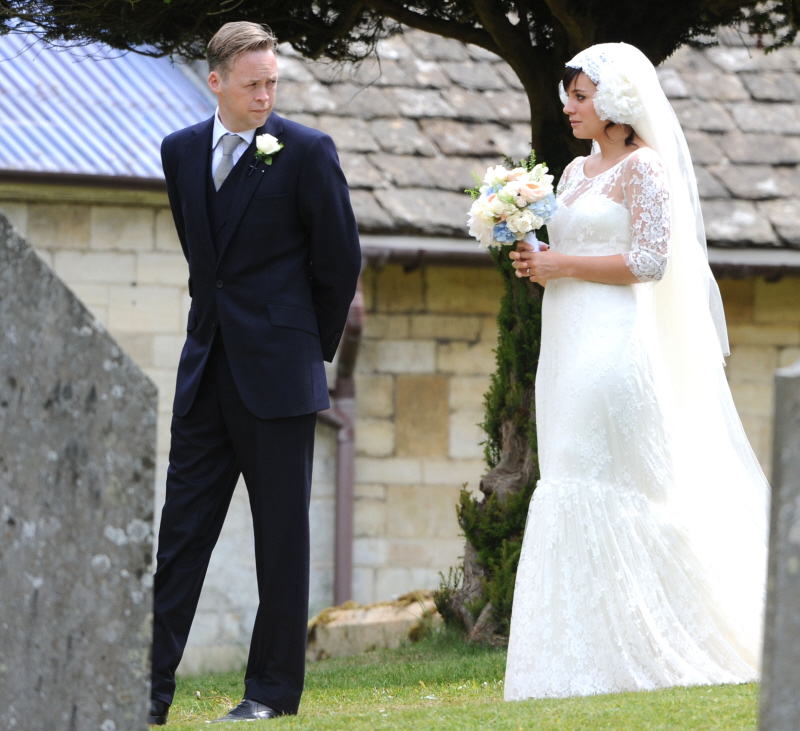 Here are some photos from Lily Allen's wedding yesterday. The bride wore an enormous Delphine Manivet gown and a veil reminiscent of Princess Leia's Star Wars hair. I rather like the top part of the gown – the lace is nice, and it flatters her upper half. But the bottom is hideous with that flare at the bottom. I guess there was a reason for the enormous gown – shortly after the ceremony, the wedding gown designer confirmed Lily's pregnancy. Lily is probably really pissed about that. She hates when people talk about her bidness… until she doesn't hate it. Anyway, Lily married her boyfriend of several years, Sam Cooper, and her pregnancy comes very soon after she lost her last pregnancy at six months, back in November. She had been engaged to Sam Cooper for a while, although she publicly fought anyone and everyone for talking about it.
Lily Allen has two things to smile about.

The singer, 26, married Sam Cooper at St. James the Great Church in Gloucestershire, England, on Saturday – and the newlyweds are expecting a baby, according to reports.

Dressed in a gown with long lace sleeves and a fishtail skirt by French designer Delphine Manivet, the bride was given away by her father, Keith Allen, and then carried a bouquet of white roses as she made her way out of the church with her new husband to a waiting car as a crowd cheered.

"It's beautiful that she is pregnant, and I am very happy for her. She is very happy about that – it is something wonderful," Manivet told British paper The Telegraph. "For me, and for her too, when you're pregnant you want to show that, but also be respectful, so the dress was perfect for her for that moment."

Cooper revealed the happy baby news to wedding guests, according to the U.K.'s Daily Mail.

A rep for Allen could not be reached.

The baby news comes seven months after Allen and Cooper announced her heartbreaking miscarriage.

The wedding, which took place in the village of Cranham in the English countryside, was no secret. Allen's wedding date was leaked to the press by an unknown guest, who sent the save-the-date card to British newspapers in March.

On Friday, Allen and Cooper were spotted arriving at the church for their rehearsal. Allen's dad, an actor and musician, was also spotted with a ukulele – perhaps planning to serenade the happy couple.

Cooper, a decorator and business owner, popped the question during a romantic getaway last Christmas.
[From People]
Well, congratulations to Lily and Sam, for the wedding and for the pregnancy. I sincerely hope that Lily's health keeps up and she has a quiet, uneventful, full-term pregnancy.
Here are some more photos from the wedding party yesterday. I think the groomsmen were in pink. And the girl in the boob dress is Lily's sister, I think.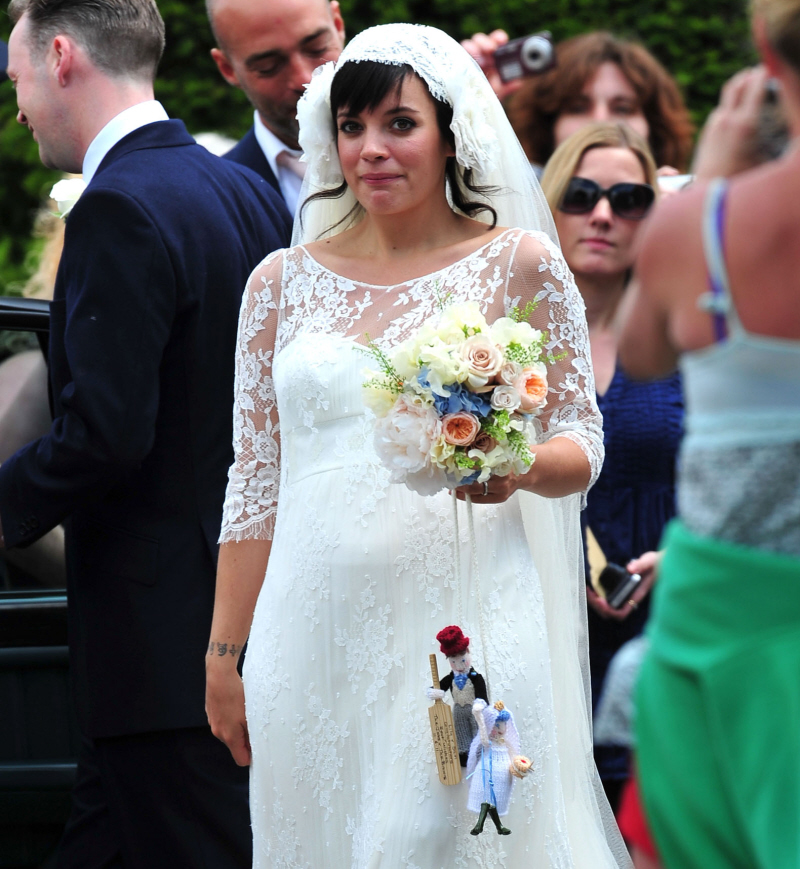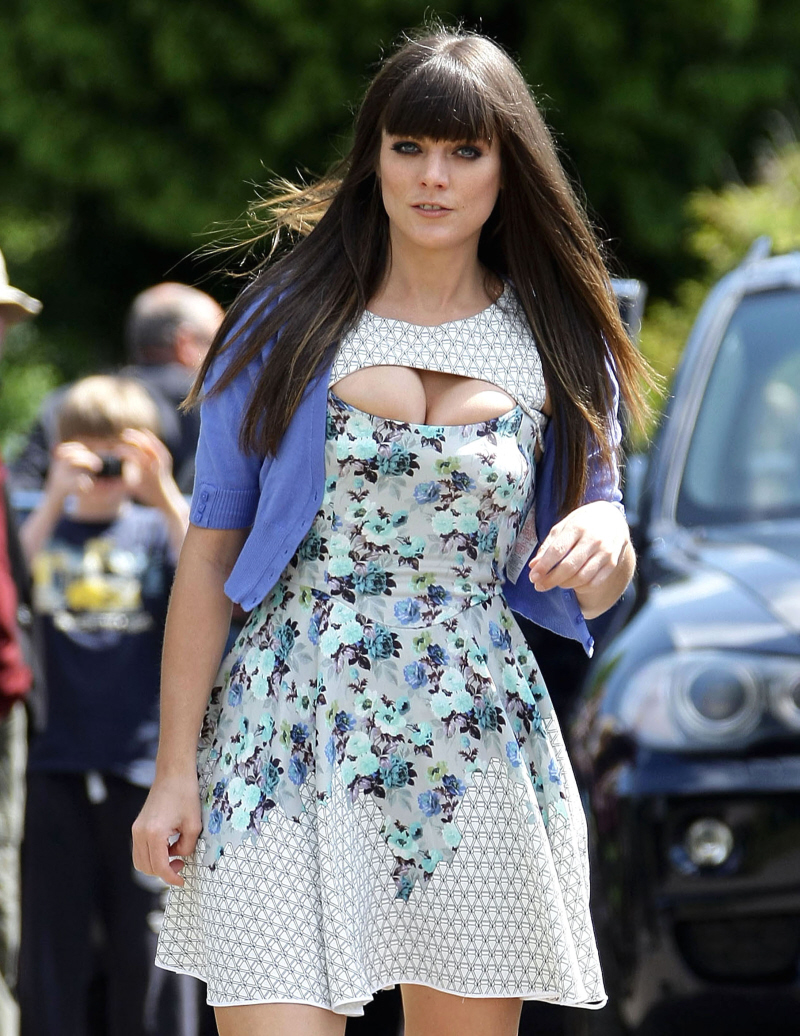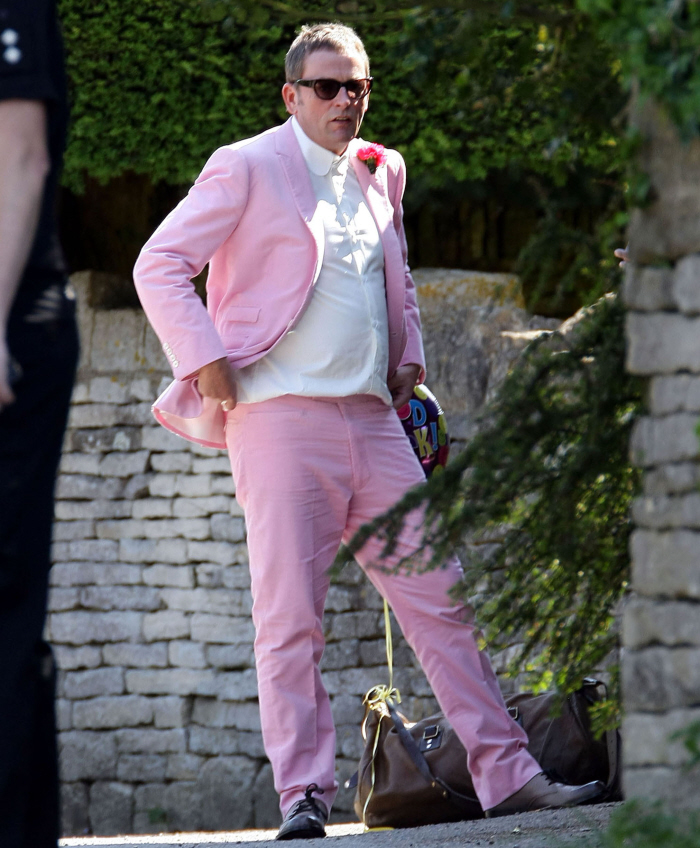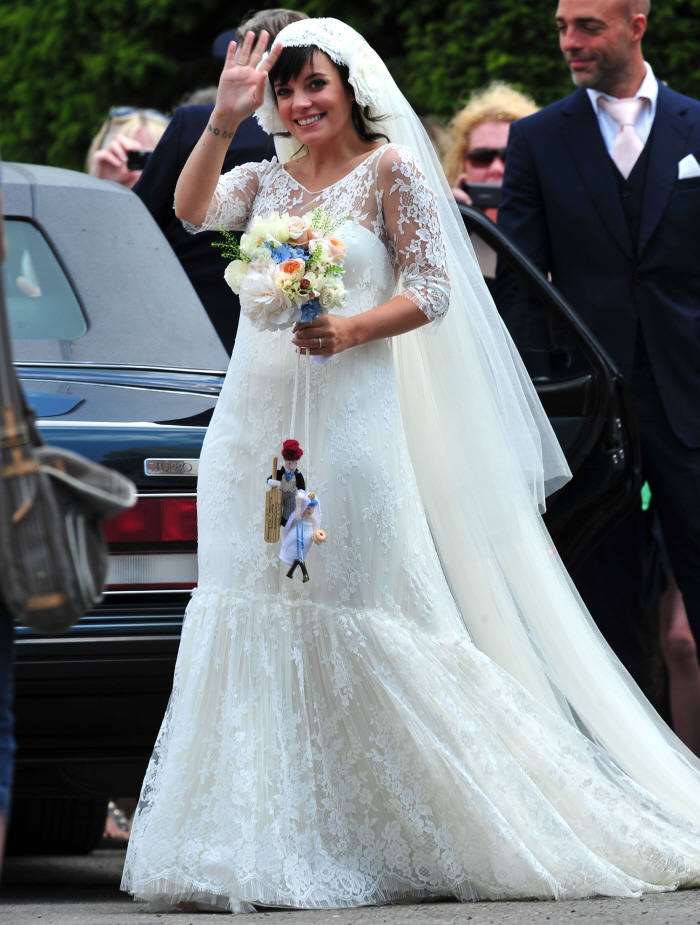 Photos courtesy of WENN.