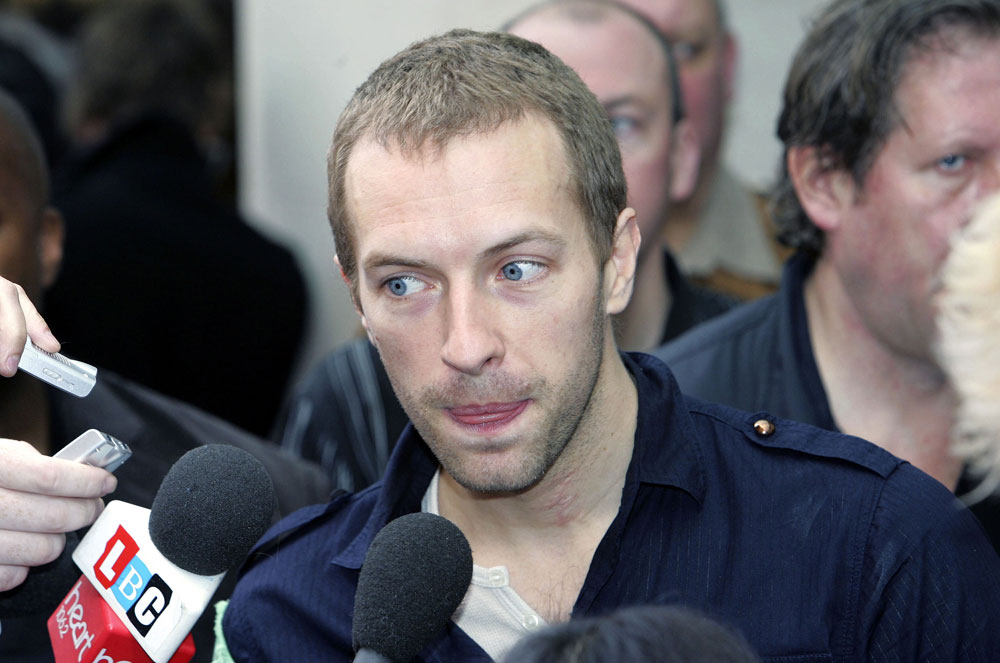 Gwyneth Paltrow's temperamental husband, Chris Martin, has a history of overreacting when journalists mention his wife. It's ok if he brings her up, but if you ask him a question about her you never know if he's going to walk out, fire back a nasty retort, or get physical.
Back in June, Martin made it clear that he feels competitive with his wife's ex fiance, Brad Pitt. He told Rolling Stone Magazine that "If your wife went out with Brad Pitt, you'd want to prove yourself, you know what I mean?"
During a recent interview with Q Magazine, Martin punched a journalist in the chest after he made an offhand comment about Pitt that didn't seem like it was meant maliciously. Martin was the one who jokingly brought up the subject of leaving his wife, but when Pitt's name came up he got all serious and ended up punching the guy:
During a Q interview and in an acceptance speech at the recent Q awards, Martin had expressed his admiration for the cashiers-made-good from Girls Aloud and so later during the night of the awards, Rees decided to bowl up and compliment the singer on excellent taste in women.

Martin explained to him that he had been told by his wife that he was only allowed to leave her if it was for one of the pop starlets, and by a reciprocal arrangement, she had chosen… Irish crooners Westlife. (F'ck knows why, but then again anyone who thinks eating pulses is a good idea can't really be trusted with anything can they.)

Clearly bemused by Paltrow's choice and not giving himself time to engage his brain, Rees blurted out: "You could have at least told her Brad Pitt."

All well and good, given the number of women who'd froth at the mere thought of it.

Except, as Martin so eloquently put it….

"She was engaged to him, you f'cker."

Bugger.

Realising he'd just committed a massive faux pas, Rees tried to comfort Martin with a fatherly arm round the shoulder while pointing out that Paltrow had at least dumped the Hollywood A-lister for him.

But sadly these words too failed to resonate with the musician, and he proceeded to execute a swift blow to the chest accompanied by the word "cunt".
[From HolyMoly.co.uk]
It looks like a lot of fame and success still can't help the scrawny musician avoid feelings of inadequacy when it comes to his wife's ex lovers. Paltrow has been with Martin for over five years, they're married and have two kids together. That pretty much trumps any relationship she had in her mid 20s, even if she was with one of the most famous fellow actors in the world. It sounds like Paltrow was still hung up on Pitt even five years after their relationship ended, though, and maybe he's become this legendary figure in her past that Martin feels threatened by.
Paltrow said in 2003, back when she had already started dating Martin but right before she married him, that she "made a mess" of her relationship with Pitt and said that she was the one who ruined the engagement because she was going though a tough time. The two broke up in mid 1997, which is over 10 years ago, and were together for under three years. She seemed to regret the way it ended and said that she was lucky to have spent time with Pitt.
It certainly doesn't take a lot to push Martin's buttons, but it looks like that journalist stumbled on a real sore spot. I wonder if these two, who haven't been photographed together in years*, are going to last. Maybe they're doing fine and Martin is just a sensitive jerk, but that can't be easy to live with either.
*They were photographed in a limo together outside Jay-Z and Beyonce's wedding on 4/4/08, but both covered their faces. They do have a policy not to pose together on the red carpet, as do Gwyneth's ex Ben Affleck and his wife, Jennifer Garner. There are plenty of other photos of Affleck and Garner together, though. It may be unfair to compare them as Affleck and Garner live in LA and Paltrow and Martin are in London. It's kind of surprising that we haven't seen one photo of them out together in years though.
Chris Martin is shown on 10/6/08 at the Q Awards. Credit: Bauergriffinonline. He is also shown performing on 10/2/08 in Rotterdam. Credit: WENN.