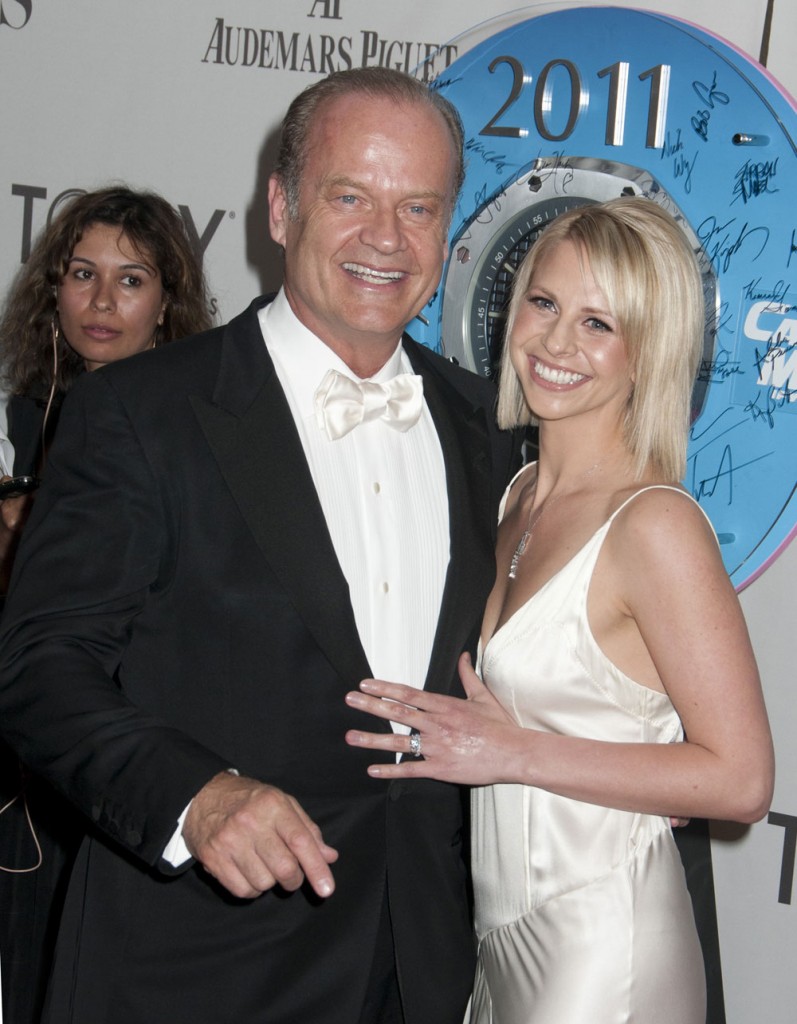 When Kaiser ran the Tony Awards pictures yesterday she wrote that she thought that Kelsey Grammer's young jumpoff, Kayte Walsh, was probably pregnant since she looked a little bumpy in her white silk dress. (Kayte sadly miscarried Kelsea's baby last year.) Now we have a bunch of supporting quotes from Kelsey and Kayte about how they want kids and how Kelsey is this great dad. Kelsey even goes on to disparage his ex wife Camille, in a roundabout way, saying that he won't "play out my personal life in front of the cameras." ORLY? What about the reality show production company he started? It bugs me, and it's typical for this faux blue blood douche.
What's more is that Kelsea has filed for primary custody of one of his children with Camille, his son Jude who turns seven in August. He hasn't filed for primary custody of his daughter Mason, nine, though. He calls the reports that he's only after custody of the son "bullsh*t" despite the fact that there are official court documents to back it up.
Here are the lovey-dovey quotes from Kelsea and Kayte, from various sources.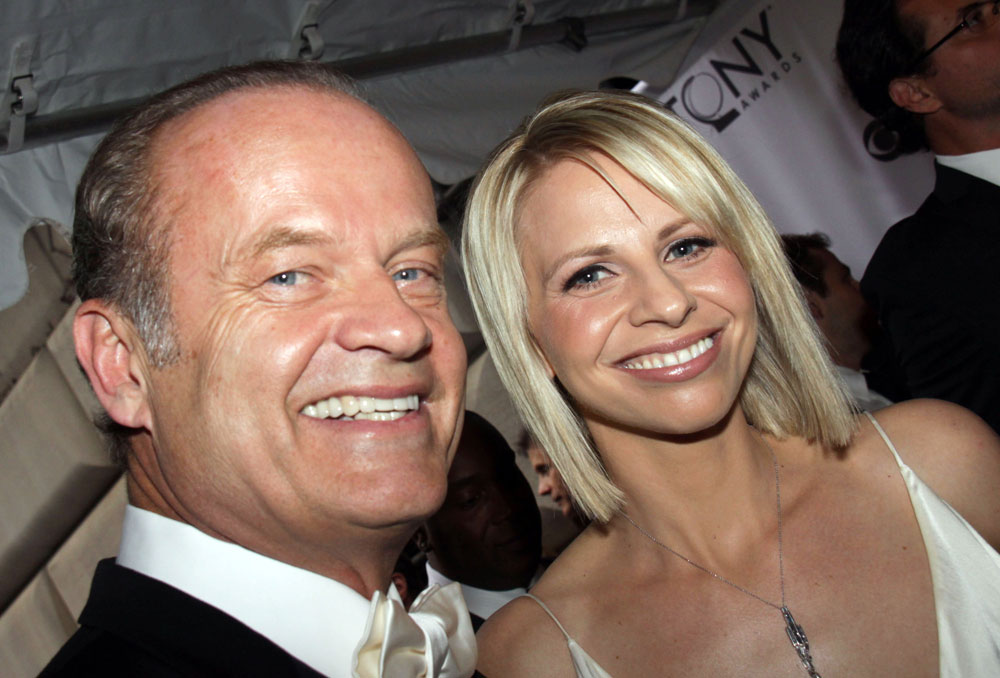 On his marriage
"[It's] like it's never happened before," the actor told reporters of his "fantastic" marriage before Sunday's Tony Awards at New York's Beacon Theater.

The former Tony-nominee, who presented at this year's ceremony, had Walsh, 29, by his side just a year after he walked the red carpet with now ex-wife Camille Grammer.

On the best part of their life together
As for the best part of his life with Walsh, the two agree: "[It's] waking up together," Grammer, 56, told PEOPLE.

Added Walsh: "And going to bed together. He's just … perfect."

On his kids and having another one
The actor plans to spend Father's Day with Mason, 9, and Jude, 6, his children with Camille. "I think we're going to have a barbeque," he said, adding that his kids are "very excited" about the possibility of one day having more siblings.

"They're very, very cool about it," Grammer told reporters. "My son, Jude, especially, he's like, 'When are the children coming?' " – People

On not doing a reality show
"I made a conscious decision that I wouldn't play out my personal life in front of the cameras. That's just respectful for the situation and respectful to Kayte, as well."

On his custody battle
"It's going to be a long, drawn-out thing," he revealed to Life & Style about the custody battle. "We'll be tortured and it will be unpleasant I'm sure, but not on my side." – Life & Style

Kayte gushes about Kelsey
"He's such a good father. I've never known a man like him," Walsh says of Grammer, dad to daughter Mason and son Jude. "He's just so full of love and he's wonderful. You couldn't ask for more." – US Weekly
[From People, Life & Style, US Weekly]
So Kelsey and Kayte talked to every outlet that was at the Tony Awards about how they're so happy together, are ready to have more kids and about how wrenching Kelsey's son away from Camille is this huge ordeal for Kelsey. Remember last year at the Tony Awards, when Kelsey made Camille come to support him and then said during a toast afterwards that was shown on RHOBH that he was grateful for the support he was getting from his fans, and that "I'm particularly thrilled with the love I'm getting from the British people?" Kayte is of course British. Kelsey is slime, and he'll do whatever it takes to malign Camille after he cheated on her. Camille is a piece of work don't get me wrong, but no one deserves to be treated like that. Kelsey is the one who told Camille to do Real Housewives and he's the one who started a reality show production company but now he's trying to act like he's taking the high road in regards to doing a reality show. We're not buying it. He may be able to talk a good game, but he really showed his true colors by how he's treated Camille and has continued to treat her after 14 years of marriage.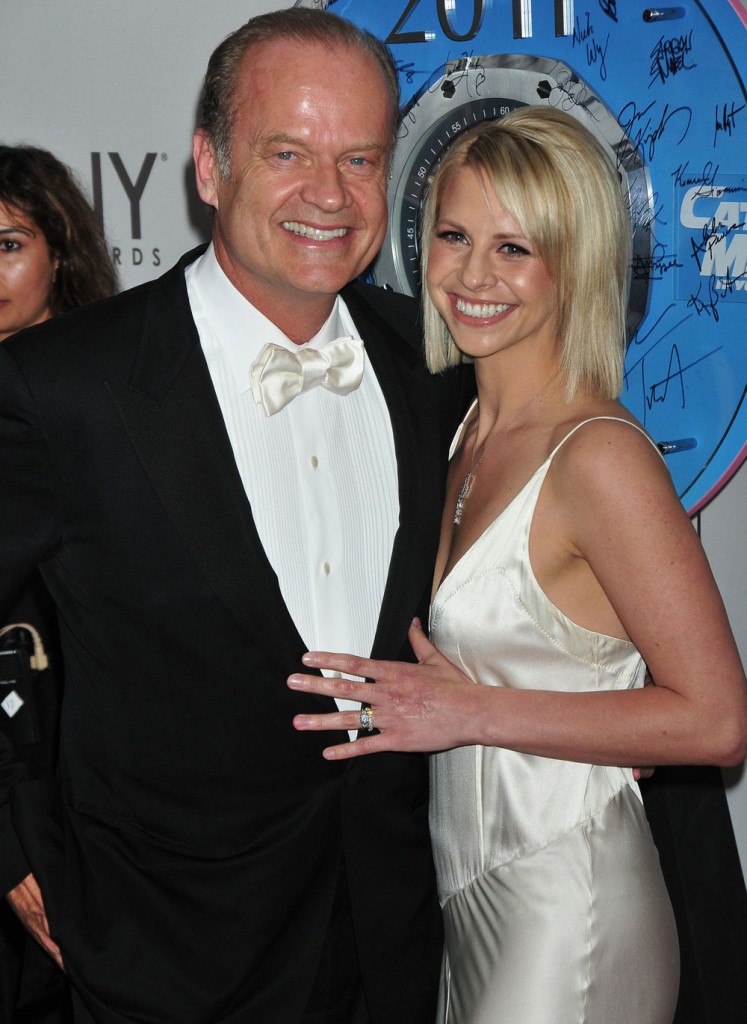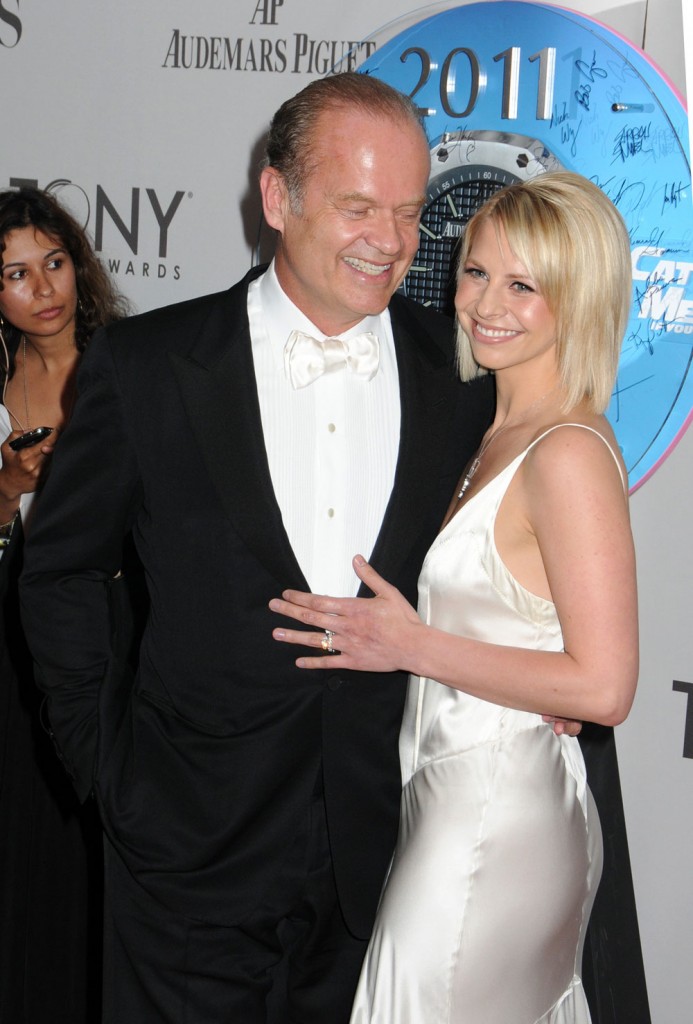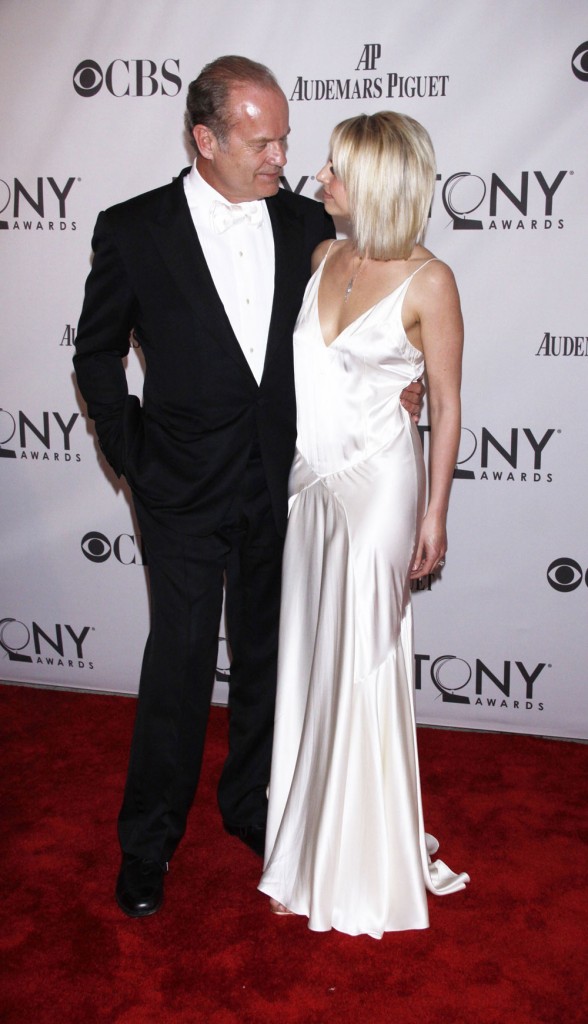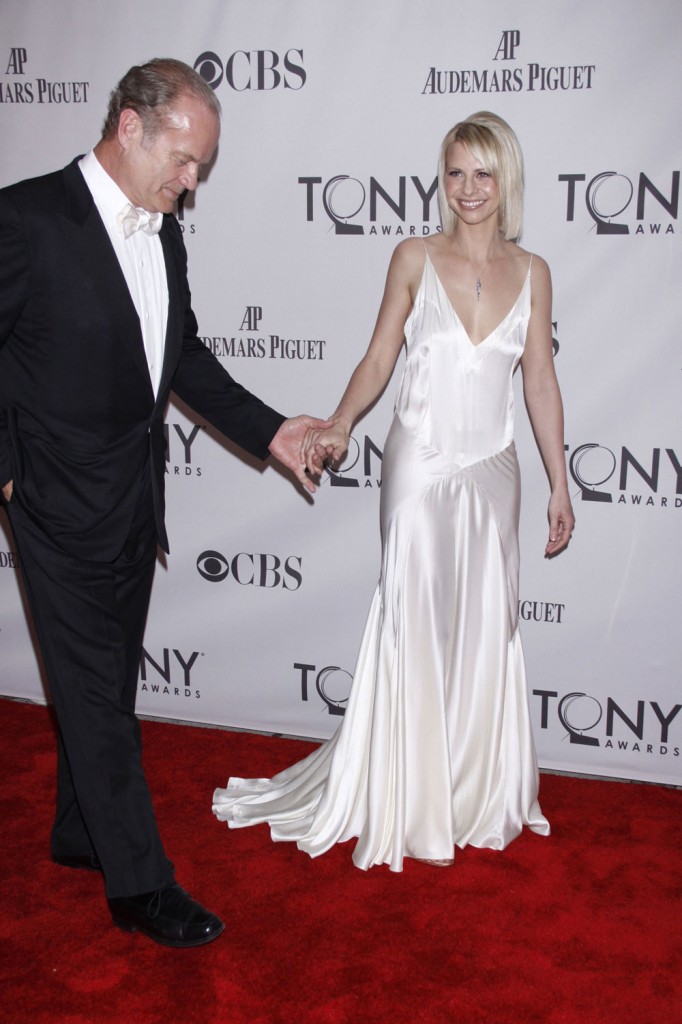 Photos are from 6/12/11. Credit: WENN.com