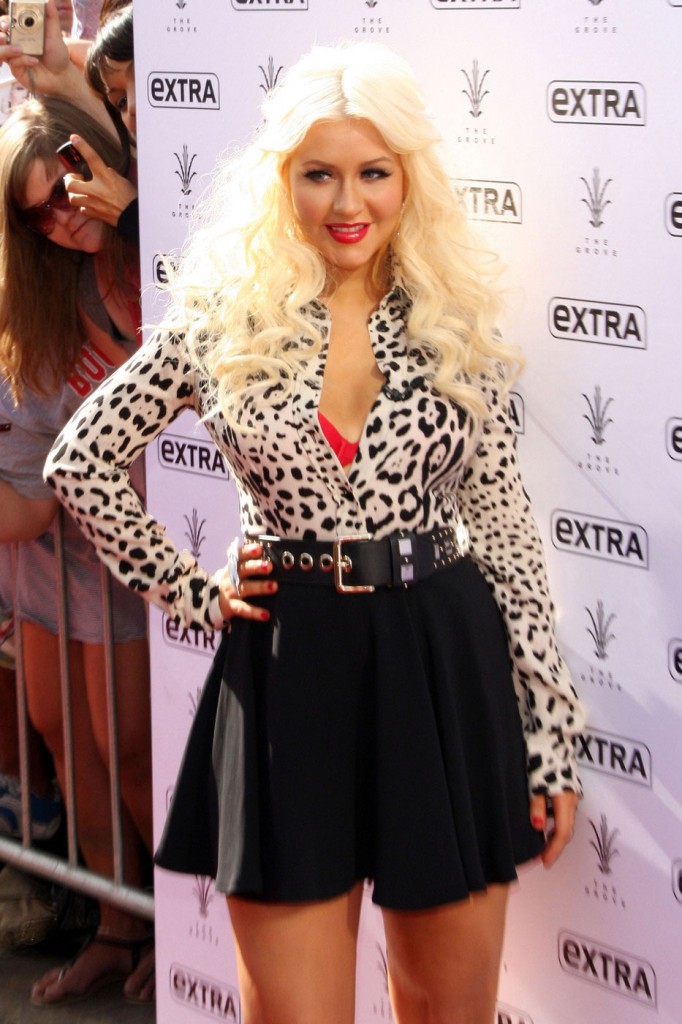 Here's a story in the NY Post that sounds very likely to be true, given all we've heard from Christina Aguilera to date. Apparently Aguilera is behaving like a drunken diva on the set of The Voice, and is getting into bickering fights with Adam Levine on camera while refusing to talk to any of her fellow judges when the cameras aren't on. What's more is that she rolls with a huge entourage, gets paid about triple an episode more than the other judges, and is late constantly. Again, this is typical behavior from XTina the narcissist who is never personally responsible for anything she does, has an excuse for everything, and blames her every mistake on other people paying attention to her. She's going to lift herself up from that background of domestic abuse she brings up in every single interview and the horrible nasty press that drags her down. We just need to let her be Christina and join all the other sycophants and enablers that surround her like an overpaid bubble of yes men. Why can't we just understand that no one ever says "no" to her?
Tensions are bubbling backstage on NBC's hit "The Voice" between Christina Aguilera and rival judge Maroon 5 frontman Adam Levine.

Sources tell Page Six fellow judges Levine and Blake Shelton have formed an alliance against Aguilera, whose much bigger paycheck, attention-stealing diva stunts and doting makeup team have rubbed the guys the wrong way.

Low-key Levine can't grasp why Aguilera, who seems to get on a little better with Cee Lo Green, is being paid $225,000 per episode, in comparison to their $75,000 rate, and has a huge entourage, including two hair and makeup people, a producer and an assistant.

"They are all so annoyed by her," a source told us. "Every time she walks away with her entourage, they talk about her behind her back. She holds people up and never apologizes."

While Aguilera is the most vocal on the show, sources say she won't speak to the other judges during commercial breaks.

"When the cameras are rolling, she literally won't shut up," an insider told us. "It is all about her."

The production team is also playing into the rift — Aguilera's supporters wear "Team Christina" T-shirts on the Studio City set.

Despite the differences, another source said the judges appeared to be getting along after the show Tuesday night at a bash thrown by Shelton and Miranda Lambert, at which Aguilera was still wearing her "Team Christina" shirt.

We hear that despite the disagreements, Aguilera and Levine are working together and recently recorded a track that will be released Tuesday.
[From The NY Post]
As many of you mentioned in our last story on XTina's Voice gig, she's revealing what a petty person she is with every episode basically. I've only seen a few episodes of The Voice, and she's come across as superficial and self centered, and she often picks fights with Adam. She isn't terrible, though, probably because no one is calling her on her sh*t. She's thinks the star, but right now she's just a (very talented) singer whose last CD tanked, whose tour got canceled, and who is hanging on to her new gig on a competition reality show by the skin of her teeth. Do you think she's going to get hired for more jobs, or even hold on to this one, if that's the way she treats her coworkers?
Christina is shown on 6/3/11. Credit: Fame and Pacific Coast News