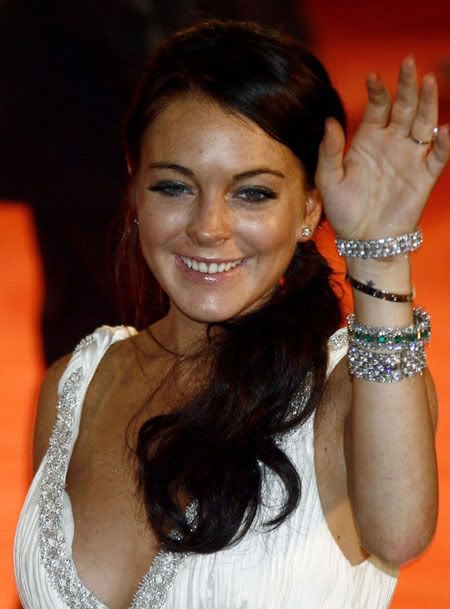 Lindsay Lohan's dad Micheal is annoyed by his fellow inmates hanging up pictures of his 20 year-old daughter. He makes it seem like he's tough shit when he describes it, like he personally confronted a bunch of Lindsay-loving criminals and got them to take his daughter's picture down:
"That was a problem when I first got here, because [the other inmates] had a lot of Lindsay's pictures hung up in their lockers," Michael says, adding that he warned his jailmates:
"That's my daughter, and because I'm here with you now, I'd appreciate it if you took it down." Asked if they complied, Michael said: "Yes, most would, but sometimes it took some persuasion."
…
The 46-year-old inmate, whose earliest possible release date is Oct. 7, 2007, is serving up to four years for drunken driving, contempt of court and assaulting his brother-in-law with a shoe. In his first-ever prison interview, he reveals he has written dozens of letters to his estranged daughter. "I know that Lindsay loves me and she knows I love her, and that's all I ever wanted in return. That, and I ask for forgiveness."
Whatever. No wonder Lindsay is so screwed up. Oh wait – there's her mom, Dina "The White Oprah who takes any excuse to speak on her daughter's behalf" Lohan too.
Not content to just screw with one daughter's career and life, Dina has arranged for ittle Ali Lohan, 12, to put out an album:
Lindsay Lohan's 12-year-old sister, Ali, will release her debut album, "Lohan Holiday," Oct. 10 via YMC Records/UME. The 12-track set includes a collaboration with Amy Grant on "Santa's Reindeer Ride" as well as familiar seasonal songs such as "Winter Wonderland," "Jingle Bells" and "Deck the Halls."
Among the original offerings are the title track and "I Like Christmas," which will be the first radio single from the album. Lohan previously appeared in the video for her sister's single "Confessions of a Broken Heart" and has made cameos in her films "Confessions of a Teenage Drama Queen" and "Freaky Friday."
At least it's a holiday album. That seems a chaste enough for a 12 year-old. The poor girl.
Here is Lindsay with Harry in Venice at the "Bobby" premiere and photocall. As PopSugar points out, she's wearing a big 'ol engagement ring. It looks like Harry is adding some much-needed stability to her life. It's a shame her family couldn't do that for her.
Pictures from Hollywood's Best.