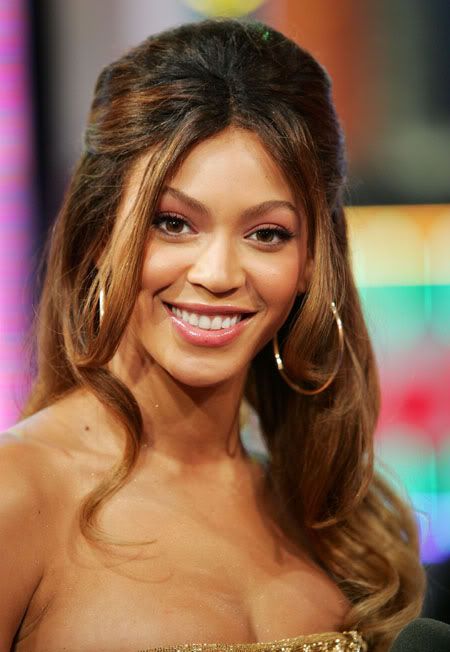 Beyonce celebrated her 25th birthday and the drop of her inventively-titled new album, "B-Day" on Tuesday. She celebrated with a cake in her image on MTV's "Total Request Live," where the audience sang happy birthday to her. She also made an appearance on BET's "106 and Park."
The NY Daily News cites an insider who claims that Beyonce's frenzied promotion of her album may make the pubilc tire of her well before "Dreamgirls" is released in December. What's more, Beyonce is said to have released her album at this point because she's not the star of "Dreamgirls" and doesn't want a lot of competition from "American Idol" star Jennifer Hudson, who will steal the spotlight from her:
"
Beyoncé's oversaturation in the marketplace has thrown a major monkey wrench in the 'Dreamgirls' rollout campaign
," the insider told Lowdown, claiming that her album was originally planned for next year, but Beyoncé — concerned that the film won't be the star vehicle she'd hoped for — secretly recorded it this summer, without the knowledge of Paramount or even her manager-father, Matthew Knowles.
"It will take away from the anticipation of the 'Dreamgirls' soundtrack," said my source. "She has left Paramount with not a lot of options for rolling out this film. … All her solo attention is making Paramount reposition their strategy at the last minute."
Yesterday, a Paramount spokesman scoffed at this account, claiming, "The buzz created by the album's release has only raised awareness of the film," noting that Beyoncé's "Dreamgirls" original tune, "Listen," is on her new CD. "Paramount and DreamWorks are nothing but thrilled with Beyoncé," the flack said…
But the insider insisted: "She rushed that album out in part because she realized she's not going to be the one to shine in 'Dreamgirls.' Apparently she didn't come to terms with the fact that the Effie White character" — played by "American Idol" contestant Jennifer Hudson — "is the focal point of the film."
Beyonce is getting a lot of attention now, and that's undoubtedly what she was hoping for.
She also received a lavish birthday gift from her boyfriend, Def Jam president Jay-Z. She was surprised with a 1959 Rolls Royce convertible worth over $1 million. I'm not one to look a gift horse, but doesn't a gorgeous car seem like the kind of thing a guy would want? It sounds like Jay-Z just bought her something he really wanted. Jewelry seems more Beyonce's style, although I'm sure she was thrilled with the car.
Here are pictures of Beyonce on TRL and 106 and Park yesterday.