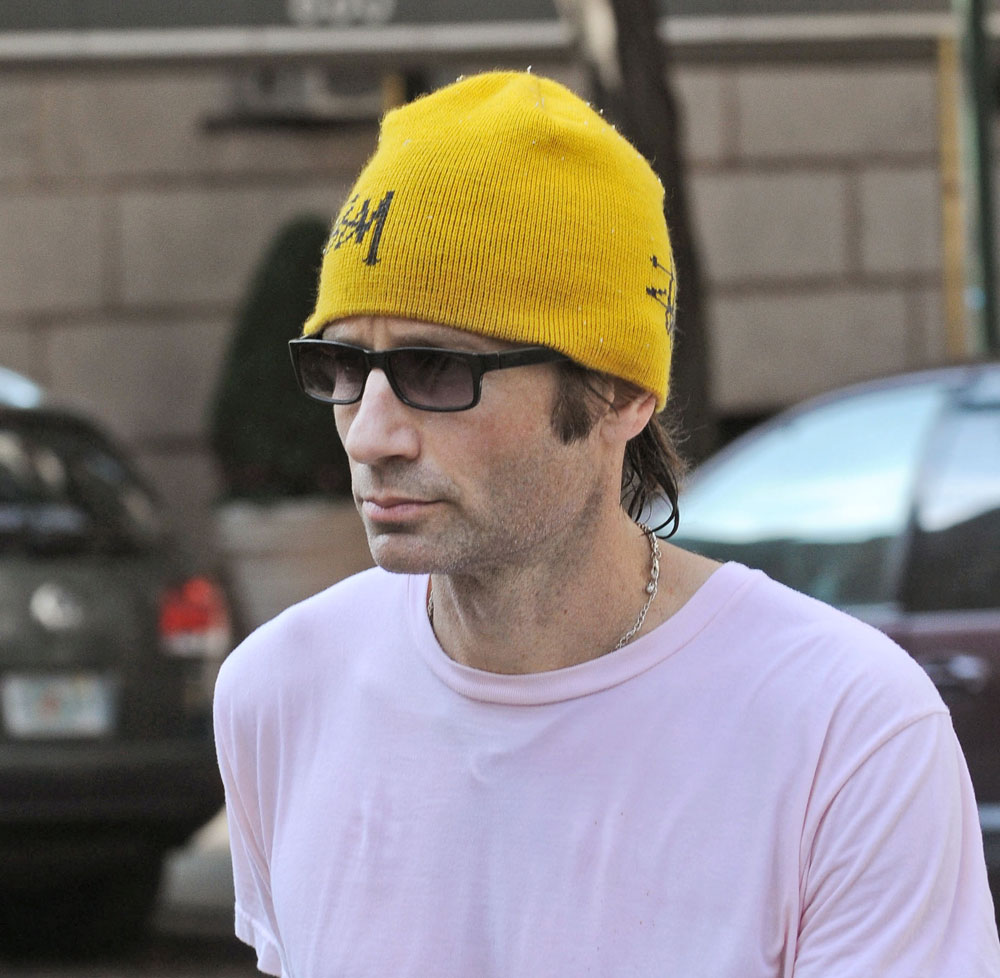 Californication's David Duchovny is in the midst of what is quickly looking like a messy divorce from his wife of 11 years, actress Tea Leoni. David was recently treated for sex addiction, which was described as being an addiction to internet porn, and not infidelity, however, after reportedly having accused Tea of cheating with Billy Bob Thornton, word comes that Duchovny may not have just been practicing his backhand at his $200 an hour tennis lessons.
And perhaps to compound the cliche of a middle-aged man in a marital crisis, 28-year-old Edit Pakay looks every inch a younger version of Duchovny's 42-year-old wife.

Speaking last night, Edit admitted: 'We have a very, very close friendship. I don't want to be the third person in the marriage but I know it can be seen that way.

'David and I are very close friends and we still play tennis together. He's an excellent player. He likes physically strong, fit women.

'He is in great shape. He is a wonderful man. He's a very intelligent, very kind and good man.'

When asked directly if her relationship with the film and TV star had developed into a full-blown sexual affair, Edit said: 'I don't want to say anything that might hurt David. I am not going to deny it. I don't know what our relationship means to him.'
[From Daily World]
Edit's words are a little more incriminating than Tea saying BBT is her favorite person in the world. I've said my boss was my favorite person in the world after he gave me a raise, but it wasn't true and I certainly wasn't sleeping with him! A friend of the tennis pro says that Pakay is in love with Duchovny and that the sexual part of the affair has been going on for more than six months.
David Duchovny is just one of those men who want to have their cake and eat it, too, as far as I'm concerned. He prefaces his cheating on Tea Leoni by rationalizing that all men think about it and that Tea wasn't shocked by his "addiction", that she knows his thoughts. I hate to break it to you, but telling your wife you think about it doesn't let you off the hook for doing it. You don't get a pass because you made a premeditated excuse.
Worst of all, David and Tea have children that are 9 and 6 years old. All of the trash that is being strewn isn't something that their children might run across later in life, it's something that, at the very least, their 9-year old can easily see and hear now, right as she's having to deal with her parents divorce. I guess it's too much to ask that these celebrities learn a little bit of discretion for the sake of their children.
Note by Celebitchy: I guess we know that blind item in Star Magazine this summer was about Duchovny. It read "Which married TV star whose big summer movie just bombed is sleeping with his tennis instructor on the side? His wife has no idea her hubby is scoring on and off the court." She sure knows now.
David Duchovny is shown out in NY on 10/9/08. Credit: Bauergriffinonline