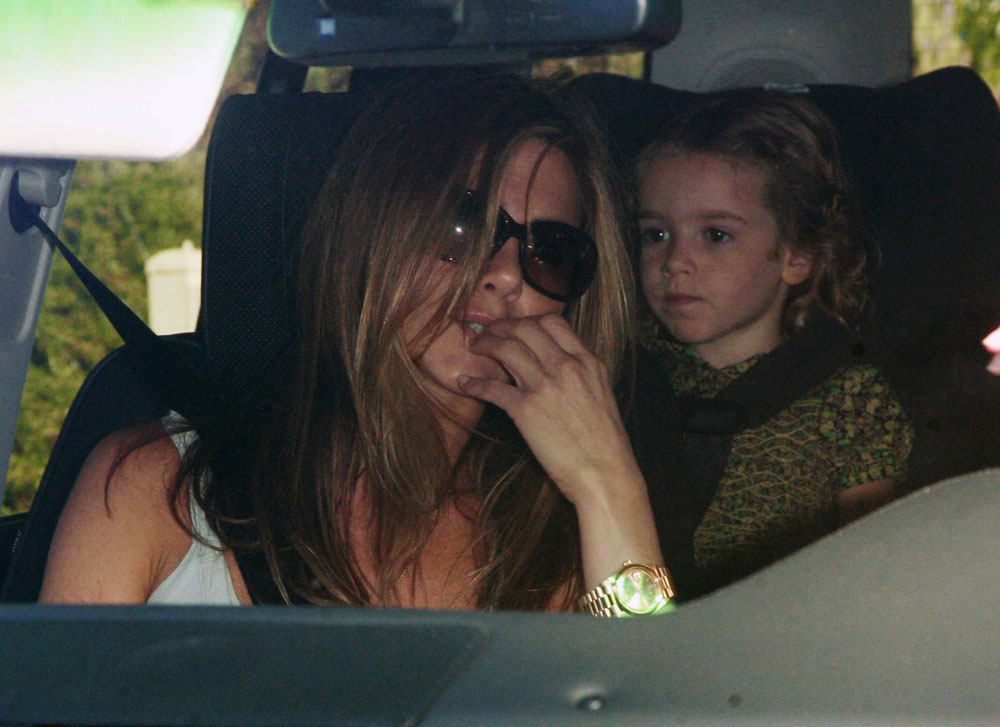 Jennifer Aniston and Courteney Cox arrive at the party with Courteney's daughter Coco, 4
Sacha Baron Cohen and Isla Fisher's little girl, Olive, turned one on Friday, so Mom and Dad threw her a cowgirl themed BBQ birthday party this weekend with a guest list to rival a Hollywood event. With guests and a menu that were much more suited to a grown-up party, Olive celebrated her first birthday with family friends Courtney Cox and David Arquette, who, according to OK! Magazine, smuggled Jennifer Aniston in on the floorboard of their car.
Other guests to the BBQ at Sacha and Isla's house included Dustin Hoffman, Ben Stiller, Ellen DeGeneres and Portia DeRossi, Jack Black, Tobey Maguire, Kate Beckinsale, Seth Rogan and Jonah Hill. David Arquette gave himself the job of "in-SECURITY" and valet to the stars.
Getting into the party spirit, David Arquette acted as both parking valet and security guard for the cowgirl-themed bash. He even wore a t-shirt with the word "insecurity" emblazoned on the back, as he did his best to park the party guest's cars and keep the paparazzi at bay.

Though witnesses tell OK! he could have done a bettter job with Ellen's new Mercedes, which he managed to get wedged between two other cars.

When OK! spotted Ellen and wife Portia de Rossi leaving the party, we asked if they had any valet-parking tips for David. "Stay in school!" Joked Ellen.
[From OK! Magazine]
Sacha and Isla vacationed in Hawaii with the Arquettes and Maguires this summer, along with Leonardo DiCaprio. They look like they have a really good time together. While no mention was made of their kids being there, too, I'd assume they were and are all growing up in happy Hollywood fun together. Imagine funny it would be hanging out with Sacha and David Arquette, add in Dustin Hoffman and Jack Black and it might cause something to pop in your head.
Here are the stars outside Olive's birthday party including her aunt, Rosanna Arquette, Laura Dern and Ben Harper with their daughter Jaya, 4, David Arquette, Courteney Cox, Gary Shandling, Portia de Rossi and Ellen DeGeneres, Dustin Hoffman, Tobey Maguire's wife Jennifer Myer and daughter Ruby, Ben Stiller, and Jonah Hill with a date. Jennifer Aniston is shown arriving with Courteney Cox and Coco and inside the party. She looks like she's showing off a watch that John Mayer gave her, or at least looking at the time. At one point she gives Laura Dern a hug. Courteney's daughter Coco, 4, is shown in a cowgirl outfit showing off a heart balloon. Credit: Fame Pictures