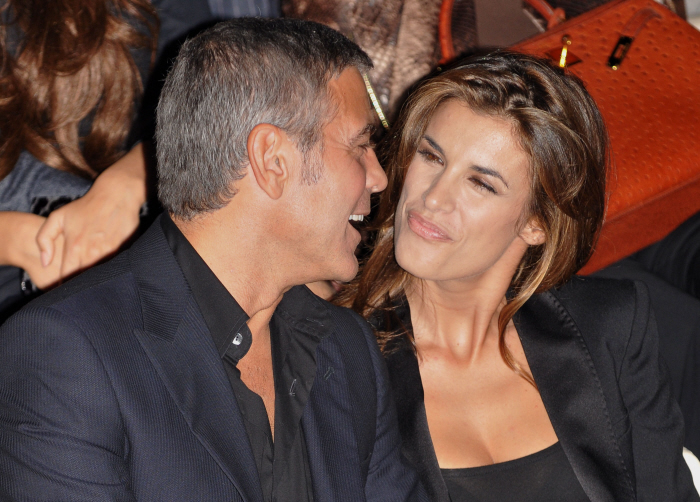 I thought this was just a random Italian report, but it's for real!!! George Clooney and Elisabetta Canalis has split up!!! Gossip Cop just confirmed it. As did People Magazine! The couple said in a statement to media outlets, "We're not together anymore. It's very difficult and very personal, so we hope that our privacy is respected." OH SNAP. What does this mean? It means, in my opinion, that George Clooney got bored. That Eli's amazing ass was good for a time, but that she's a vapid famewhore (literally, she might actually be a hooker) and she overstayed her welcome. First, read this hilarious translation of an Italian report – they just come right out and start talking about whether Clooney is gay.
There you go. George Clooney and Elisabetta Canalis are no longer together. The (former) couple made ​​the announcement with a joint statement released from London, where the American actor is filming a new movie, on the day of confirmation that Clooney's The Ides of March will open the Venice Film Festival.

"It 'very difficult and very personal" – the statement said – "so we hope that our privacy is respected."

Bizarre request, for a couple for about two years (the first photos circulated in the summer of 2009) that has nothing to give generously of their privacy to the general public. But there it is. So ended one of the relations most celebrated, photographed, chats in recent years. That between the ' glamorous Hollywood superstar 2 , 50, a wet dream for millions of women around the world and the beautiful Italian, busty 32 year-old former tissue with some ambition 3 in the entertainment world. Personal reasons unfathomable, shared a stage and happy and then, at some point, the awareness that it is better to take separate roads. And this is one of the possible interpretations. One, because in this case there would be another. That what she wants the crash as a predictable and expected, conclusone written a story built around a table for a variety of needs – advertising, image advertising.

Someone, the liaison to the birth, spoke of an alleged homosexuality of Clooney and the need, therefore, capable of accompanying a beautiful daughter to dispel any suspicion. Practice also adopted by Hollywood since the earliest times, and that you want – just to give an example – even at the base of the short and stormy relationship between James Dean and Annamaria Pierangeli – which, it is said, then "served" Also on the side of the late Rock Hudson. Because being gay in America is not easy at all, be in Hollywood is even more complicated – Keanu Reeves is rumored that, despite the worldwide success of The Matrix , once publicly admitted their homosexuality has lost much of their bargaining power.

Two years of passion, an avalanche of shoots (many of who , directed by quell'Alfonso Signorini was angry, with an editorial in the weekly directed by him, house organ of the Berlusconi family, for an article Repubblica.it 5 Doubts about veracity of a cover photo that showed the couple), consistent and timely interviews and statements about the possible wedding date 6 , we get married or maybe not 7 , and how happy we are chisseneimporta gossip. Inseparable and affectionate (to be honest, never fans), especially when it came to cross a wall of photographers. Together, hand in hand on the red carpet of film festivals, at Villa Oleandra – Clooney's mansion on Lake Como – moving with the same jacket, with friends in Hollywood Brad Pitt and Matt Damon. And in Sardinia, where his family lived with her, so much so that they all shouted at the "official engagement."

Skeptics have never stopped supporting his thesis. That is, Clooney is gay, Canalis he was submitted by a mutual friend and suggested as the ideal figure for that purpose as beautiful, popular, free. A real "contrattino", what the two would have concluded, with a definite deadline. And with some clauses, such as never to speak of the relationship. Jump to know if it's true, but it is undeniable that the other one and never have commented earlier, said any thing, however slight, on their partners.
Oh, well. He'll find someone else. He always does. Hopefully Eli got enough out of Clooney to make it worthwhile and to land on her feet now that she's been Sarah Larson'd.
UPDATE: Now that I've had a bit longer to process this, I have to say that I am surprised. Thank you for giving me credit for predicting this, but I honestly and truly thought Eli was going to hang in there for longer. I thought she would make it through this summer, just because Clooney loves to have a girl/hooker for the summer. He probably wants to troll for someone new, though. And no, I don't see him with Sandra Bullock. Sandra and George both like 'em dirtier.
UPDATE: LMAO!!! Elisabetta's publicist just released ANOTHER statement about the split: "It is a very personal and sad matter, and Elisabetta wants it to remain that way. She will be taking some time … and then will face the press. She has not authorized me to say when the split happened." That sounds like a threat, right? "She will be taking some time … and then will face the press." Like, Eli is going to come out of this breakup with an ax to grind?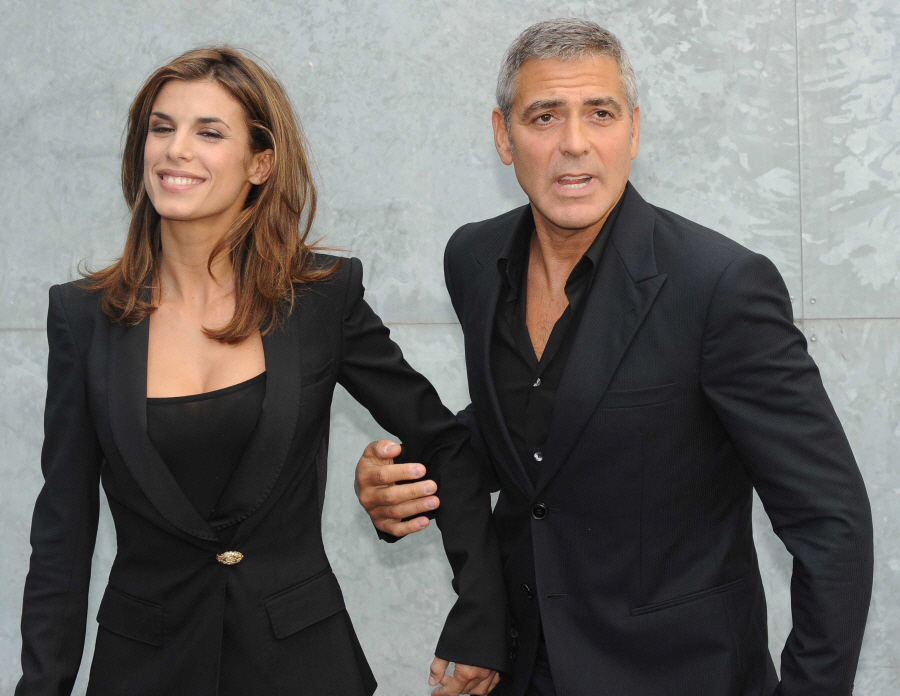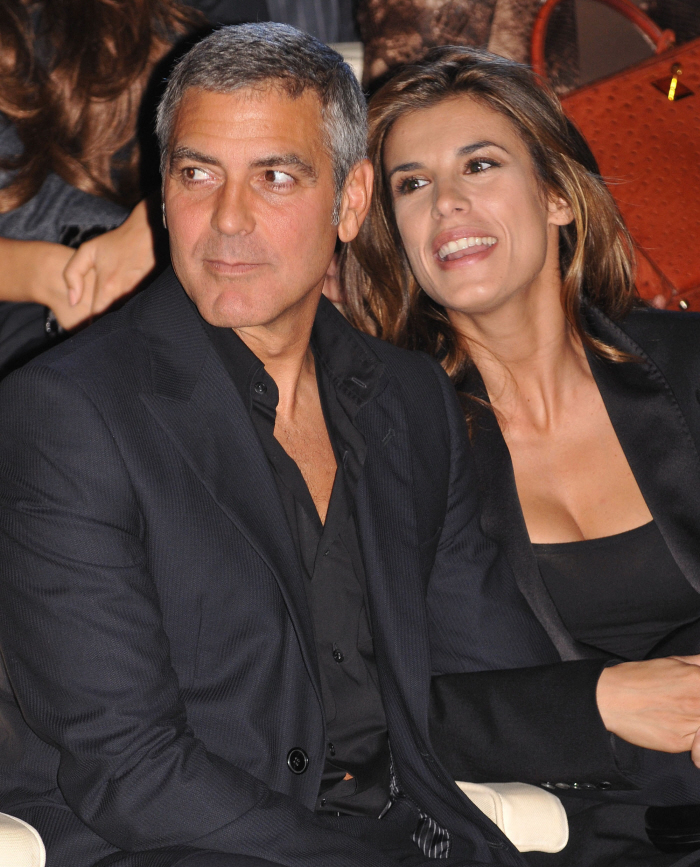 Photos courtesy of WENN & Fame.