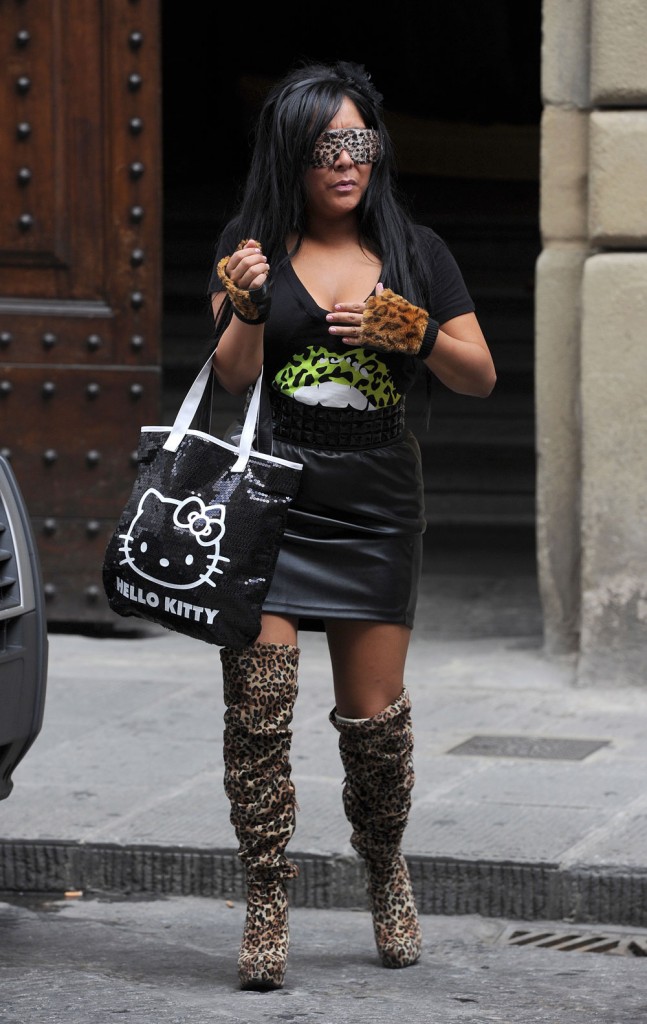 The good news is that Jersey Shore is going to get a whole new cast after the fifth season (The fourth is filming now.) The bad news is that half the cast already got spinoff shows, including one with Snooki and J-Woww trying to demonstrate basic life skills, Pauly D showing us his DJ pickup techniques, and The Situation lifting up his shirt and doing that lip curl thing that he thinks is irresistible to women. We'll be rid of lesser players Ronnie, Sammie, Vinny and Deena at least.
Here's the story from US:
Jersey Shore producers plan to recast the MTV hit. "After this group comes back from Italy and shoots season 5 this summer, that will be the end for them," says an insider. The new stars will be "a lot cheaper"… plus the current gang can feel free to pursue spinoffs. Says the source, "They will leave on a high note!
[From US Weekly, print edition, July 4, 2011]
This comes right after the news that the current cast members were holding out for more than the $100,000 an episode they were already being paid for season four, which is filming now. Prior to signing contracts for season five they wanted even more cash, so if this report is correct MTV may have been fed up with it. They reportedly worked out something for season five, but seem to have called their bluff and decided to wipe the slate clean after that. Drunken famewhores are a dime a dozen and these kids are replaceable. Of course they got greedy and found out the hard way. Tough luck.
Snooki and J-Woww are shown cuddling a miniature daschund that stays in the little shop next to the pizza store where they're working in Florence. Photos are from 6/17 and 6/18/11. Credit: WENN.com