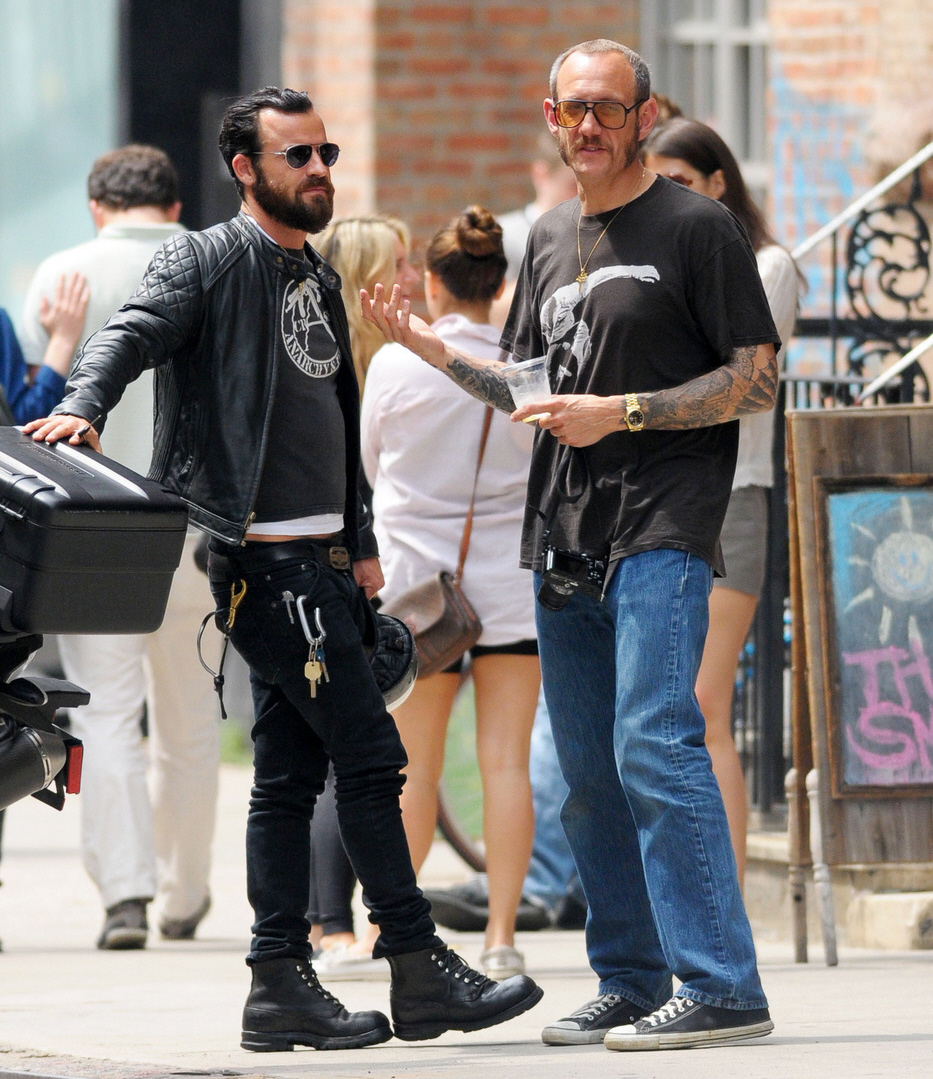 Here are some new photos of Justin Theroux and photographer/pervert Terry Richardson, hanging out together yesterday in NYC. Theroux is getting pap'd now, which happens when you date Jennifer Aniston and her media team officially rolls you out. Richardson, as you remember, took those photos of Theroux and Aniston that we discussed yesterday. I have to thank all of you bitches for your comments and conspiracy theories yesterday on the Aniston post. I didn't even notice Aniston's hair – but in the Terry Richardson photos, supposedly taken two nights ago, Aniston's hair was much longer than it's been. Her hair looked pre-haircut, meaning the photos may have been taken BEFORE mid-February, when Aniston chopped off her locks during the European tour for Just Go With It. Of course, her hair in the Richardson photos could have been extensions. But she didn't have extensions yesterday, when she was photographed in a see-through skirt.
So… what does this mean? Is there some kind of conspiracy involving some months-old photos taken by Terry Richardson, which Terry only released when Aniston and Theroux gave him the go ahead. And if they were taken months ago, is it proof that Aniston and Theroux were in the midst of a romantic relationship months before he officially ended things with his live-in girlfriend of 14 years? That's what Us Weekly's cover story is about this week – we had the first excerpts of the story yesterday, but Jezebel had even more:
The magazine lays out a timeline for the Aniston and Theroux relationship. In March, Theroux's ex, Heidi, was super excited about her relationship with Justin and they were even talking about getting property in Hawaii together. She had no idea he was about to dump her. But he had known for months, because he'd been getting closer to Jen on the set of the appropriately titled film Wanderlust. Even though Heidi believes that J and J never became intimate on the set, Jen was renting a huge lakehouse while filming, and would hold parties there. Then the parties turned private. DUN DUN DUN. Justin's friends would joke, "Have you broken up with your girlfriend yet?" But he was too scared — he felt indebted to her, since they'd been together so long. Sigh. We feel really bad for the girlfriend and it kind of sounds like Theroux is an a–hole.
[From Us Weekly via Jezebel]
Meanwhile, OK! Magazine claims that Aniston doesn't want Theroux to live in the same apartment that he shared with his girlfriend of 14 years, so she's finding him a new apartment. She's also planning a vacation with him and introducing him to friends, etc. In Touch Weekly says that Aniston and Theroux had a public date in NYC WEEKS before he ended it with Heidi.
Basically, there was an overlap. Did these Terry Richardson photos happen during the overlap? I think they might have.
Also: Theroux has a bald spot.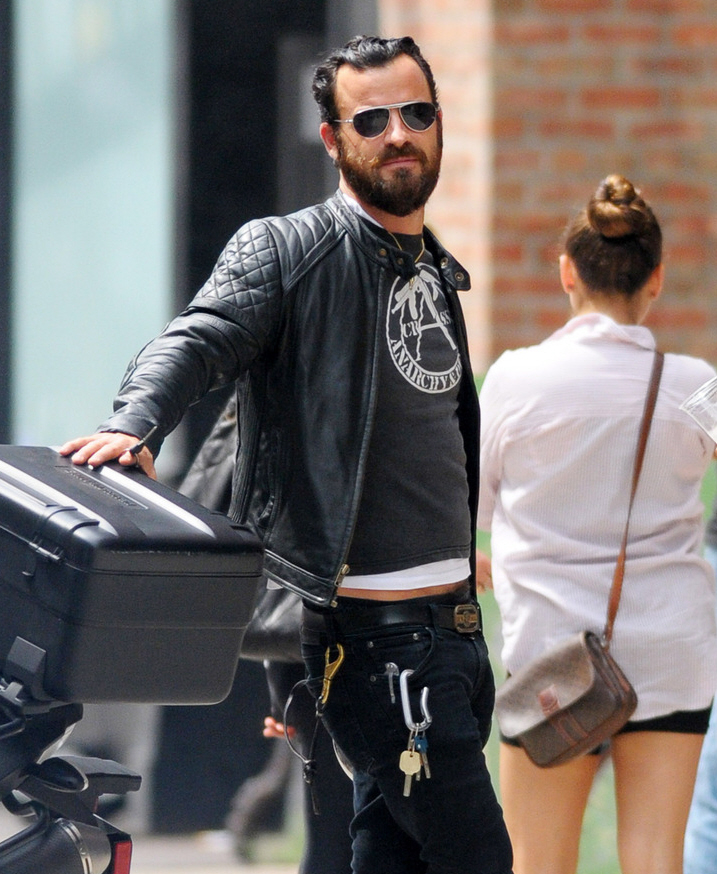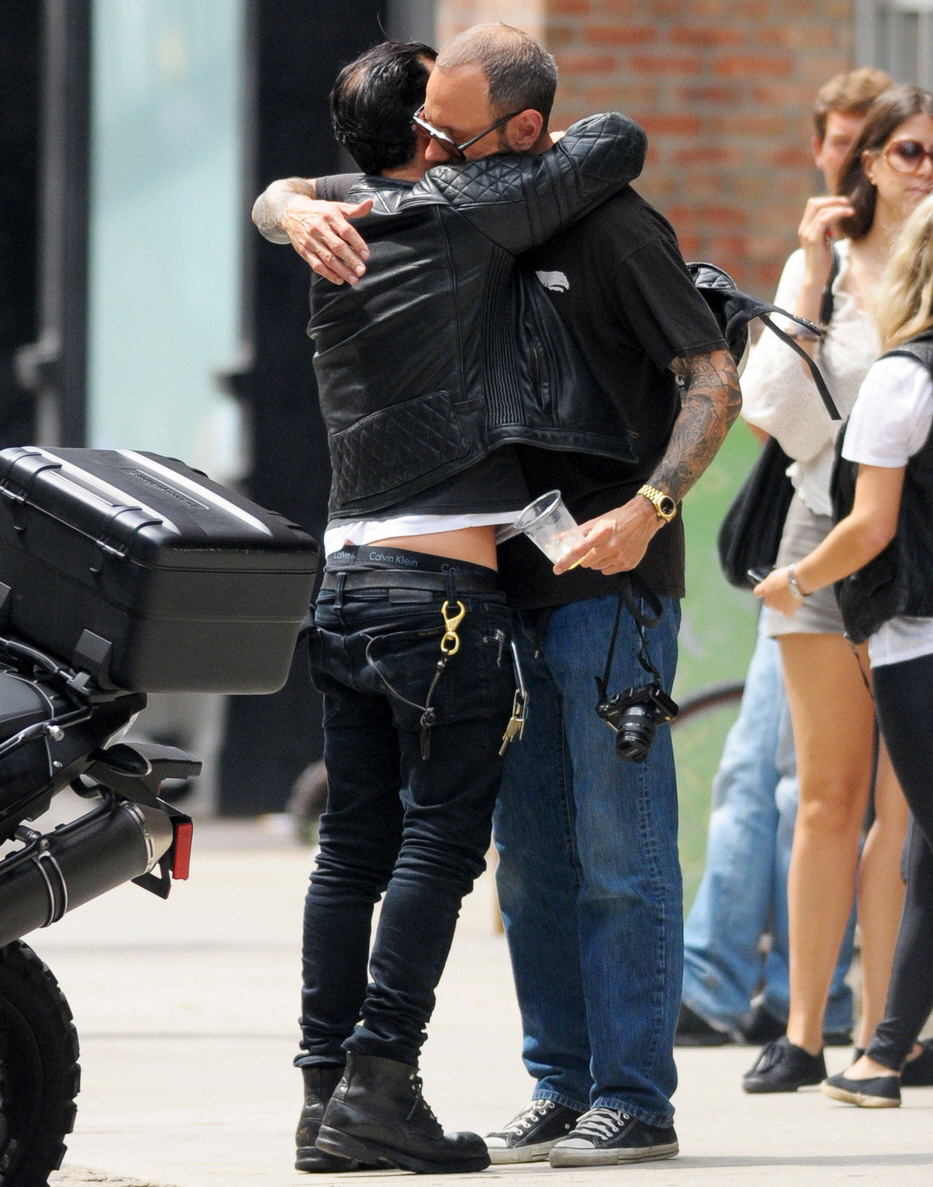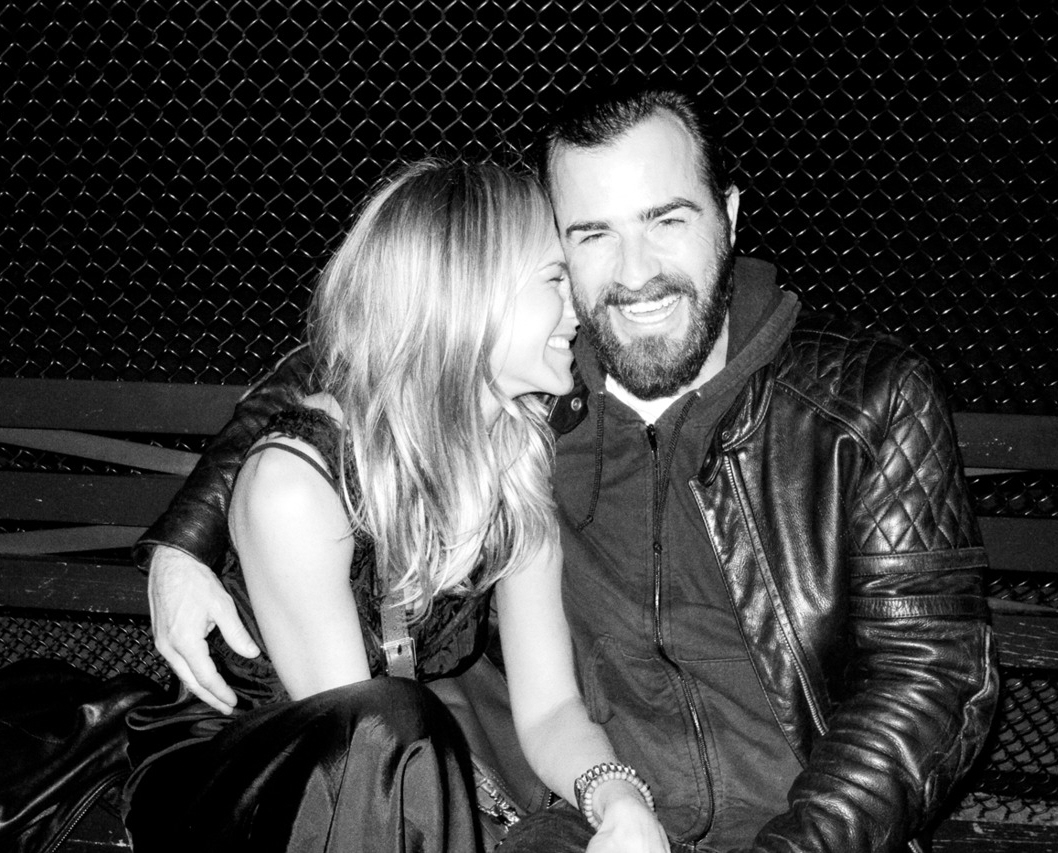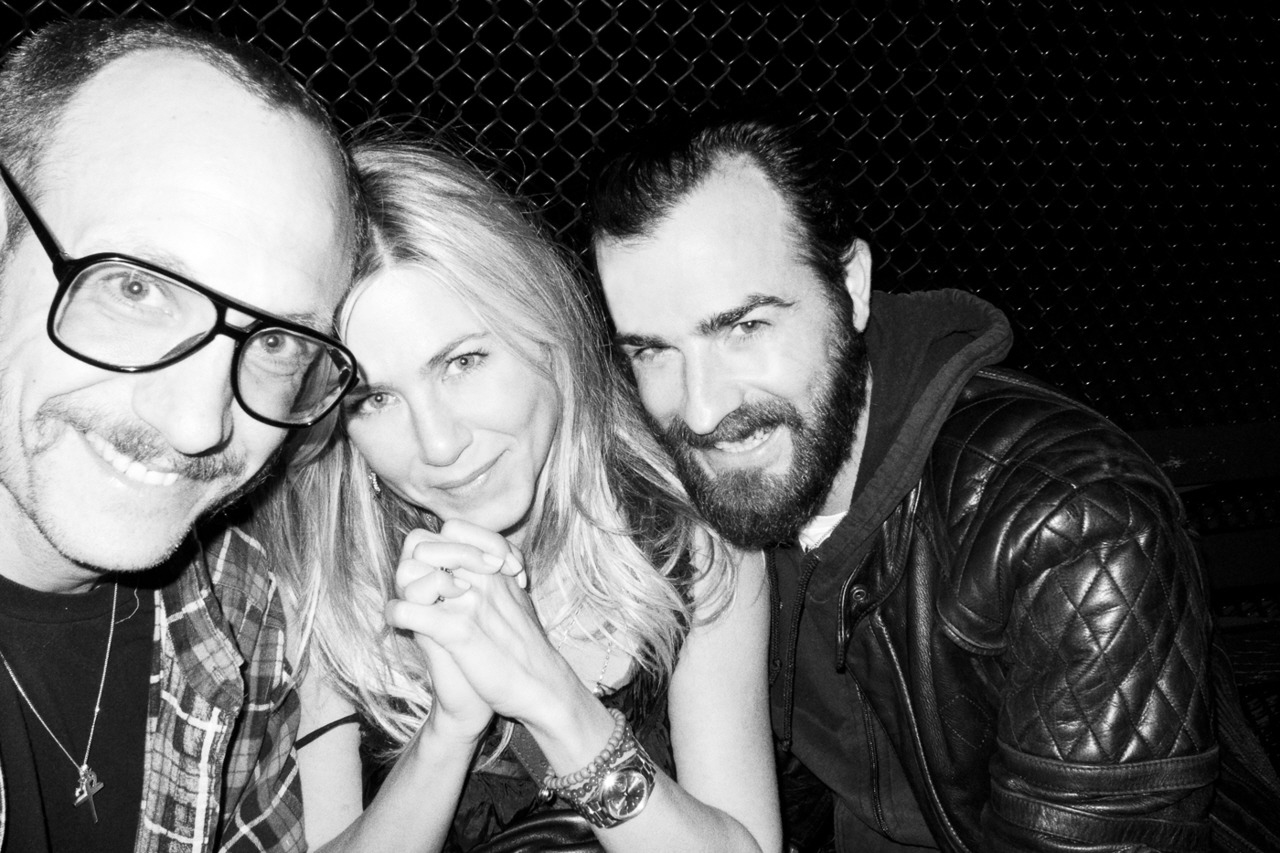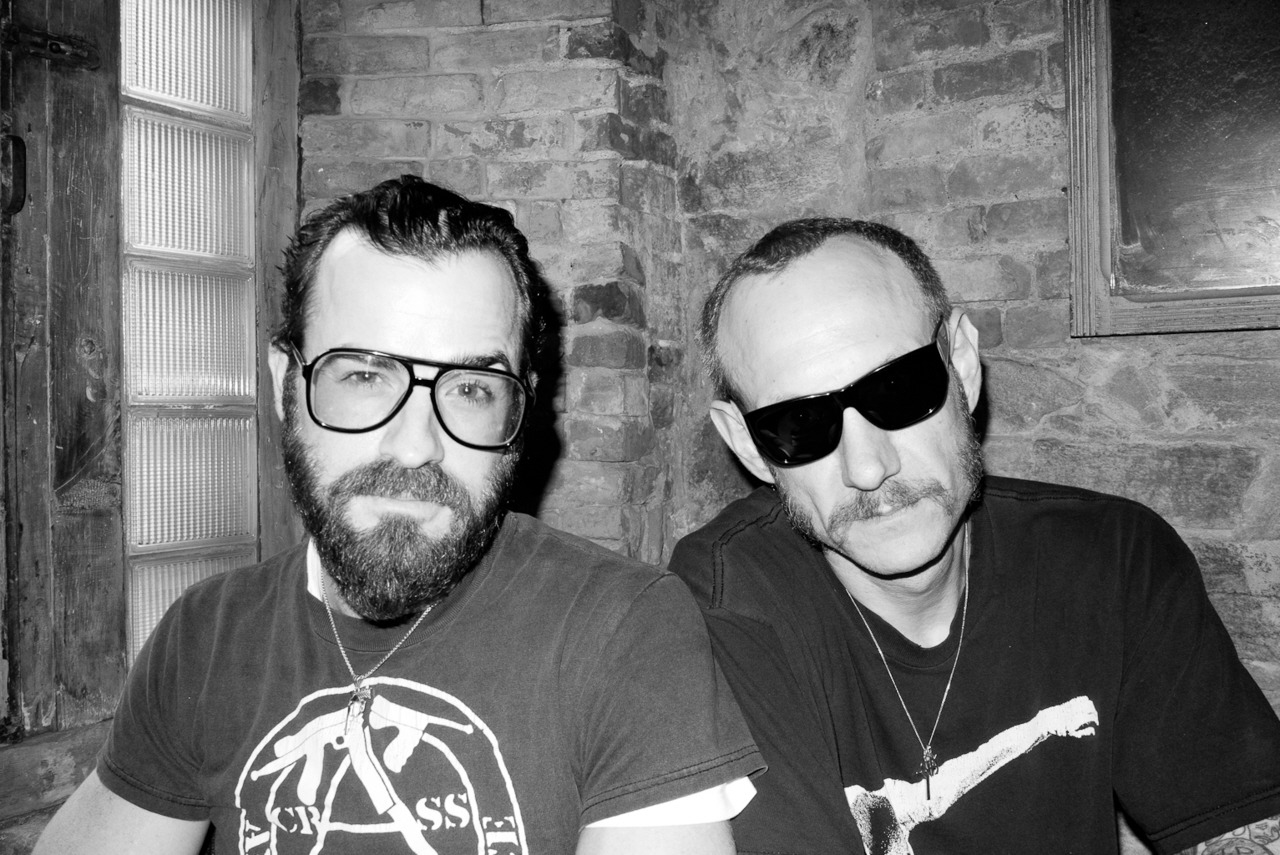 Photos courtesy of Pacific Coast News and Terry's Diary.