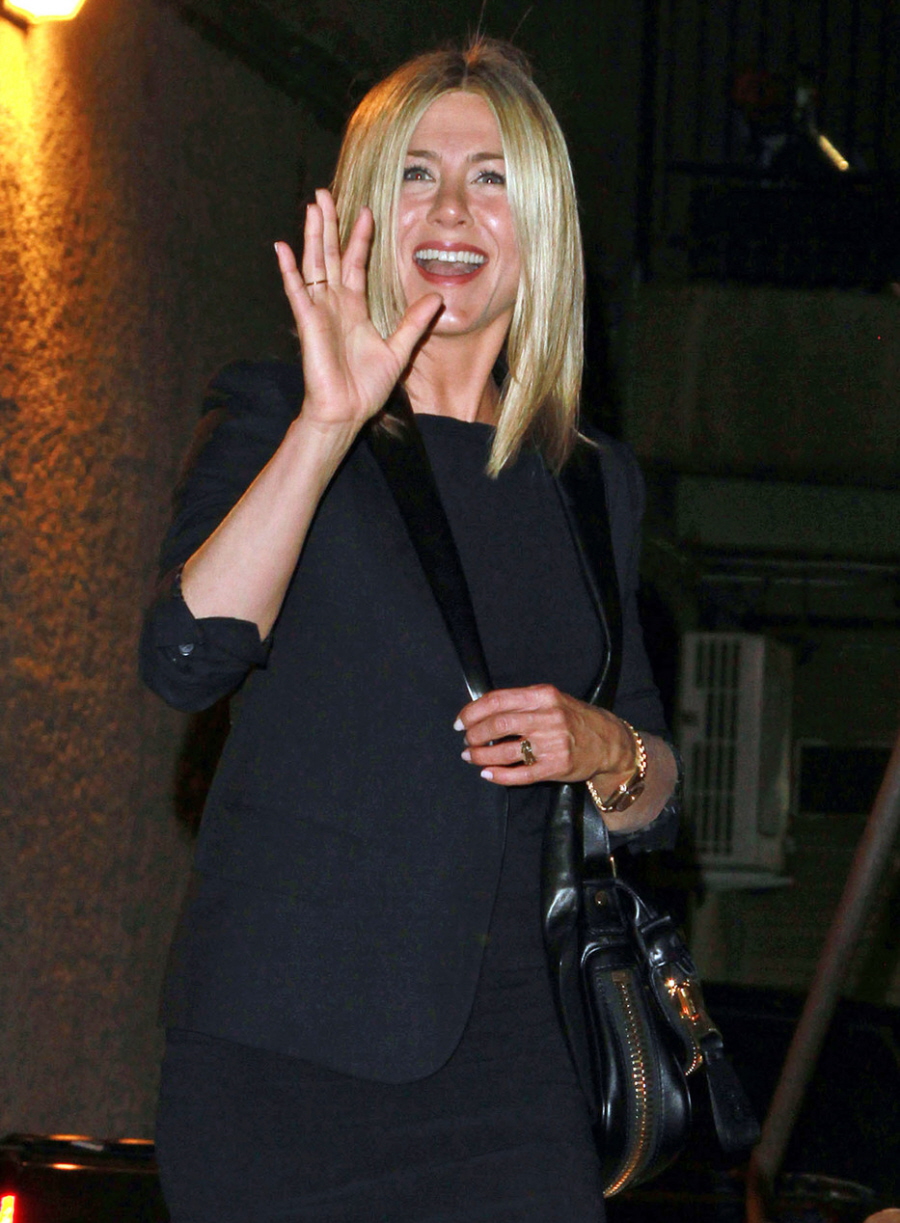 Here are some new photos of Jennifer Aniston exiting her taping of Inside the Actor's Studio in New York City last night. She arrived and left separately from her homewrecked lover, Justin Theroux, who was on hand to support her during the taping. There are even some shadowy photos of them together at one point – you can see them here and here. First – Aniston is deemed worthy of an Inside the Actor's Studio?!? That show has been going downhill for so long – they made Ed O'Neill, a veteran character actor with decades of work, do the show with THE CAST of Modern Family, rather than give him his own show. Ugh. Anyway, I guess Aniston is worthy of an episode – she is a career inspiration to many young actresses with more hustle than talent. Here's how everything went down at the taping:
Their relationship is only a mere few weeks old, but there is no doubt that things are getting serious between Jennifer Aniston and Justin Theroux. The former Friends star, 42, brought her 39-year-old new beau along with her for moral support as she taped an interview with James Lipton for Bravo series, Inside The Actor's Studio.

The couple were spotted standing side-by-side as they made their way out of the Pace University in New York, where the actress' appearance on the show was being filmed. Once again the couple tried to avoid getting snapped together, by leaving the building separately. Jennifer made her way out through the front exit and the smile plastered across her face said it all.

The actress was like a giddy teenager, beaming as she showed off her great figure in a conservative knee-length fitted shift paired with a black tuxedo jacket featuring leather-trimmed lapels. She accessorised the look with a pair of black satin Christian Louboutin kitten heels. She also kept the matching gold ring that she shares with Theroux firmly on her wedding finger. In fact, Jennifer proudly displayed the bling as she waved to her fans.

Theroux's appearance was certainly more scruffy compared to his new ladylove as he continued to sport his beard and favourite leather motorcycle jacket. Earlier in the evening, the couple also arrived separately with Theroux arriving on his motorcycle just moments before Jennifer made her entrance through the front door.

It came during a tumultuous week for the pair – with Jennifer being branded a 'home wrecker' after Theroux's long-time girlfriend Heidi Bivens revealed that she had only moved out of the couple's house the previous weekend. Costume designer Miss Bivens is understood to be devastated over the new romance. Jennifer met Theroux last autumn when they shot the film Wanderlust together, and the pair made their first public outing at the beginning of June at an awards ceremony after-party in LA. They have been spotted on dates at various Hollywood haunts, but have largely avoided being photographed together.
[From The Mail]
Did anyone else think, "I wonder if Justin and Jennifer will still be together by the time the show airs?" Just for the record, I think they will. Justin isn't some John Mayer-style boyish d-bag who gets frightened by attention and media. Justin has been in and around Hollywood for decades – he's with Aniston because he wants to be with her, with all that entails. I'm not saying they're going to last one year. But I think Baldy McZipperProblem might be her date to this year's Oscars.
UPDATE: People Magazine has an absolutely exhaustive report on what went down during Aniston's taping. According to a source, Theroux was "sitting in the front row, and she made eye contact with him… Whenever there would be a lull, she would just look at him and give him a wink and go back to what she was doing." Aniston also made some "quips" – here are some highlights:
Aniston on what drew her to the 2006 movie The Break-Up: "Well, you know it's something I have a lot of experience with."

What turns you on? "Generally or currently?" she said with a laugh as she placed her face in her hands and shook her head. "A great pair of shoes" – prompting Theroux to laugh and applaud.

What turns you off? "Flats."

What's your favorite word? "Norman," said a slightly teary Aniston, referring to her 15-year-old Welsh corgi-terrier mix, who died in May.

What's your least favorite? "Stupid."

What sound or noise do you love? "A baby hysterically laughing."

What sound do you hate? "Car alarms."

What profession other than your own would you like to attempt? "Attempt is a good word … interior design."

What profession would you not like to have? "Be the President."

If heaven existed, what would you like to hear God say to you at the Pearly Gates? "Never thought I'd see you here."
Ugh. Meh.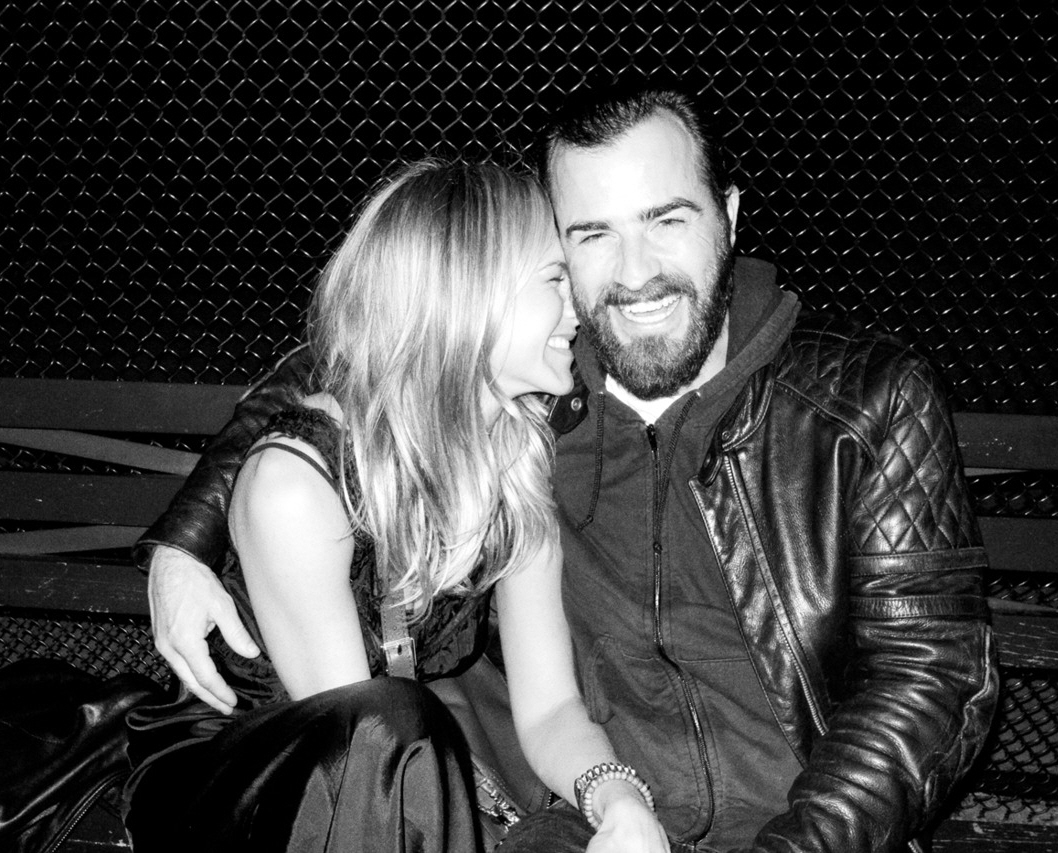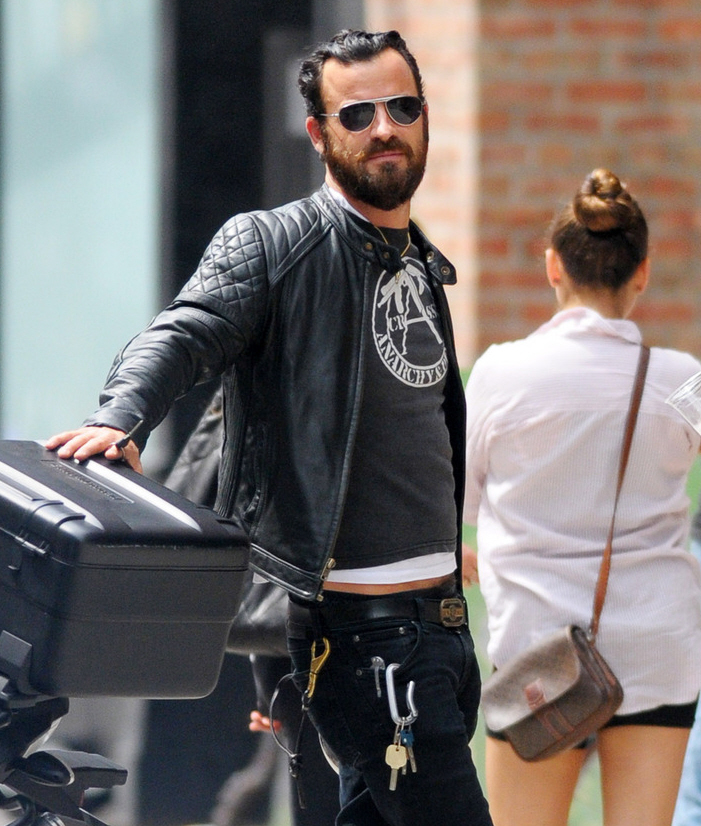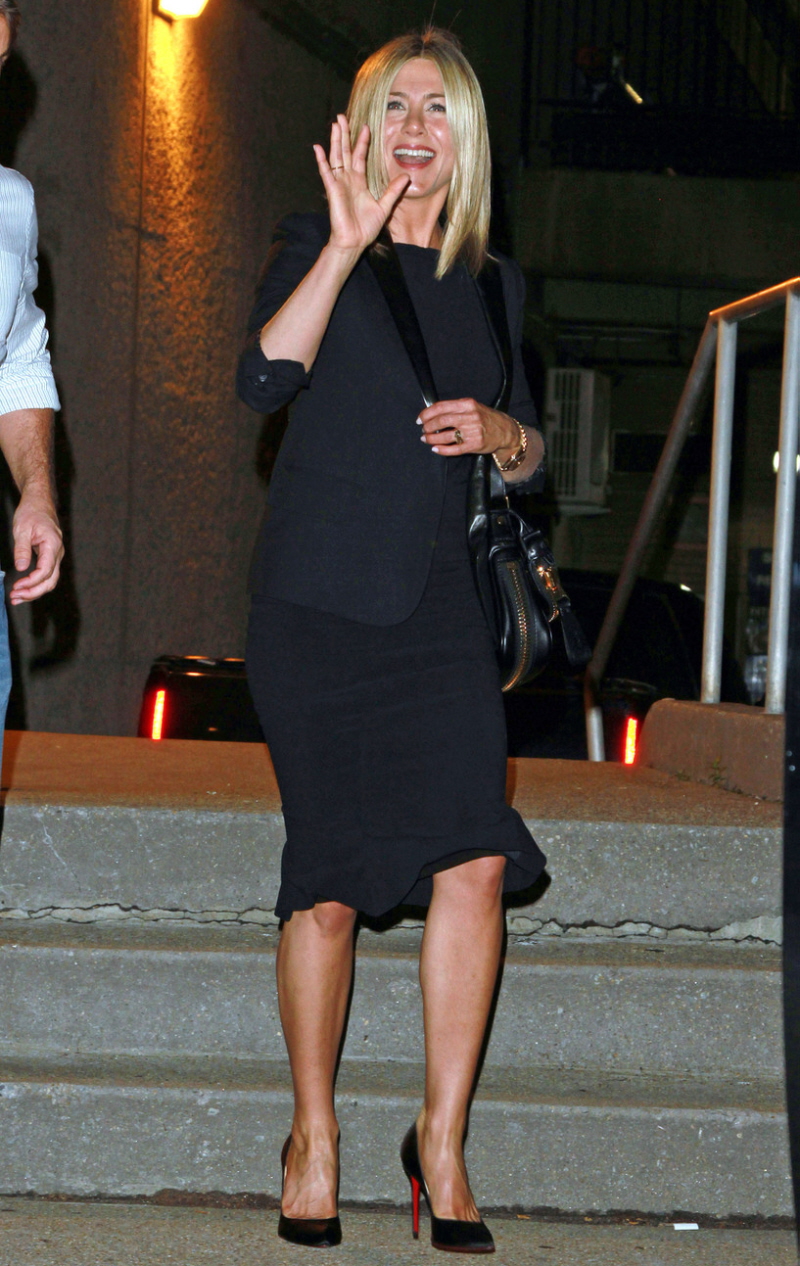 Photos courtesy of Pacific Coast News and Terry Richardson.