Ah yes, it seems like just yesterday that Tom Cruise and his bizarre, lumpy stomach were waltzing around (repeatedly, no less) with toy guns and glass-cutting hipples in tow on the set of Mission: Impossible – Ghost Protocol, but now we've finally received a trailer for the movie. As expected, Cruise performs a lot of running, kicking, and death-defying stunting in this trailer, but it feels a bit odd to watch him doing all of this to the tune of Eminem's "Won't Back Down." Also, I hate to say it (really, I do), but if Cruise were any other existing action star (like, say, Jason Statham), the entire thing wouldn't seem so ridiculous. The fact of the matter is that, while Cruise had a decent run as super-spy Ethan Hunt in the first three installments of the franchise, his public persona has suffered so much damage that everything that he does nowadays seems like a spoof; and that's clearly not the vibe that the producers were going for here. Anyway, Jeremy Renner looks great in the trailer, so there's that, right?
Interestingly enough, Katie Holmes was recently asked for her opinion (as if she's allowed to form them) on Ghost Protocol, and she describes the movie as "intense."
MTV News caught up with Cruise's better half, Katie Holmes, Monday during the press day for Don't Be Afraid of the Dark, [and] we asked if she's seen any of the film yet.

"I have. I had an advanced screening," she said with a laugh, adding that it's a perk of being married to the film's star.

As for her thoughts about Cruise's death-defying stunts in the film, particularly those he performed atop Dubai's Burj Khalifa (the world's tallest building), Holmes turned the question over to Guillermo del Toro, who produced Don't Be Afraid of the Dark.

"What did you think, Guillermo, about the Burj?" she asked him.

"I love it!" he said, at which point they both agreed that Cruise's stunts were scarier than their film, which revolves around the demonic activities of a group of terrifying little creatures that seek out and kill humans, particularly children.

"It's amazing,' Holmes continued. "The movie is going to be very cool and intense and the best Mission yet."

The actress also mentioned that she'd be game for a role that required a few crazy stunts herself. "I think it sounds fun," she said.
[From MTV]
Oh, Katie. So many things spring to mind when botwife is permitted to speak; but it suffices to point out that, when MTV asked her a question that did not result in a pre-rehearsed answer, she had to deflect the unanticipated inquiry towards the person (in this case, Guillermo) sitting next to her. A Scientology richochet, if you will. Also, it's rather amusing that she still desires an action movie career, since her first "meeting" with Tom Cruise reportedly occurred under the guise of an audition for Mission: Impossible 3 but was truly an "audition" for the role of Mrs. Unhinged, Lift-Wearing Midget. How romantic.
Now and because I know you all asked for it, let's just revisit Tom and his epic moobs on the set of Ghost Protocol last October and December, shall we?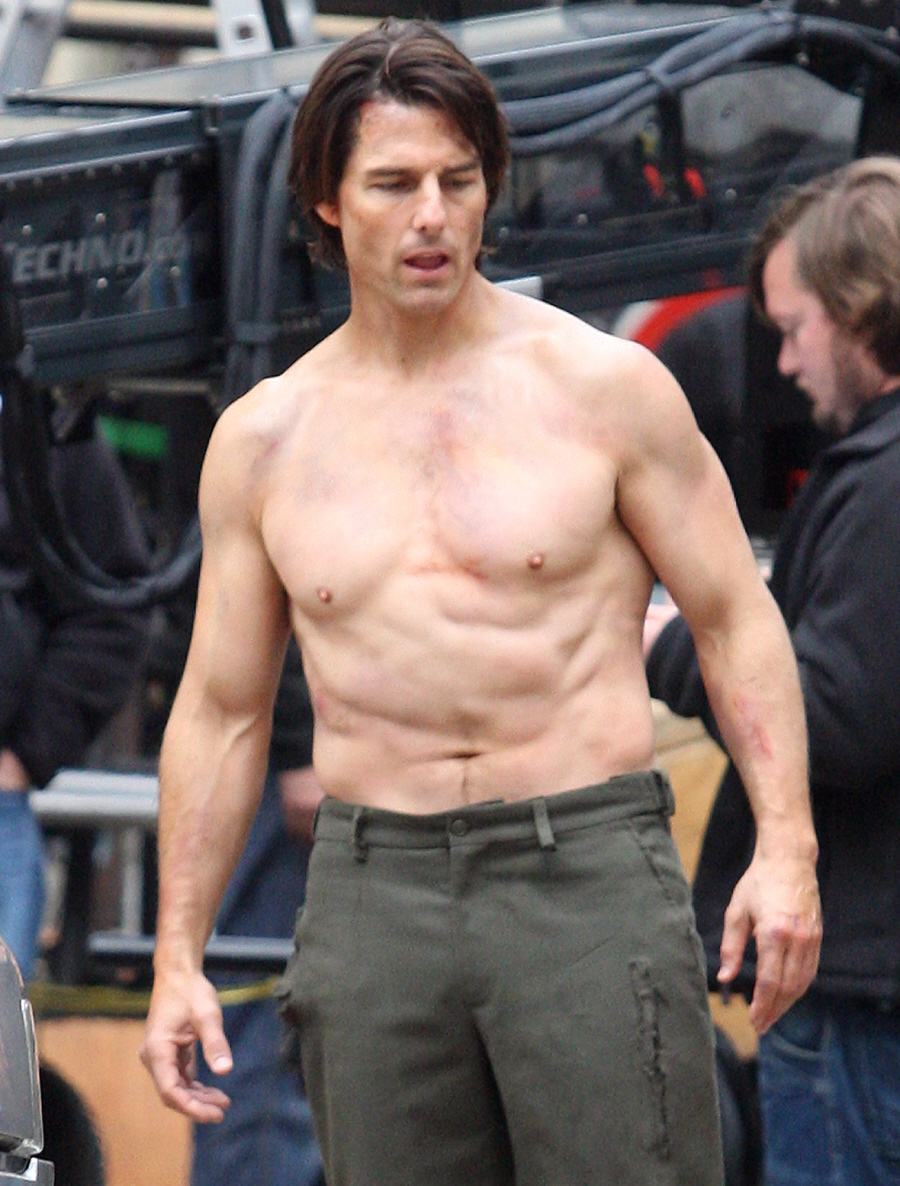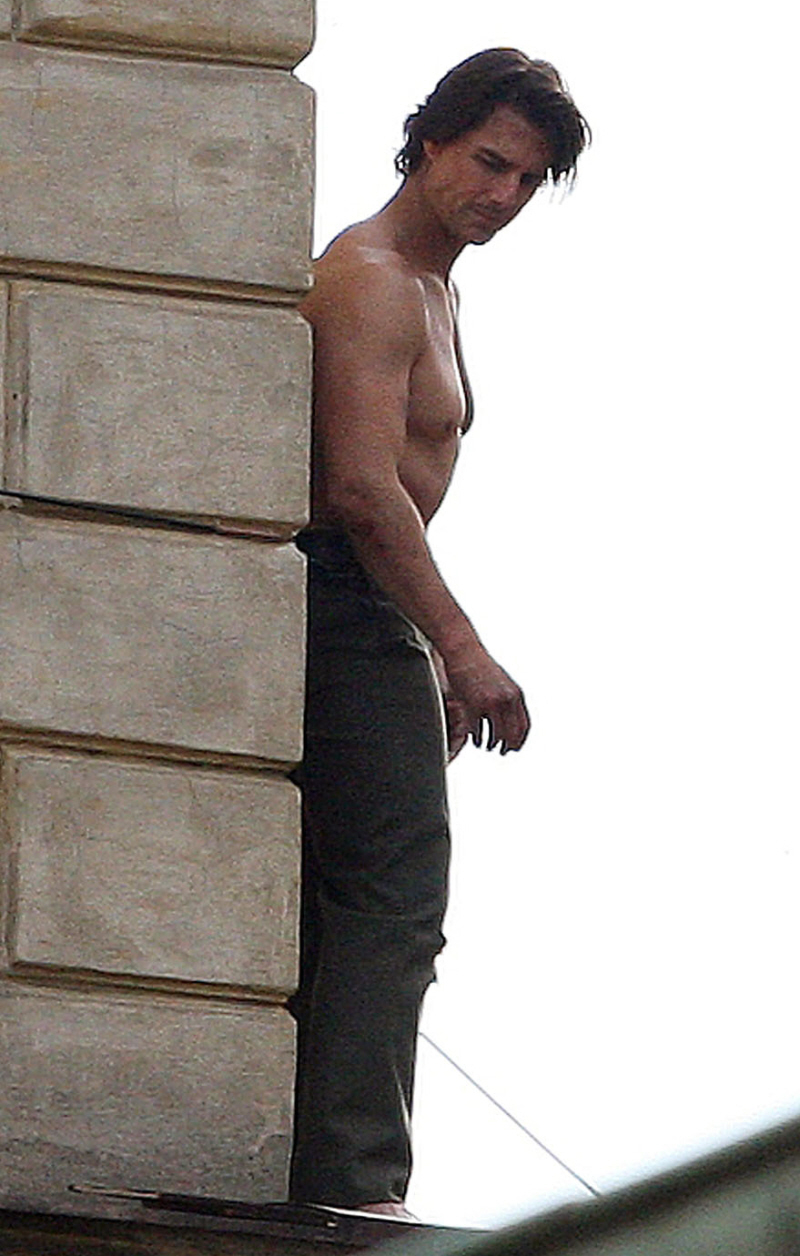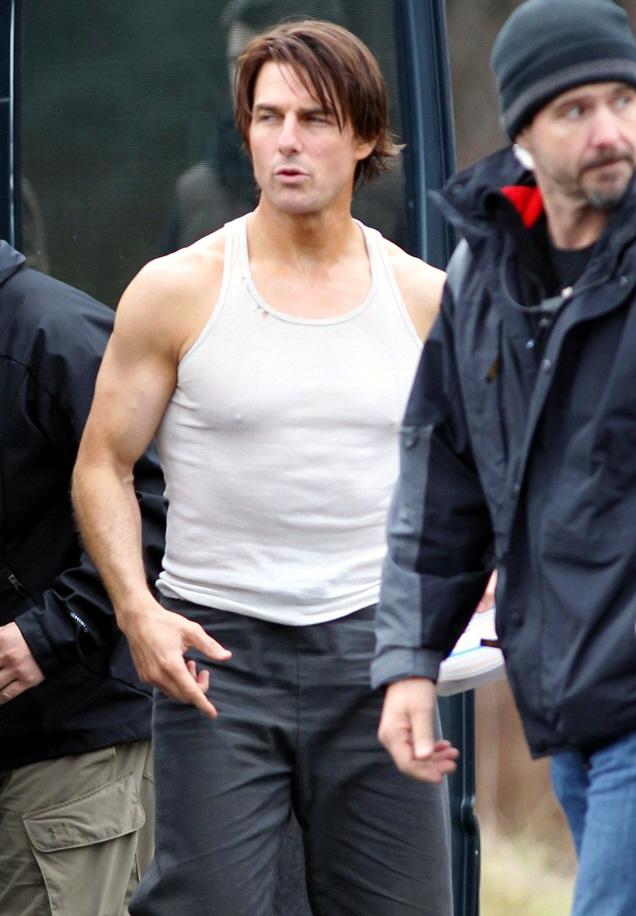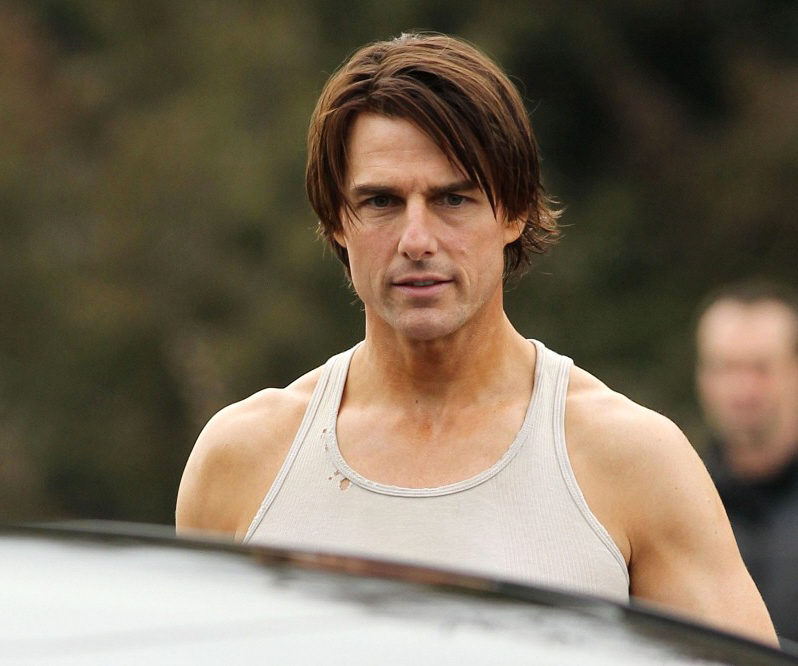 Tom Cruise butching it up last fall on set courtesy of WENN and Bauer-Griffin.