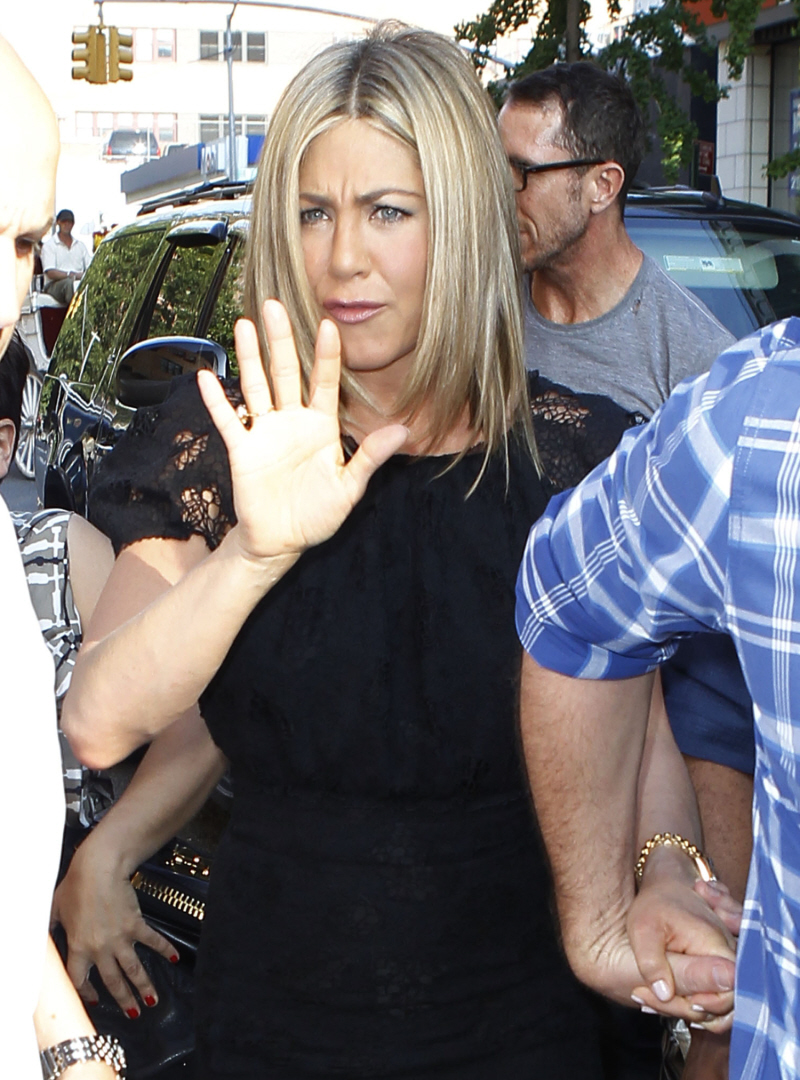 Us Weekly has an interesting piece about all of the changes Jennifer Aniston is making now that she's got a man (as opposed to a pillow boyfriend, I guess). Some of it is obvious stuff that we already know – Justin Theroux is a New York boy, and Aniston sudden itch to buy New York real estate was easily explained retroactively once we found out that Aniston was preparing a love nest for her homewrecked boyfriend. Justin's also into tattoos, thus Aniston got a tattoo. But some of the "changes" Aniston is making aren't so obvious, and they're totally worth noting:
*Jennifer Aniston isn't taking her eyes off Justin Theroux. "She only wants to be with Justin," says a source, adding, "She has a pattern of doing this with guys." Much like her transformation into "groupie" for John Mayer, Aniston is now constantly with her man in downtown NYC, whether it's browsing through the Maccarone Gallery or strolling arm in arm after a June 25 dinner at Il Cantinori.

*She's got new friends! Jennifer has traded in her California friends for her hipster beau's favorite downtown bar, the Smile. And on June 22, Theroux's BFF, controversial photographer Terry Richardson, released a pic of the pair taken after the trio dined in NYC's SoHo. Aniston said cheese for a man who is notorious for his grungy, hypersexual imagery. But perhaps controversy is part of her new image. – with pals like there, expect rowdy bashes at the pad she bough just a stone's throw from Theroux's. She is, after all, in the mood to celebrate.

*She's talking babies! "Jennifer really wants children," says an Aniston confidant. "It's something she talks about openly." Since her split with Brad Pitt in 2005, she's seen more duds than potential dads. "Everyone is rooting for Justin to be Mr. Right," says the pal. "She hasn't loved anyone as much as Brad. And she deserves a fresh start so she can have a family."

*She's going on hiatus! The actress is turning love into a full-time job! "jen's taking a year off from work to enjoy herself," says an Aniston insider. Indeed, a second source familiar with her schedule confirms that after Horrible Bosses and the October release of Wanderlust, the only thing on her plate is developing The Goree Girls, her production company's years-old project about singers in a women's prison. And guess who she's picked to juice up the script? "She wants to collaborate with him," a source says of Theroux. "She's impressed by his ability to find humor in dry material."
[From Us Weekly, print edition]
She wants to collaborate with Justin on the script? "Make sure you add 'and then she touches her hair' in every scene. And add something about wedges and scarves! There, we collaborated! Time for another bottle of tequila!"
Also – "Jennifer really wants children. It's something she talks about openly." First of all: OF COURSE she's talking about children. Because that's what every woman has learned to do when they've only been dating a guy for six weeks, right? What's that? They've been seeing each other a lot longer? Shocking! Secondly: "She's seen more duds than potential dads." That's on the dudes? Why is that not on Aniston? She's the one who would rather date some racist, misogynistic closet case child like John Mayer than someone stable, well-adjusted and family-oriented. Thirdly: If Aniston had wanted to be a mom before now, she would have found a way to be a mom. Obviously, judging her from her actions, motherhood isn't a big priority for her and I just don't buy that she's pulling the "baby crazy" thing with Justin. I just don't.
Sidenote: The restaurant Il Cantinori was name-checked, and I'd just like to point out that Aniston seems to take all of her boyfriends or would-be boyfriends there. I remember reading about her and Mayer, and her and Bradley Cooper at Il Cantinori. Is that weird? Or is it just her favorite place to eat? If Clive Owen and Michael Fassbender come to town separately, I'd probably take them both to The Olive Garden.
By the way, Justin's ex Heidi Bivens gave an exclusive statement to Star Mag, after they asked her about the end of her relationship with Justin: "It's unfortunate. I'm not going to comment unless they comment first." That's so… NOT how Aniston would have handled the situation. Now I feel for Heidi even more.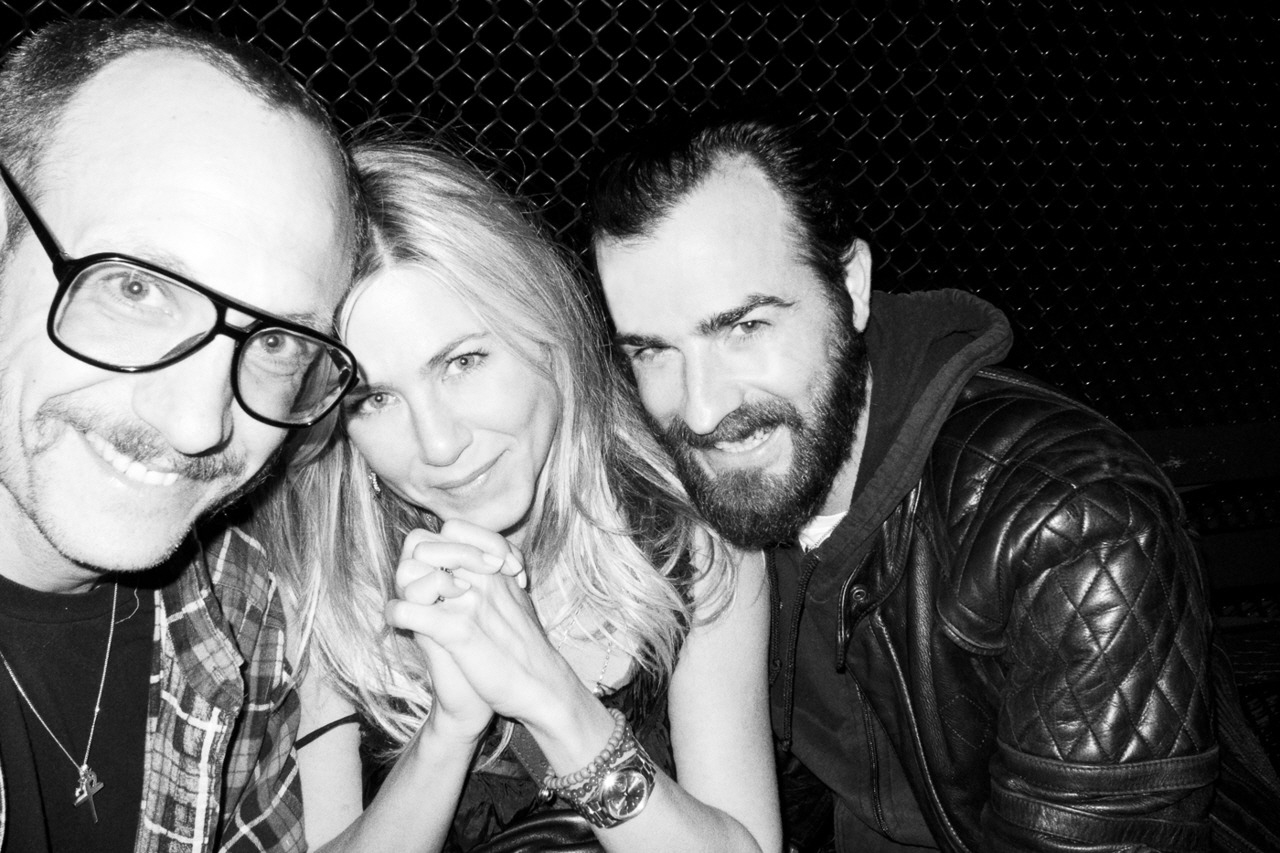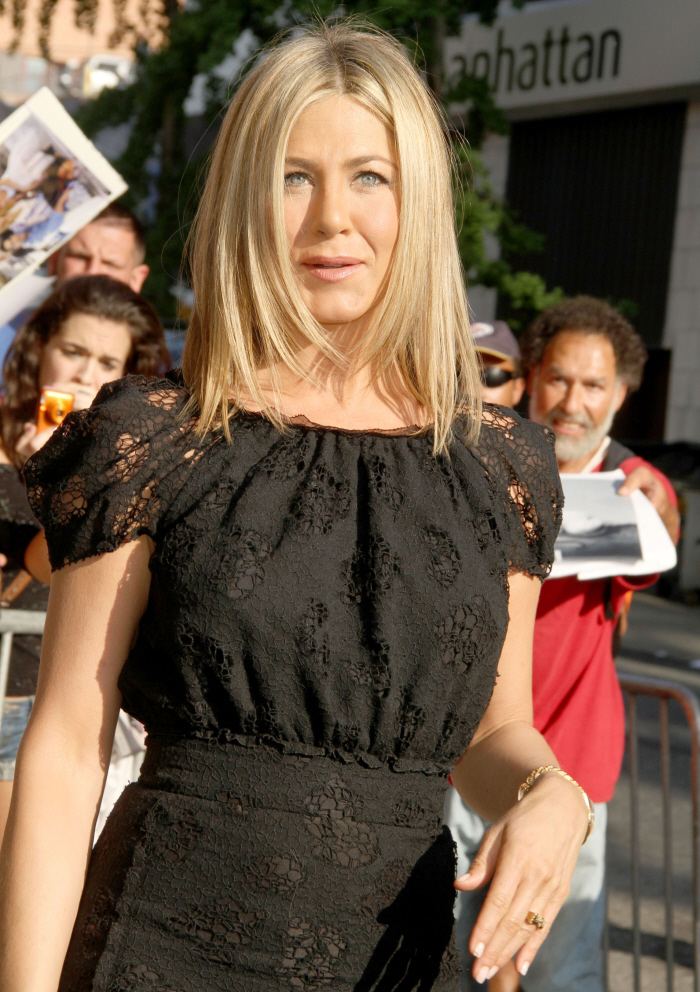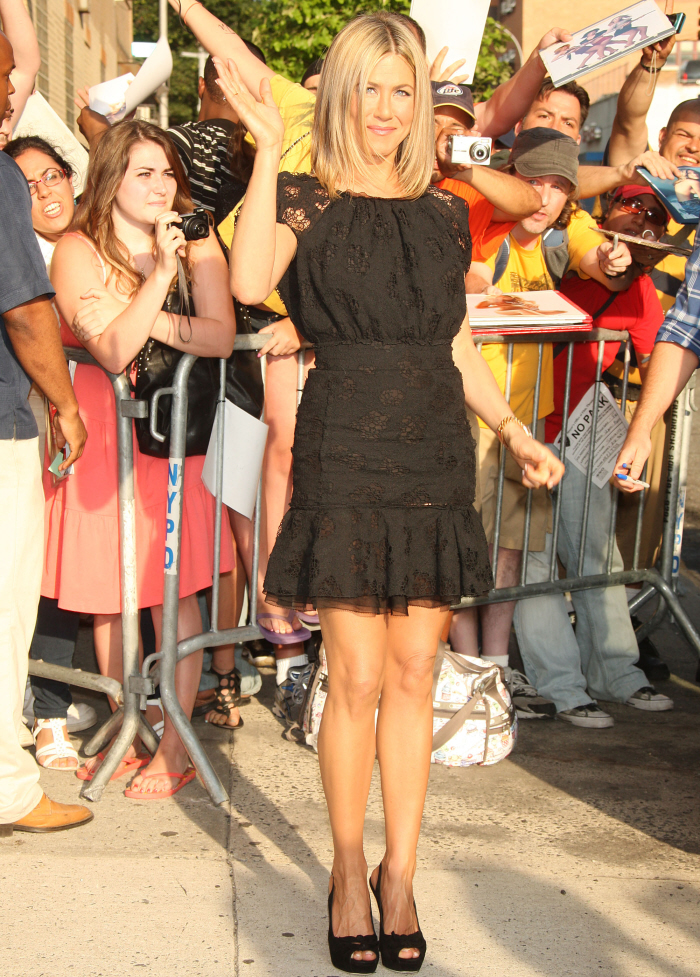 Photos courtesy of WENN & Terry's Place.