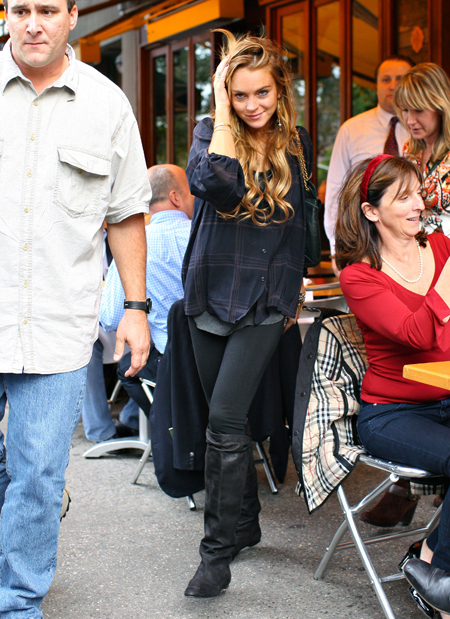 As much as I think the celebrity-following world appreciates Samantha Ronson's influence in Lindsay Lohan's life, I've also gotten to the point where I feel pretty badly for her. She's not perfect or anything, but Samantha seems like a reasonably normal, sane, level-headed person – especially when compared to Lindsay. Yet they've supposedly been together for a long time – longer than there have been rumors. That's pretty impressive, considering what a high maintenance woman Lindsay is.
The pair were recently caught arguing on the train from New York to D.C. – though by "arguing" it seems more that Lohan was bitching and moaning and Ronson was ignoring her. Which is probably the only way to get through a long-term relationship with someone like Lindsay.
SAMANTHA Ronson deserves a medal for putting up with gal pal Lindsay Lohan. The two took the Acela train to Washington on Thursday and "had a quiet fight" the whole time, our spy says. Lohan spent most of the time complaining about her staff and told Ronson, "I do what's good for you, not what's best for both of us." Lohan was "whining incessantly and Samantha was trying to deflect it. When Lindsay would get up, Samantha would sigh and put her sweatshirt hood back up." At one point, it escalated to Lohan telling Ronson, "Don't (bleeping) lie to me!
[From Page Six]
I would guess that just about anyone who's dated Lindsay for more than two weeks has had to invest in some Air Force-grade ear plugs and some kind of heavy duty "get the hell away from me" attire – aka the tightly scrunched hoodie. I'm glad Lindsay and Samantha are supposedly happy (though this doesn't sound all that happy to me) but I really feel Samantha should be getting compensated in some way.
I see a lot of ways Lindsay's life has improved since Samantha came into it, but not so many perks for Sam. She's a little more famous, and if that's something that she wants, then maybe it's enough for her. But Lindsay seems to bring a lot more negatives than positives to her relationships – and bitching about one's staff is one of the smaller ones.
Note by MSat: I hope it's not true. The ladies looked very happy and in love during their recent getaway to Mexico. But I imagine that with someone like Lindsay, a relationship is a lot like a roller coaster ride. And this train trip sounds like a total nightmare. It's reports like these that keep the breakup rumors going, and the scenario is always the same: Lindsay is needy and insecure, while Samantha is patient and lets these antics roll off her back. Wonder how much longer she'll put up with it?
Here's Lohan out and about in Manhattan last Monday – sans Samantha. Images thanks to Fame and Bauer-Griffin.