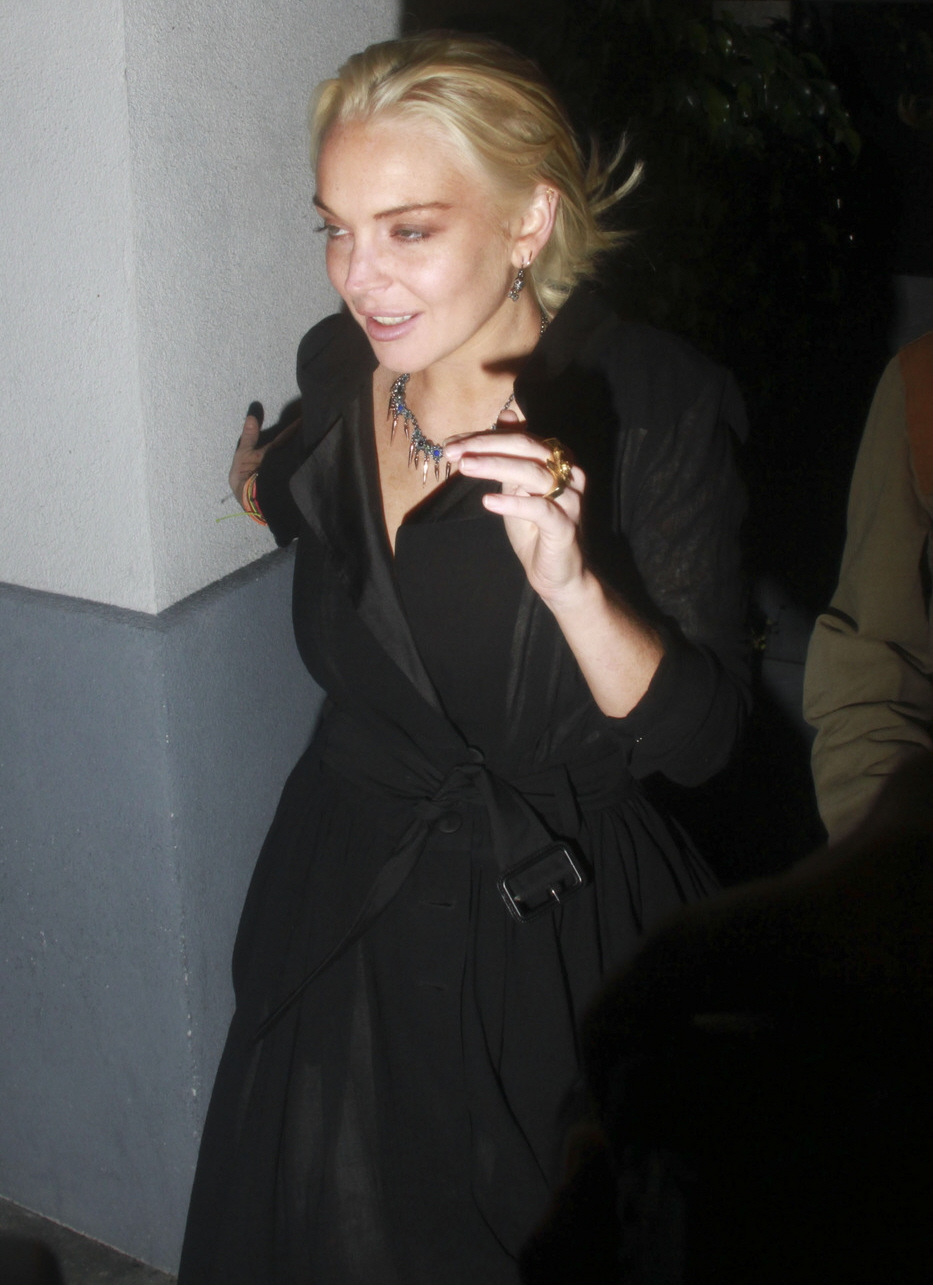 CODE RED. The crackhead is loose! Yesterday, Linnocent was released from her devastatingly difficult 35-day house arrest, a "house arrest" in which she got to lay around, watch TV, film commercials and ads, pose for photos, and drink all the liquor she wanted. These are photos of Linnocent's first hours of freedom – she's seen exiting the LA Downtown Women's Center (the photos where she's wearing the sunglasses) where she began her hours of community service in earnest. After that brief stop, Linnocent went out to party. Hand to GOD! She practically fell out of the Lexington Social House last night, which you can see in the photos of Linnocent in the black coat, with Emile Hirsch (note: this is a good enough reason to hate Emile Hirsch).
You know what's funny? Just before Linnocent left for her first cracked-out public outing in more than a month (excluding her court appointment), Linnocent dropped a story on TMZ in which "sources" claims Linnocent has been telling people she's "scared to leave home, largely because she thinks there's a bounty on her head in the paparazzi community. So LiLo is planning to do the same thing she's been doing for the last 35 nights — chill out, relax, and put her feet up … in peace and quiet, in the company of sister Ali and a few buds." AND THEN SHE WENT OUT TO PARTY. She's so ridiculous.
According to Radar, Linnocent was at the Lexington Social House by 11 pm, where, according to Radar's source, "Lindsay and her assistant and a bunch of friends were hanging out at the club. She was sitting on the outdoor patio chain smoking and talking to some guys and girls about silly things, like what the perfect height was for a girl." The source (an eyewitness) also said that Linnocent's assistant (poor Elenor) "handed her what looked to be sodas all night long, while she chatted away with her friends." Rum and cokes? Oh, and Linnocent was acting paranoid too, and "at one point spoke to the manager about people 'noticing her' in the club….Lindsay high tailed it out of there a little after 2 am and hopped into an SUV driven by her assistant, surrounded by a crush of paparazzi."
Also – there was a rumor going around that Linnocent was going to leave California and head to the Hamptons this weekend with her family ("NOOOOO!" screamed the East Coast). A source tells Radar that Linnocent has decided to "lay low" on her birthday, which is Saturday. I think "lay low" is Linnocent's new code for "being a crackheaded mess in public."
UPDATE: I just added a few more photos of this mess.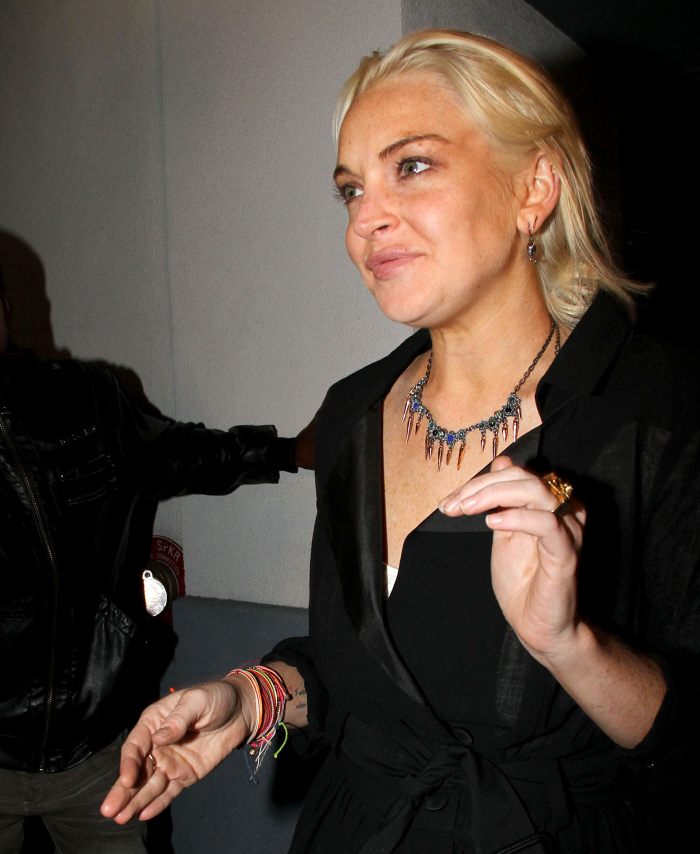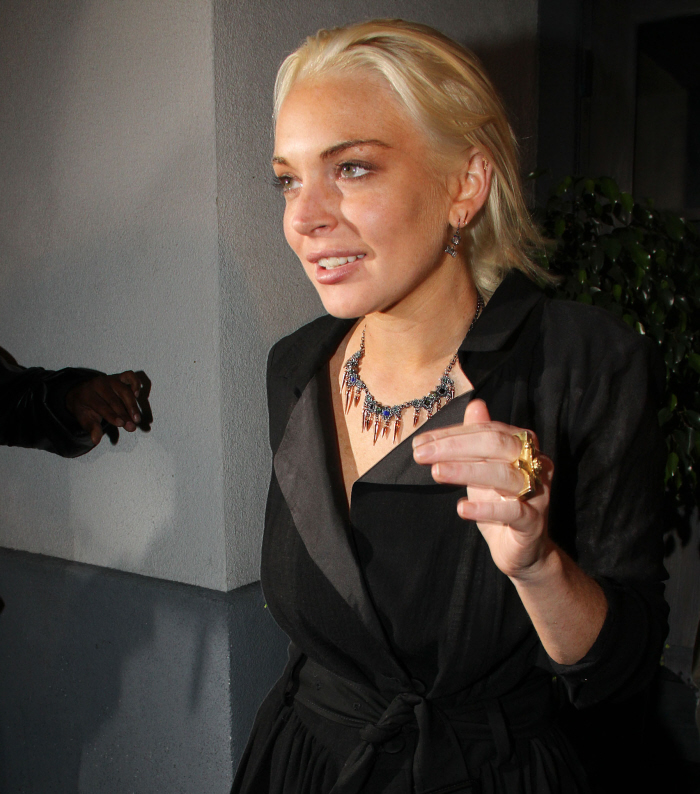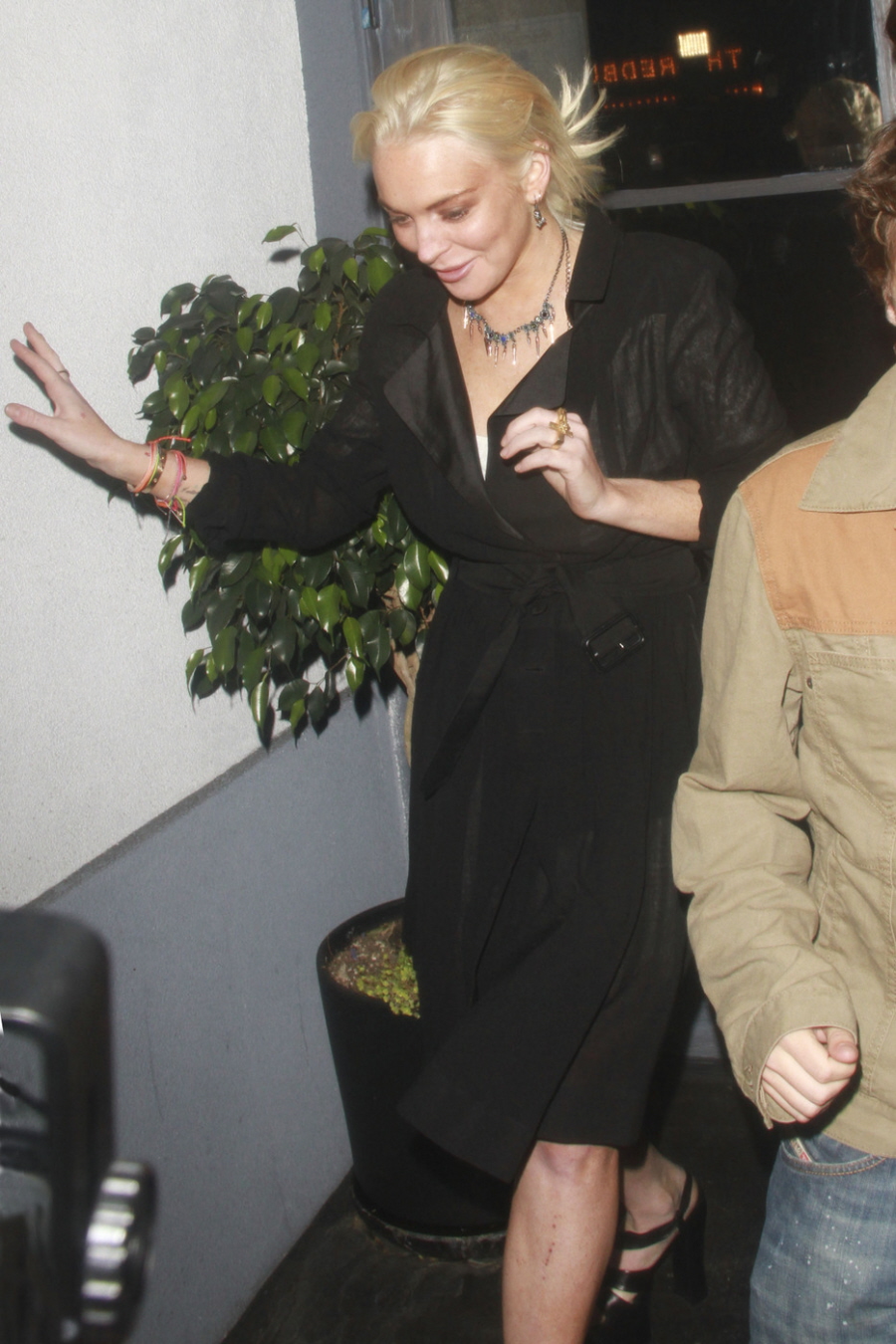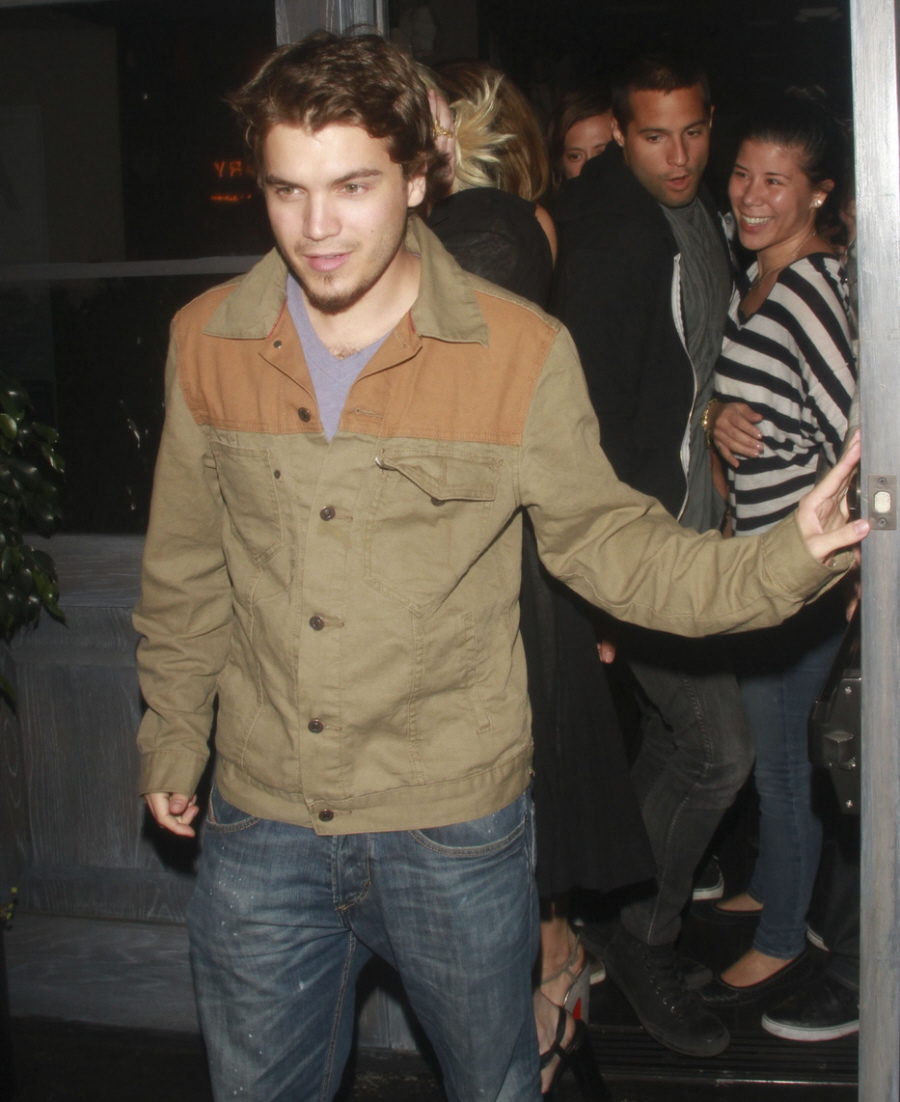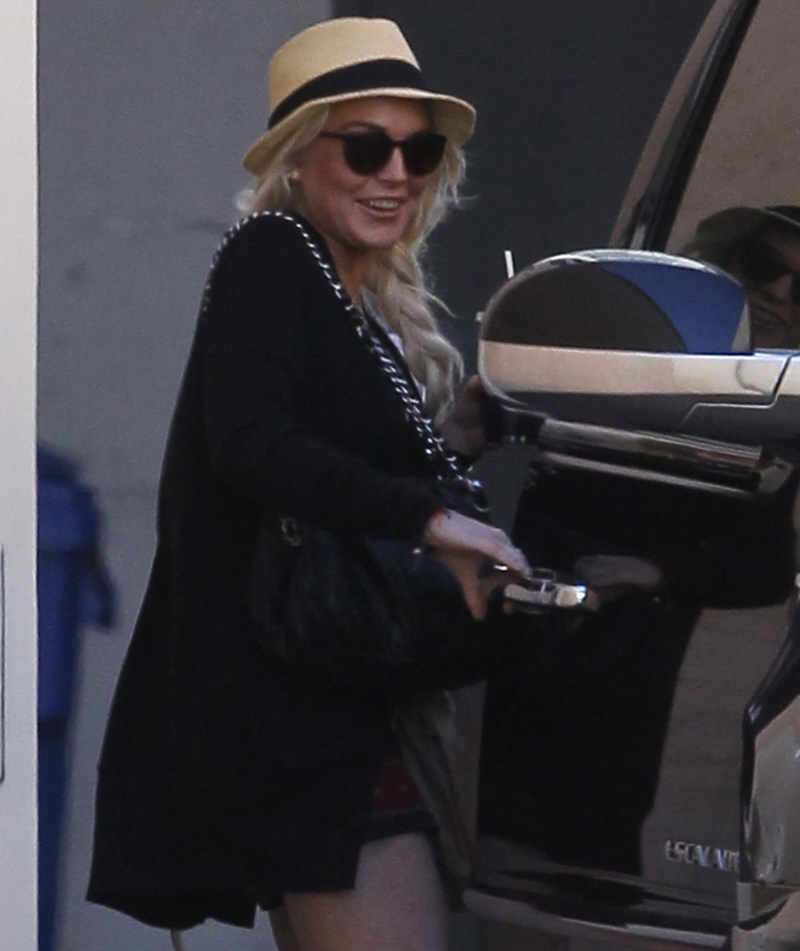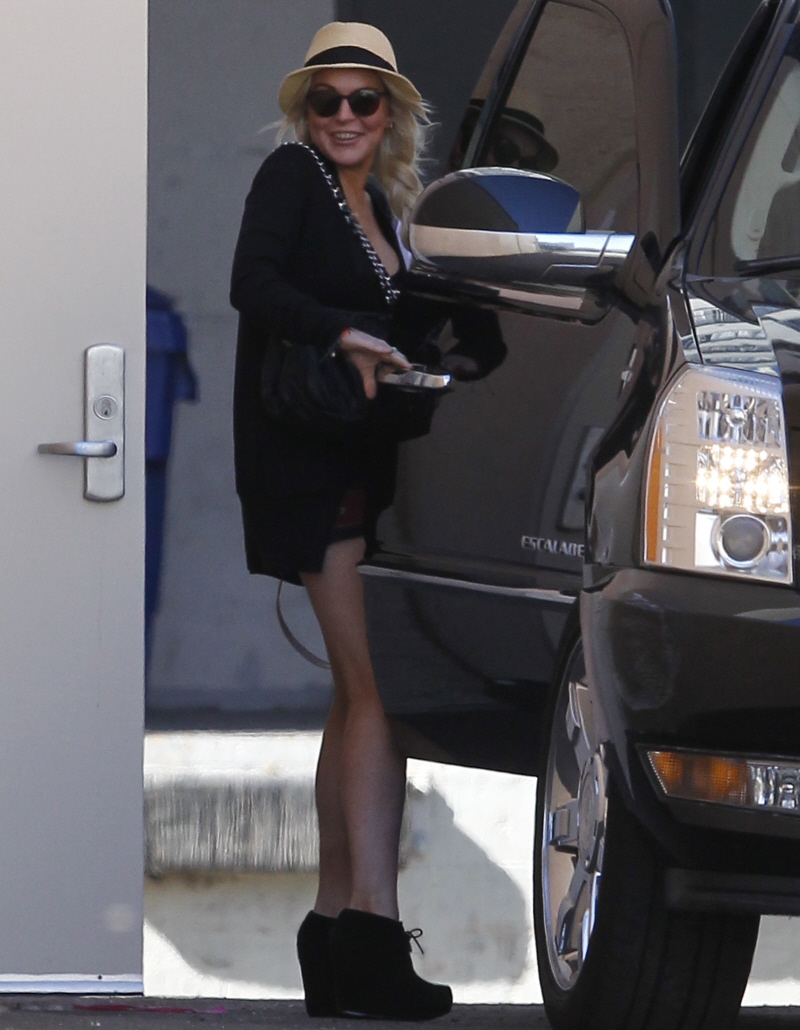 Photos courtesy of Fame & Pacific Coast News.