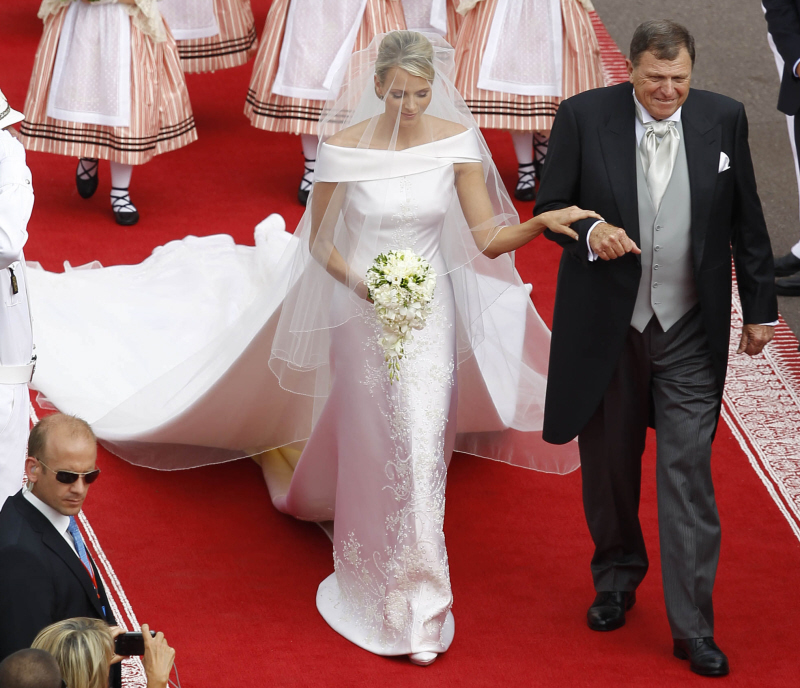 Here are some photos from yesterday's church wedding for the now Princess Charlene (formerly Charlene Wittstock) and Prince Albert of Monaco. On Friday, Charlene and Albert had their civil ceremony, so there were already technically married. Yesterday's service was just for the Catholic Church's blessing and stuff (I don't know the technicalities of it, nor do I care). The bride wore Armani, and I HATE it. The skirt and the bodice of the gown isn't terrible at all, but for goodness sake WHY do this neckline on a woman with extremely broad shoulders?!? Armani made Charlene look like a linebacker. Beyond the gown, I think Charlene made a somewhat better show at the church service than at her civil ceremony, where she looked kind of drugged out (tranq'd out). But we now know why she (not so allegedly) tried to bolt – there's probably another illegitimate kid in the mix for Prince Albert:
It may have had all the superficial trappings of a fairytale royal wedding, but as Prince Albert of Monaco tied the knot with his reluctant bride yesterday, the scandals surrounding their often tense nuptials took yet another awkward turn. Officials in the Mediterranean enclave chose the day of his glittering wedding to former Olympic swimmer Charlene Wittstock to announce that the Prince would have to take a paternity test for a possible third illegitimate child. A palace aide said that one of 33-year-old Princess Charlene's first duties would therefore be to stand by her husband if there was another public scandal.

Albert, 53, already has an illegitimate six-year-old son called Alexandre through a Togolese former air hostess called Nicole Coste, and a 19-year-old daughter called Jazmin with Tamara Rotolo, an American estate agent. Both were kept away from Albert's marriage to avoid 'media exposure', an official inside Monaco's royal palace said.

The source added: 'The truth of the rumour is that Albert faces paternity tests following a claim by at least one former lover.'

But none of Albert's illegitimate brood will have a claim to the throne, with the official saying: 'Even if a third or even a fourth child is confirmed Albert will not have an official heir until Princess Charlene bears him one.'

The tests will go ahead in the next few days, said the source. French magazine Public has attributed two new illegitimate children to Albert. One is said to be 18 months old and the son of an Italian woman who is preparing to tell all. Other magazines have suggested Ms Coste has had a second baby with Prince Albert – an idea that gained credibility last week when the 40-year-old was pictured in Monte Carlo. Ms Coste received a multi-million-pound settlement when a DNA test showed Albert was Alexandre's father, while Ms Rotolo has also been supported financially by him.

Lawyers for Prince Albert have said categorically that the rumour he fathered another child is false – but they made similarly fierce denials before genetic tests proved he had fathered the other two children. The source said he hoped yesterday's Roman Catholic ceremony in the Palace courtyard, a day after the uneasy civil service, would 'overshadow' the latest revelations about secret children – although that seems like wishful thinking.

There was an audible sigh of relief when bride and groom said 'I do', ten days after Charlene was allegedly intercepted at Nice airport as she tried to flee home to South Africa. She has looked uncomfortable, even sad, in recent appearances while Albert also looked ashen-faced during yesterday's service, despite the apparent glamour of the event.

All saw Albert wink at his new bride after she had said 'Oui' when asked by the Archbishop of Monaco, Bernard Barsi, if she wanted to marry him.

Wearing an off-the-shoulder Armani dress, the new Princess Charlene's gown took the designer's team 2,500 hours to prepare, of which 700 hours was spent on the embroidery alone, using 'kilometres' of platinum-coated thread sewn into 130 metres of off-white silk.

The gown would have been heavy for the new Princess, as she would have had to carry the weight of 40,000 Swarovski crystals, 20,000 mother of pearl tear drops and 30,000 'stones in gold shades'.

The dress's crowning glory was the five-metre long train made from 20 metres of silk tulle, which took 100 hours to make.

The groom looked smart in a cream summer uniform of Monaco's palace guards, with his sleeves embroidered with oak and olive leave.
[From The Mail]
So, Albert probably has another kid, conceived about two and a half years ago, when he was technically WITH Charlene (they've allegedly been dating since 2006). Most people think that this is the little scandal that Charlene learned about last week, and that this is what made her try to do a runner. My opinion? This scandal was merely the straw that broke the camel's back. I think Charlene realized just how terrible all of it was going to be. I know she's a princess now and everything, but I feel really sorry for her.
Oh, and here's the dress she wore to the reception – I think it's Armani too. Meh. It's cute, I guess. The neckline is much better.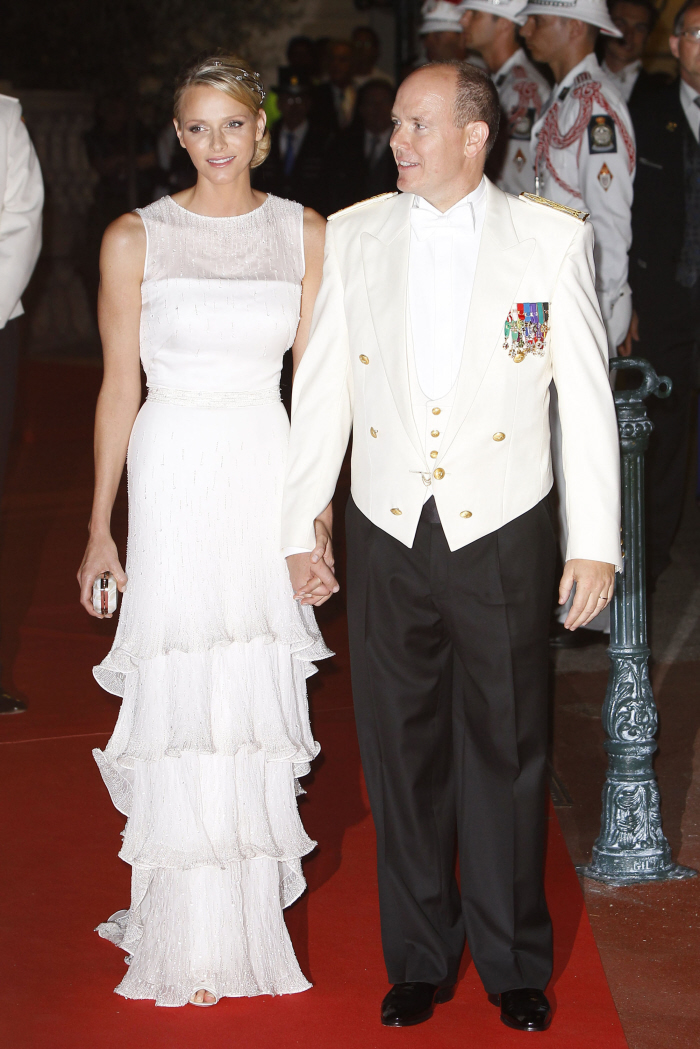 More photos from the wedding: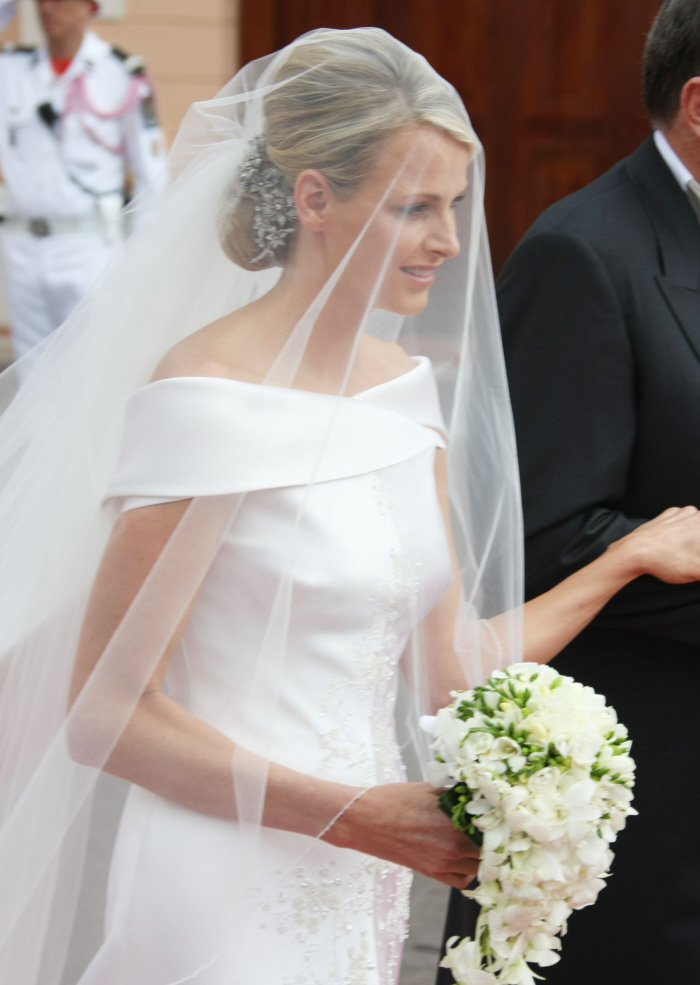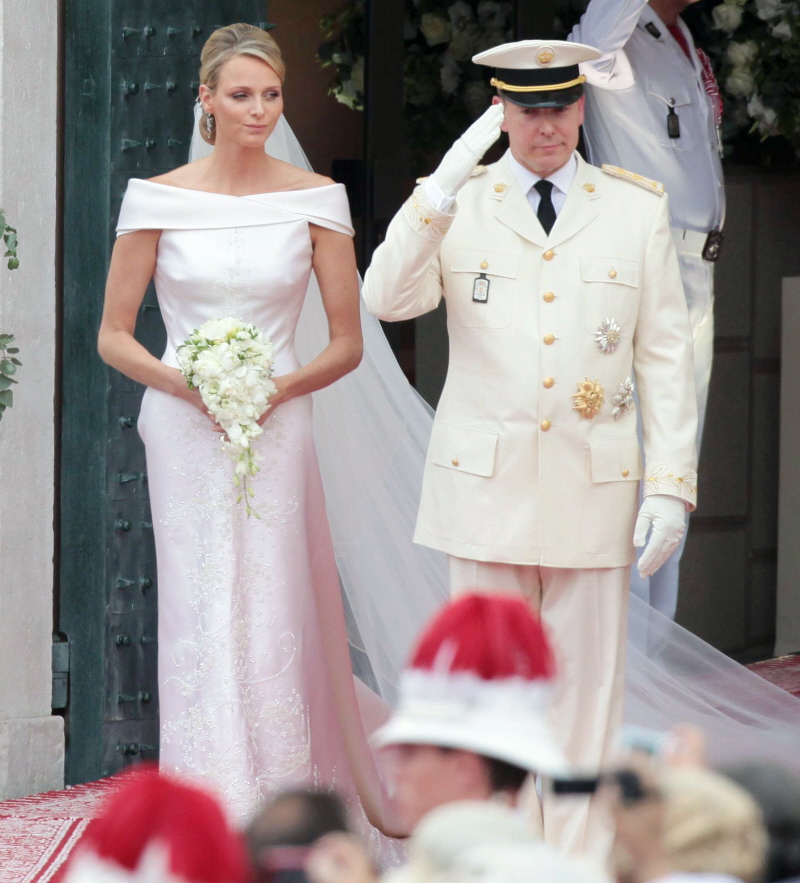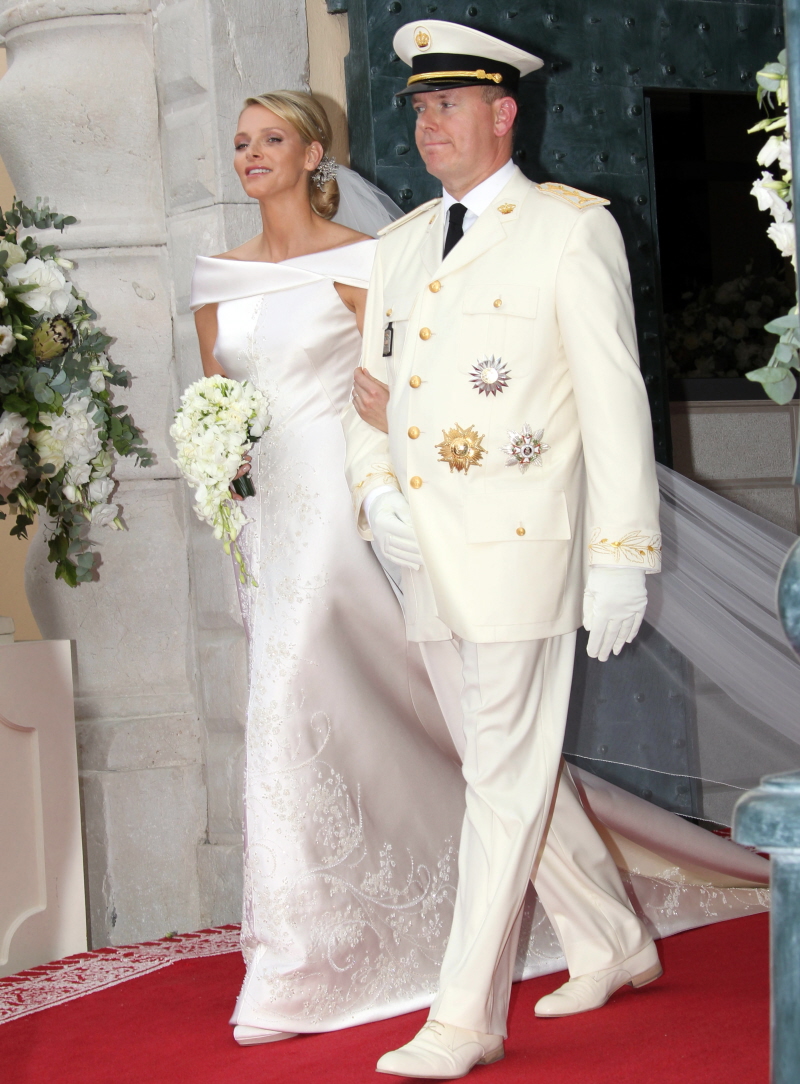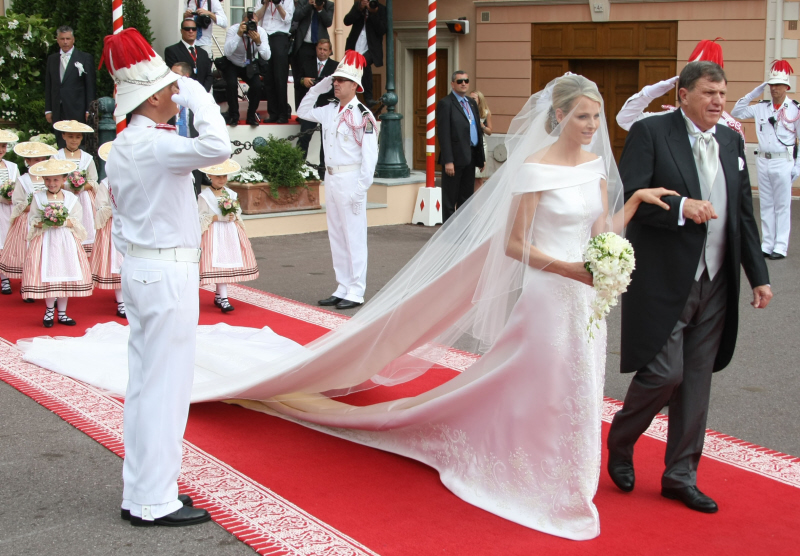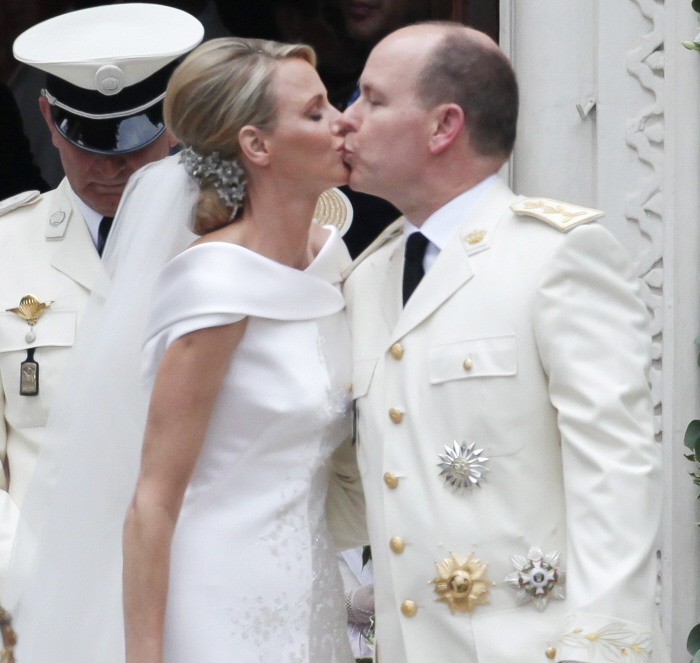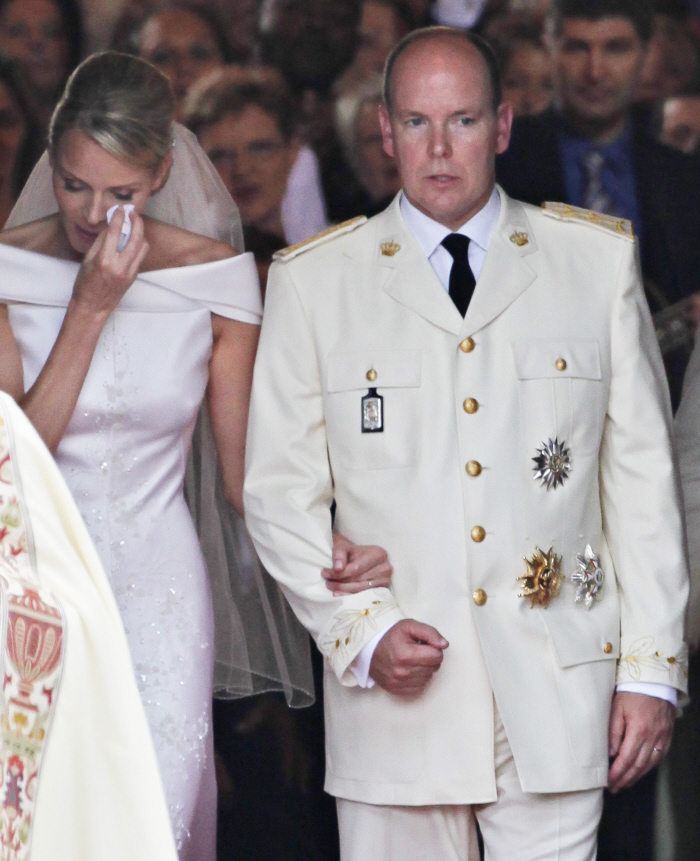 Photos courtesy of Fame & WENN.