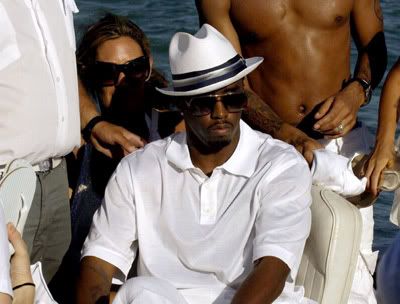 Diddy, the "richest person in hip-hop," has changed his name several times in an effort to rebrand himself and clean up mistakes from his past name changes.
In August, 2005 he changed his name to just "Diddy," but he was born Sean John Combs and puts out a clothing line under the "Sean Jean" name. He previously called himself Puff Daddy, P. Diddy and Puffy, and may have had to get rid of his "Puffy" moniker after having legal issues with the Japanese band "Puffy AmiYumi."
Now Diddy has been ordered to change his name again, because it conflicts with a British music producer who also goes by Diddy. He also has to pay damages to the guy:
HIP HOP star Sean "Diddy" Combs must change his name again — and pay substantial damages to a music producer already named Diddy.
London-based Richard "Diddy" Dearlove yesterday won a High Court challenge for sole use over the nickname.
Combs, 36, used to call himself Puff Daddy before relaunching under P Diddy — then changing his name to just Diddy.
The court settlement means he must rebrand himself in the UK.
Dearlove is known in clubland for his remixes of classics such as Blondie's hit Atomic.
Why doesn't he just go by Sean Jean? That would be a lot easier, and people won't have to remember what name to call him this month. More money, more name changes, more problems.