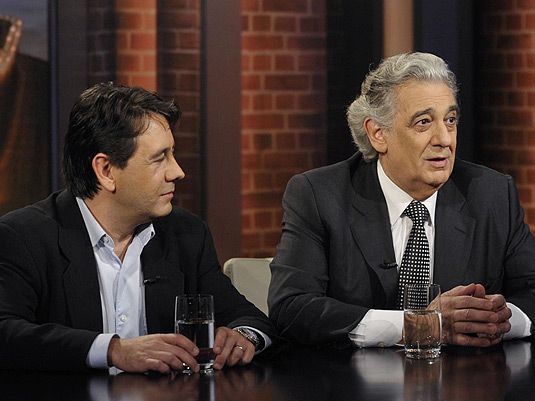 Placido Domingo, Jr. (left) with his dad
Placido Domingo, Jr. is the 45 year-old son of Spanish tenor and opera star Placido Domingo. Jr. was a member of Scientology for twenty years and recently told The Village Voice about the ways the cult tried to smear him when he tried to leave. They went as far as to post personal details online he had revealed in an auditing session (a Scientology ritual with a superficial resemblance to Catholicism's confessions) and make it publicly known that he cheated on his wife.
"Imagine if they did that to Tom Cruise or John Travolta?" That's Placido Domingo Jr.'s reaction to the "attacks" he says he's under after leaving Scientology.

The composer son of famed tenor Placido Domingo calls Scientology "scary and pathetic" in the ways it has been treating him since his decision to leave the controversial religion.

It began, Domingo told Village Voice when he was ordered to "disconnect" from his ex-wife Samantha and only communicate with their three daughters via an attorney.

Placido and Samantha met through Scientology in 1994. They later divorced but remained on excellent terms as they raised their three girls. Samantha left Scientology last year, and that's when officials of the organization ordered Placido to have no contact with her.

He refused to "disconnect" from his family, and instead followed Samantha out the Scientology door.

Domingo says first a Facebook post went up telling other Scientologists to "unfriend" him. More than 120 did.

Then a blog was published with extensive personal information about him, details about his life Domingo said he'd revealed during Scientology "auditing" sessions, including that he'd been unfaithful to his wife.

"It's an outrage," Domingo said of the privacy intrusion. "Imagine if they did that to Tom Cruise or John Travolta. My God!

"The information about adultery. That was only mentioned in session."

Samantha Domingo also spoke to the Voice, confirming what her ex-husband has been going through. Samantha has become a supporter of former Scientology officer Marty Rathbun.
[From Radar Online, more at the Village Voice]
Here's the thing: Domingo never denounced the church. All he did was let it be known that someone told other cult members to unfriend him on Facebook. That was enough for the goons to go after him with a vengeance and reveal personally damaging information he gave to an auditor during a religious ritual. As he mentioned, can you imagine if someone did this to John Travolta or Tom Cruise? It just gives us that much more insight as to why they've never uttered a bad word about Scientology.
It does give me hope that the message about their cheap tactics is getting out at least. After Paul Haggis so publicly defected in 2009, and The St. Petersburg Times and The New Yorker ran exposes on the cult, they're running scared. It's lame that they're releasing information that someone cheated on their wife. It's nothing compared to people who "commit suicide" after leaving the cult or campaigning against them, though.