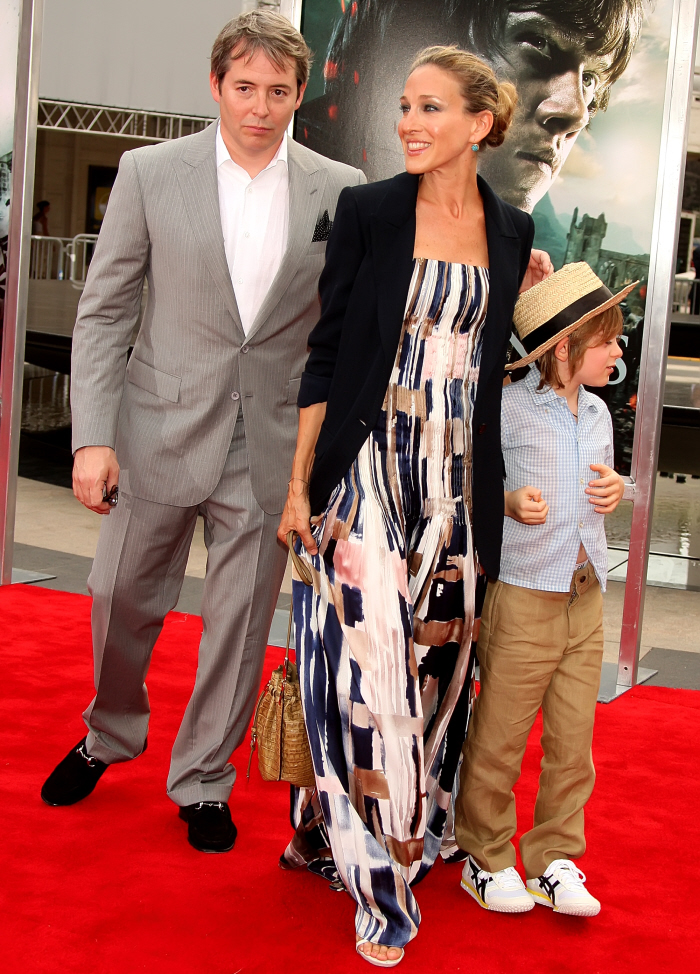 Here are some photos of Sarah Jessica Parker at last night's Harry Potter premiere. SJP brought her husband, Matthew Broderick, who looks comically, cartoonishly depressed, and her son James, who is a cutie. SJP wore this Oscar de la Renta Resort 2012 dress that I… well, I don't hate it. I don't really love it, either. It looks like a decent summery dress, but I don't get why SJP paired it with a structured blazer. It's not her worst red carpet appearance, though.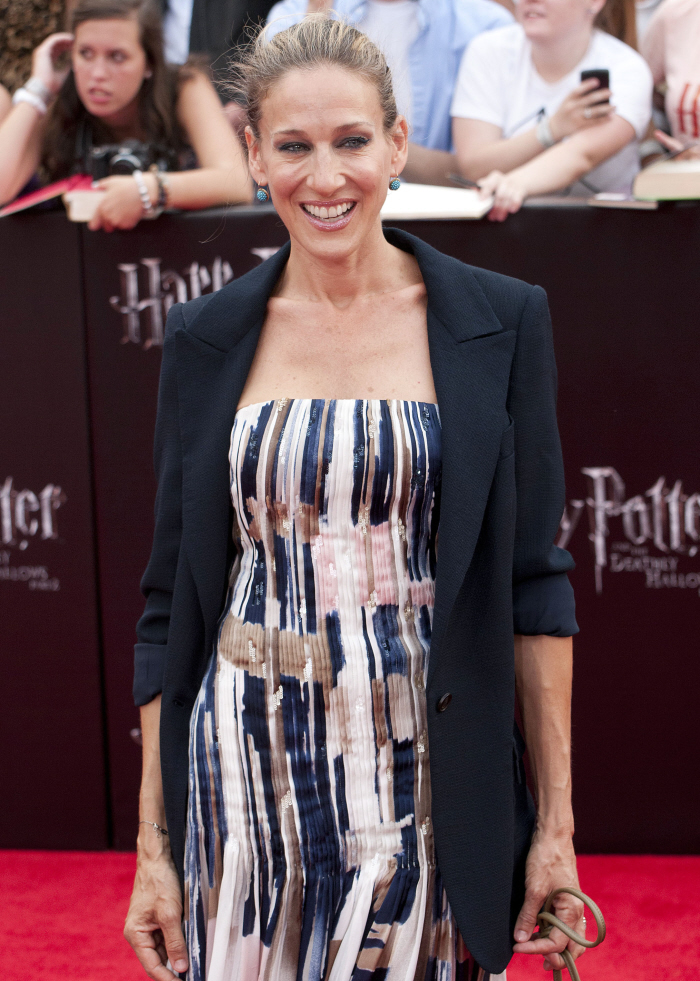 Meanwhile, SJP is the cover girl for the August issue of Vogue, "The Age Issue", likely to promote her new film, I Don't Know How She Does It (which looks like it sucks). Here are some highlights from the Vogue interview, courtesy of Wonderwall:
SJP on her juggling: Between raising three children, working for Halston and keeping a healthy onscreen career, the actress says her life these days is "like a ship avoiding icebergs."

On the end of "Sex and the City": "I loved it. But ultimately chose to stop doing the television series because I felt like it required, and deserved, a lot of time when I really wanted to be a parent."

On starting new jobs: "I lose my appetite. By Wednesday of the first week on 'I Don't Know How She Does It,' I was feeling so awful and ashamed, like I had let the director down."

On being an older mother: "There are things about it that I hope have made me a better mother. I've had a lot of opportunities to do the things that I wanted to do, like sleep."

On acting in her 40s: "I assumed that at this point in my life I would be feeling frustrated, left behind, or marginalized, playing parts I was reluctant to. But I've been so busy, I'm not sure that I see this fallow period yet."

On comparing herself to Carrie Bradshaw: "Bradshaw's life is nothing, nothing like mine. I loved playing her, and it changed my life in lots of wonderful ways, but I'm not a crazy shoe lady. I don't think about fashion all day long, although I have a great respect for the industry."

On her work ethic: "It's kind of all I've known. I'm a bitter-ender. It's potentially my fatal flaw that I do not give up on something. I will not rest. I work and work and work until I can no longer and someone has to remove me from the premises."
[From Wonderwall/Vogue]
I'm prepared to like Sarah Jessica Parker until she starts in about her career choices, all of the stuff she's signed on to do, and then talks about how she's the super-focused parent. I absolutely HATED her in her last Vogue interview, last year, when she kept pushing the issue of how involved she was as a parent – while she sat in London, after not seeing her newborn twin girls for two months while she traveled to make Sex & the City 2. She just bugs.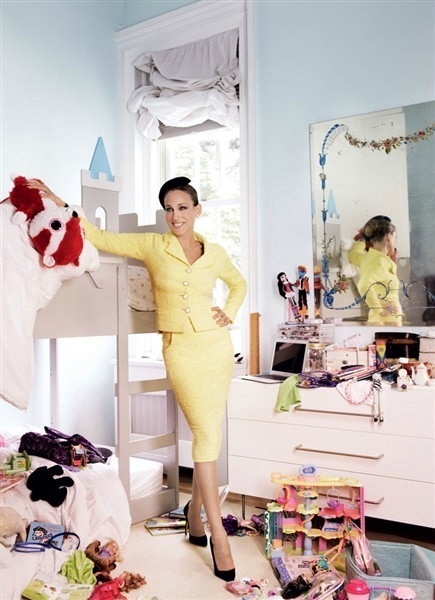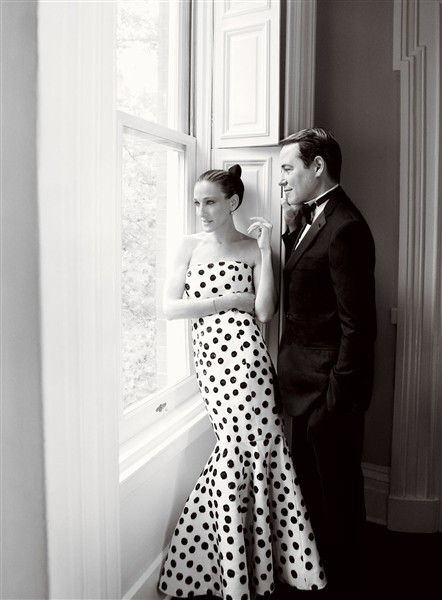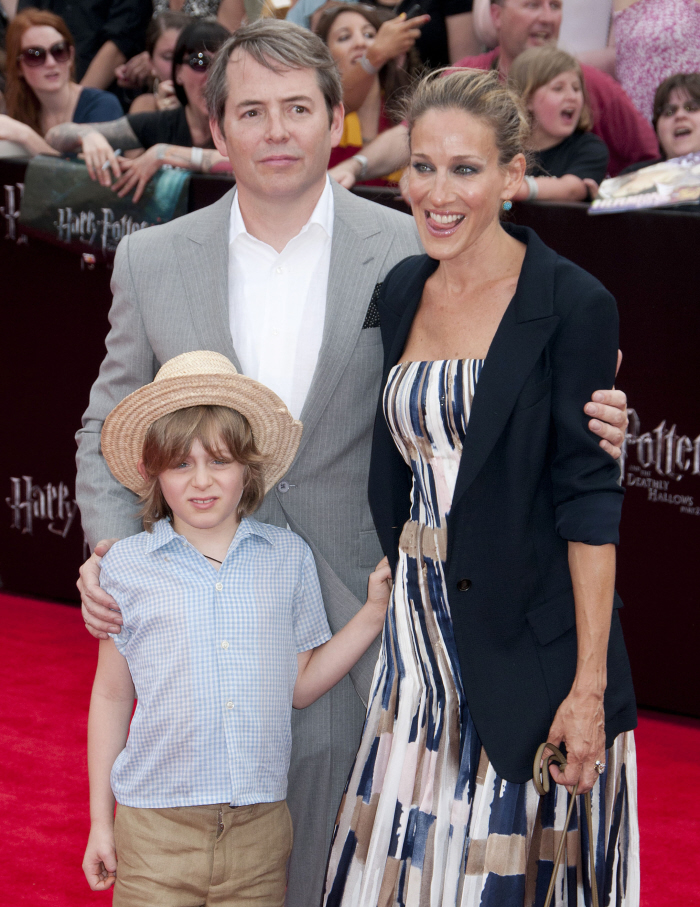 Photos courtesy of WENN & Wonderwall/Vogue/Testino.