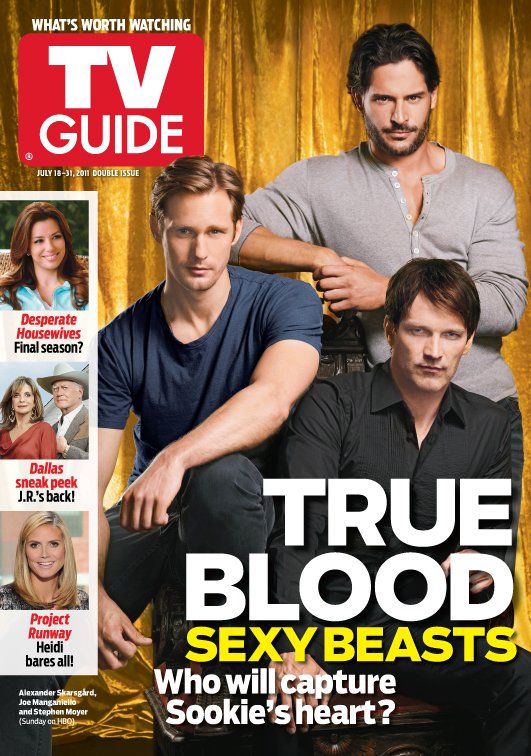 Some of the men of True Blood are featured on the cover of the new issue of TV Guide, with stars Alex Skarsgard (Eric), Stephen Moyer (Bill) and Joe Manganiello (Alcide) in a sexy photoshoot and joint interview inside. Contrary to some of the rumors we've heard about the male stars' egos clashing on set, which they sort-of acknowledge, they seem to get along well and have a casual, joking camaraderie that comes through in print. I would have loved to have seen Ryan Kwanten (Jason), Nelsan Ellis (Lafayatte) and/or Sam Trammell (Sam) mixed in, but since they all play non-supes (with the exception of Sam) who aren't interested in Sookie (again with the exception of Sam), it might have been too confusing to do more than the top three. This gets me thinking that all of the supes just want a piece of Sookie, which should be obvious to me from the books and series so far, but it seems like they're hitting us over the head with it on the show.
Here's some of their interview, with more at the source. There are major spoilers for the show here, but ones that are somewhat obvious to anyone who has read the books. It's up to you of course whether you want to skip this.
TV GUIDE MAGAZINE: What's it like to play your characters now that they're in such different circumstances this season?
STEPHEN: Bill had to let Sookie go. And in doing so, he's become a better man and a better king. It's been great as an actor having that sort of guiding light for him.
JOE: Alcide is wrestling with that beast inside him. I like moments where that thing inside him that he's so afraid of is also this place of great strength.
ALEX: I love Eric's vulnerability. But it's tricky because even though he doesn't know who he is, you can't play it too flat. You can't chop off his balls. Then there's his inner struggle. If they break the spell, then Eric finds out about all the things he's done in the past and who he really is, and that scares him. He's like, "Hey, I'm kind of happy in this little house with Sookie."
STEPHEN: Eric and Sookie are the tipping point of this season. The best stuff that's in the show is their stuff.

TV GUIDE MAGAZINE: Has it been awkward for you, Stephen, since Anna's your wife?
STEPHEN: It could have been really difficult, but it's about being professional. And we all really like each other. It's tougher for Anna because she's having to show emotion with somebody else, and it's been the same people on our crew since she and I got together when the show first started.
ALEX: If it was awkward for us, that would spread to the crew. They see us being so relaxed with each other and it's so obvious when the camera is rolling and when it's not, you know? And Anna's great. She's a very generous actress, very professional. In fact, we shot a scene the other night and it was one of those where…
STEPHEN: It will get people talking!

TV GUIDE MAGAZINE: What is Anna like when the cameras aren't rolling?
STEPHEN: She's merciless in her ridicule of everybody, and she expects the same back.
JOE: I spent half of last season dressed in what she refers to as "Giant Joe's Giant Jumpsuit." So Anna and Rutina [Wesley, who plays Tara] came up with a dance routine and a song that they would perform every time I wore the Giant Jumpsuit.
ALEX: [Singing] Joe and his giant jumpsuit…

TV GUIDE MAGAZINE: Joe, when you came in on the third season, was there an initiation?
JOE: The new guy on a show can feel like an outsider. There can be egos and things like that. But Anna was completely friendly, welcoming. Still, the guys won't let me make eye contact.
STEPHEN: I make him get on his knees so we're eye-to-eye.
JOE: But I guess the initiation would be wearing the "sock" [a wardrobe item that protects an actor's modesty in a nude scene].
ALEX: I put it on him. [Laughs] Someone had to show him, you know?

TV GUIDE MAGAZINE: You guys have to be [nude] a lot. Who works out the most?
STEPHEN: Joe's insane.
JOE: Yeah. I work out twice a day, six days a week. I eat constantly.
STEPHEN: I do three days a week. I just don't want to watch this show 20 years from now and look at myself and say, "Who is that white blob?"
ALEX: I do three days a week, too. But with Joe, it's all about the pecs. He can make them dance.
JOE: Alex hasn't looked me in the eye once. I'm like, "Up here, Alex. Up here."
[From TV Guide]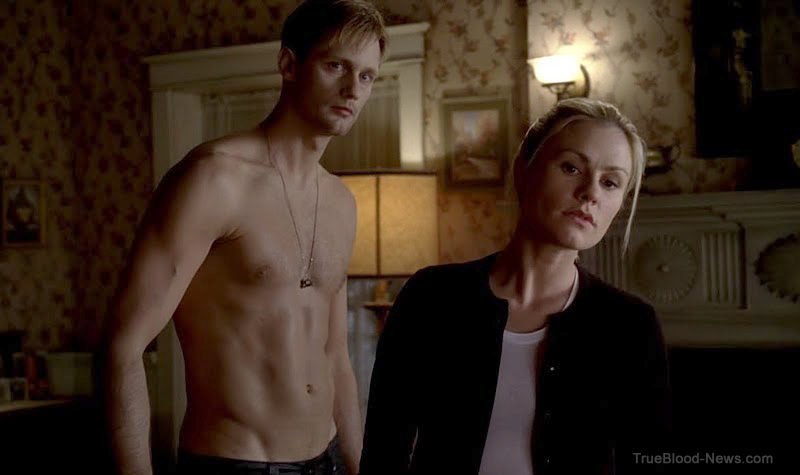 Spoilers for past episodes and potentially future ones
I've been keeping up with True Blood and while there are some storylines that I enjoy and want to follow, there are also plenty that I would like to skip over, and that rub me the wrong way. I hate the Hotshot storyline, with Jason being tied up, tortured and raped by Crystal. Those people in Hotshot are outrageous Deliverance stereotypes and that situation could have been portrayed without being so offensive.
Sookie and Eric's new dynamic is cute, and I love Eric as dependent on Sookie and vulnerable. I also like the twist where Eric killed Sookie's fairy godmother. (If that's what indeed happened and she didn't just get sucked back to fairy or whatever.) In the books, Claudine is killed in some battle with two evil fairies. I disliked that part of the books and hope that this means that we won't be subjected to that storyline on the show.
Bill's romance with calculating Portia is nice to witness. I enjoy that he's become ruthless and somewhat evil. He always seemed to have that in him and I never really cared for him and Sookie together.
Jessica and Hoyt's relationship problems seem genuine and relatable. They remain my favorite couple on the show.
Overall, though, the show is kind of losing me this season and while I'll watch all the episodes I won't rush to see them the minute they come out. Maybe it's inevitable that shows lose their focus after a few years. It must be hard to put out 12 hours of programming every year and keep it fresh.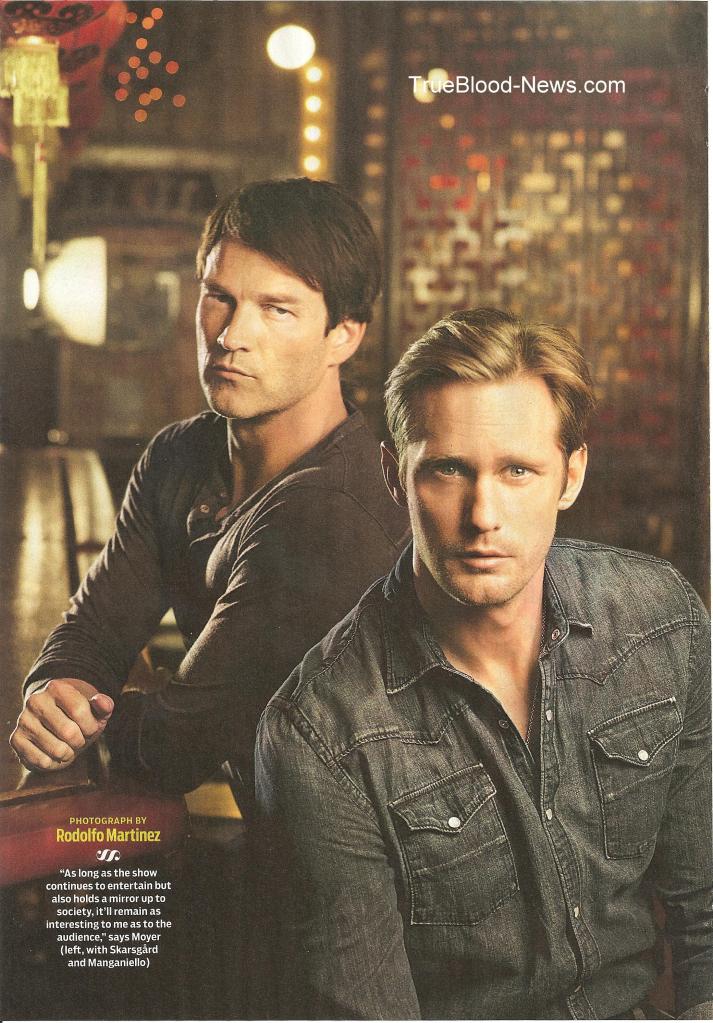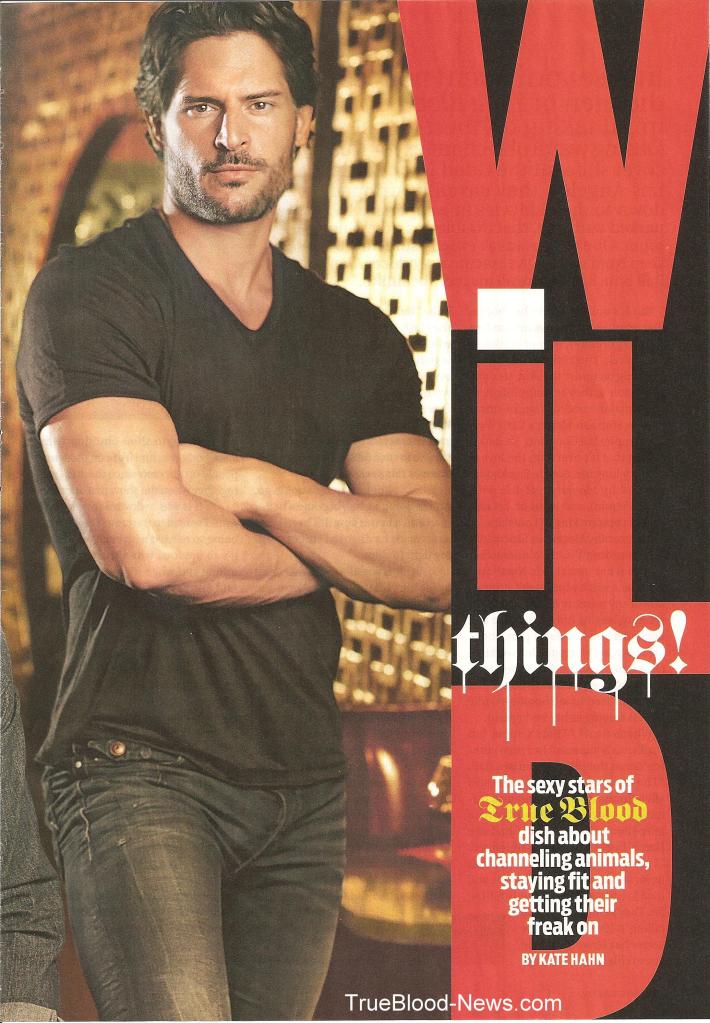 TV Guide Cover and scans via TrueBlood-News.com