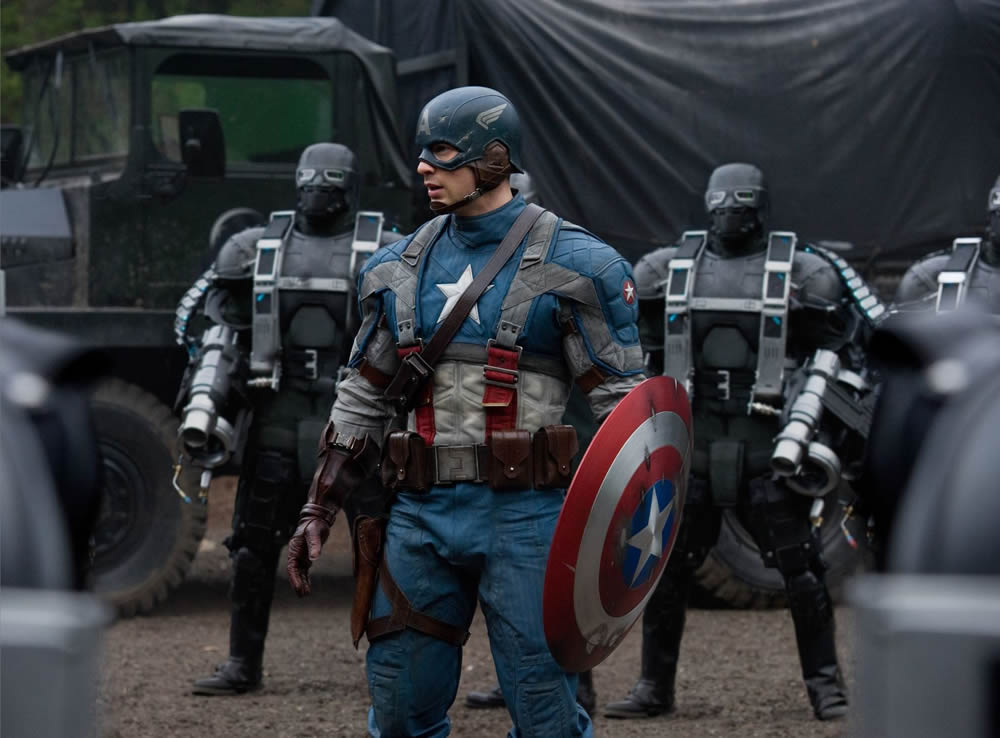 Man, I don't know what to think about Chris Evans, who is at once a nearly perfect physical specimen (if you're into that sort of thing) yet so obviously filled with a nearly pathological level of existential anguish that I truly feel for the guy; or, at least, that's the feeling I got after reading the New York Times interview conducted in preparation for his lead role in Captain America. It turns out that Evans had an exceedingly difficult time accepting this role, so much so that Marvel Studios had to keep offering it to him even after he repeatedly rejected the job. And when Robert Downey Jr. urged the filmmakers to continue their pursuit, Evans finally accepted but then immediately went "into panic mode" and quickly checked himself into therapy. Really:
It may be difficult to summon up sympathy for Mr. Evans, a Massachusetts-born dude's dude who has brought slyly self-aware performances to films like Cellular, Fantastic Four and Scott Pilgrim vs. the World, and who has had to navigate Hollywood with little more than his rugged good looks, piercing blue eyes and billowing forearms that threatened to topple the lunch table.

Yet beneath that enviable exterior Mr. Evans is an unexpectedly thoughtful guy — perhaps perilously so. His self-questioning, often humorously self-effacing nature has helped him build a distinctive resum&eacute, but his lead role in Captain America: The First Avenger brings with it a whole new set of existential crises.

"The question is: What's the endgame?" Mr. Evans said in a characteristic moment of self-analysis. "What's the goal? If the goal is to be a giant movie star, then yeah, this is a great way to achieve that. That's not necessarily what I'm trying to achieve."

In [his] early, high-profile experiences, Mr. Evans said, he found acting to be "a very safe place to play, have fun and not feel judged or scrutinized." The downside was having to give interviews to promote his work. "I feel fake," he said. "And then I feel transparent. And I feel the other person can see that I'm fake."

[D]uring a European junket for a Fantastic Four movie, he said, he became so nervous that he fled a room full of reporters. "No one's even speaking to me," he said, "and in a matter of 60 seconds I went from being fine to full meltdown, just stood up and walked offstage."

When Marvel Studios began casting Captain America in late 2009, it did not initially consider Mr. Evans for the title character, a virtuous World War II hero who eventually finds himself in the present day . . . Yet once the studio set its sights on him, it may have come to wish it had forgotten the actor's name.

Mr. Evans said he resisted a test audition, for which he would have had to sign a pre-emptive deal for as many as nine Marvel movies, including three Captain America films and three films for The Avengers, about the super group that includes Iron Man, Thor and the Hulk. When Marvel reduced the contract to at most six movies and "sweetened the pot a little bit," Mr. Evans said no again.

He said his opposition stemmed from a fear of commitment — not just to publicizing a $140 million behemoth like Captain America but also to signing away, potentially, a decade of his life. "In a few years what if I don't want to act anymore?" he said. "What if I just want to — I don't know — do something else? The reason I kept saying no is because I was scared. Maybe this is exactly what I had to do. Maybe this is exactly what I had to face."

Mr. Johnston, who had directed Jurassic Park III and Jumanji, and contributed art design and special effects work to the original Star Wars films and Raiders of the Lost Ark, said Mr. Evans's moral quandary showed he was perfectly suited to play Captain America and his alter ego, Steve Rogers.

"Steve Rogers is a guy who, at the heart of it, has a very simple mission," Mr. Johnston said. "He just wants to serve his country and do the right thing. And Chris comes off as basically a really good human being. He can wear his heart on his sleeve when he needs to."

But have no illusions that anything other than Captain America — and a desire not to bungle the handoff to The Avengers — will be on Mr. Evans's mind for the next several weeks. If Captain America is a dud, he will be disappointed. And if it succeeds, the next 10 years of his career might be spoken for, and that could be the bigger problem.

"It's nice job security, but it doesn't give a whole lot of freedom," he said. "That's the compromise, and it's worth it. These are good problems to be having. It's not like, poor me, I'm working in the coal mines."
[From NYT]
In one respect, it's slightly difficult to feel bad for Evans' dilemma that ultimately resulted in a six-film contract, which (if things go according to plan) will probably result in enough money to live off for the rest of his life. Still, he's a mama's boy and honestly appears to lack confidence in himself which is really refreshing compared to, say, the current young crop of actors (represented by the ridiculously overconfident Kellan Lutz) who have so much self-esteem that it's disgusting. So yeah, I'll buy that Chris Evans possessed genuine fear about accepting his Captain America role, and I hope his therapy works wonders in the near future. Because life (especially in Hollywood) really is too short to brood it all away.
On a side note, he totally waxed this sh-t, right? Ouch.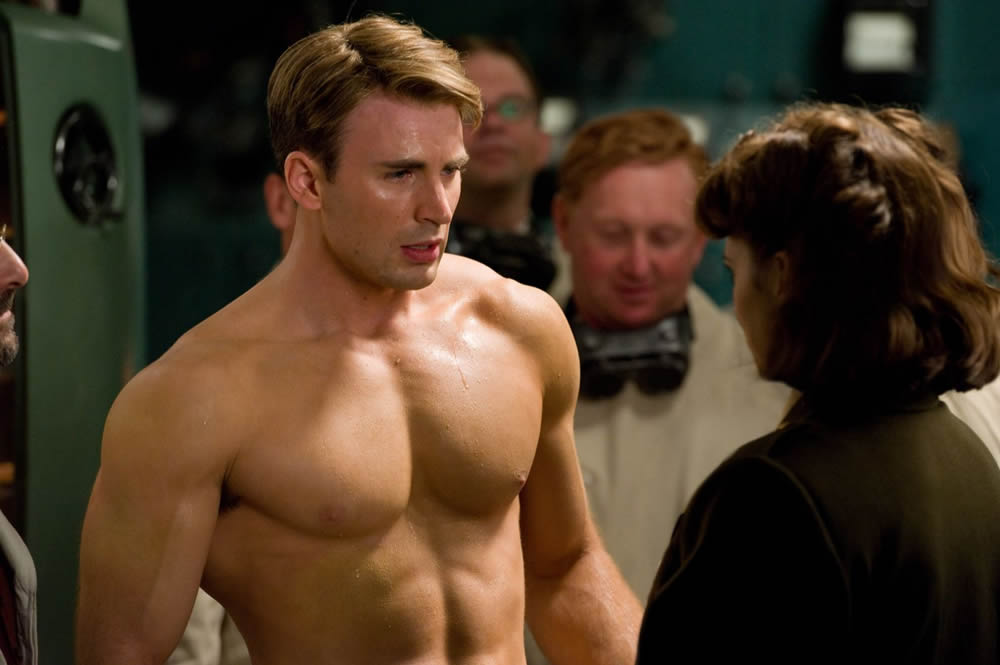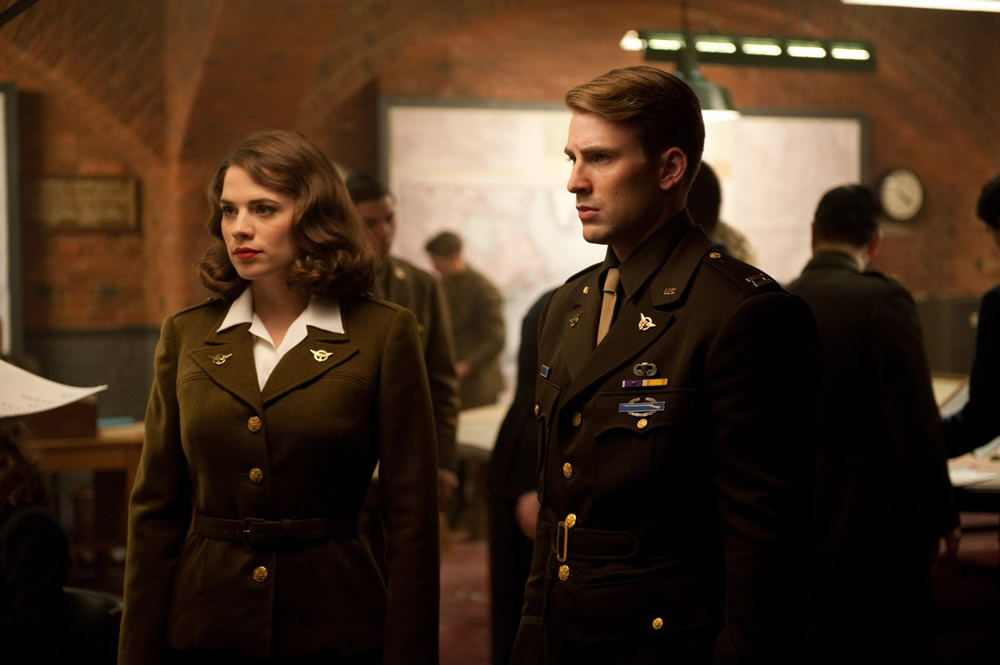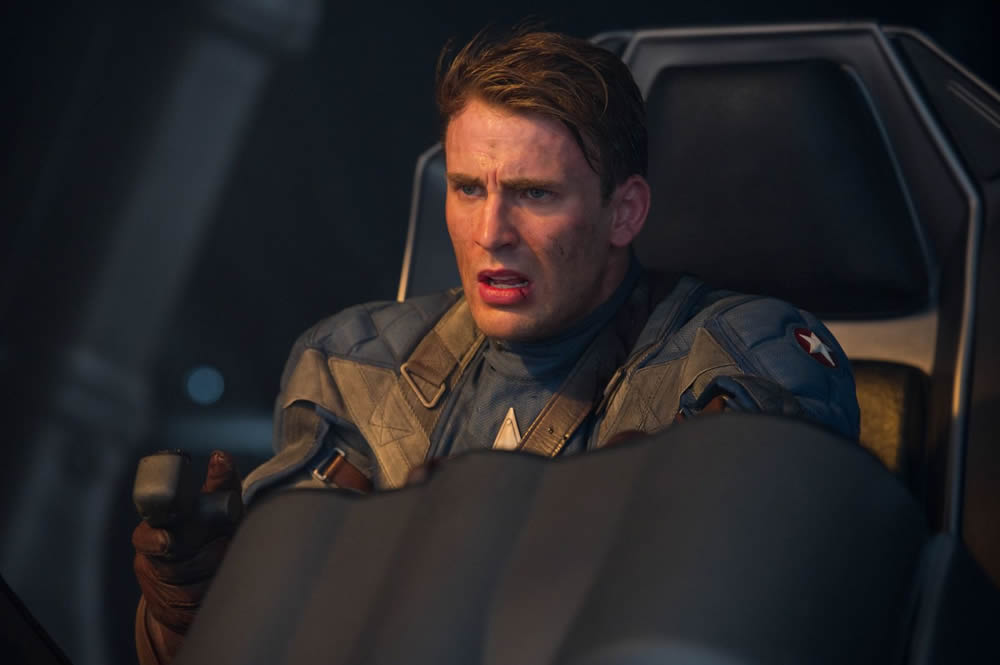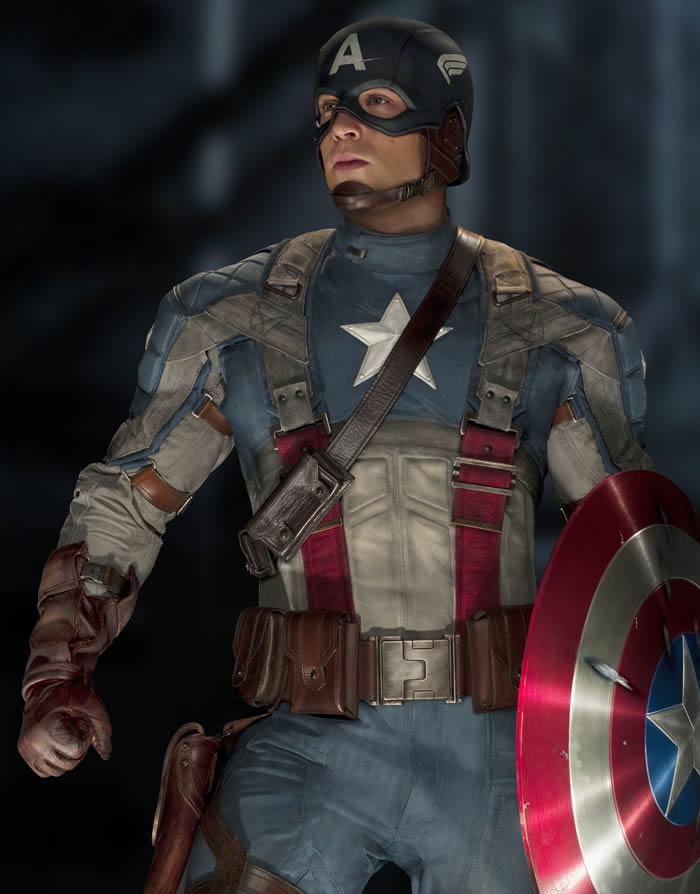 Captain America movie stills courtesy of AllMoviePhoto