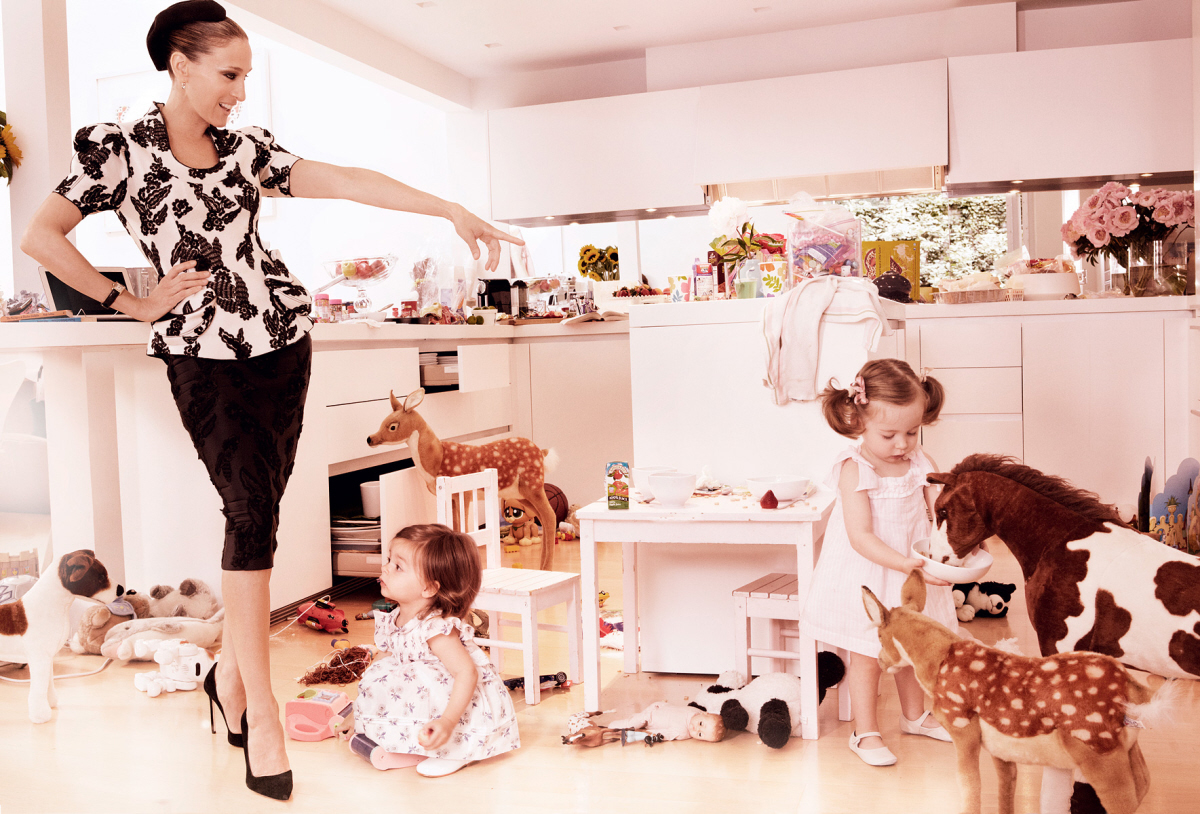 Yesterday, I covered the first excerpts from Sarah Jessica Parker's Vogue cover profile for the August issue. The problem I have with SJP is that the more she talks, the more I dislike her. If she keeps quiet, and I'm just looking at photos of her, I usually have affection for her. In this case, the photo shoot is pissing me off as much as the interview. Vogue and other fashion magazines have the nasty little habit of using small children in their photo shoots. It's not a simple matter of photographing kids – it's that the kids are often used as "props" or "accessories" in the fashion shoot. Such it is with this SJP shoot – I'm guessing that Testino shot SJP in her home, with her kids and her husband, but that Anna Wintour didn't just want "candid"-type photos of a realistic family. Instead, SJP is all dolled up to the nines, standing amongst the "prop" messy house, messy babies, etc. Also: considering that SJP is promoting a film about "the myth" of a woman having it all, it seems hypocritical that the photo shoot merely reinforces the myth. You can read the whole Vogue piece here, and here are some additional highlights that I haven't covered already:
On the paparazzi, fame and why she'll never move away from NYC: The paparazzi may stalk her every single time she walks James Wilkie to school or takes the girls out—"They follow every move I make until I'm back inside the house"—but she refuses to withdraw. "You do start to understand the behind-the-gate mentality, the getting in the car in your driveway," she says as she pours herself tea, "but I can't imagine living in seclusion. We flirted with it. We went outside the city and troubled all these Realtors and stood in these homes and fantasized, and then I kept picturing nine o'clock at night and"—she breaks into mime, drumming her fingers on her crossed knees and staring into the middle distance. "The beautiful thing about New York is, you have to expose yourself to other people the minute you step outside the door. There is no choice. And I love that." Plus, of course, there's the cultural life. Broderick, a born-and-bred New Yorker, works mostly on Broadway. Next spring he will star in Nice Work if You Can Get It, directed by Kathleen Marshall. As for Parker, "If I didn't have kids," she says, "I would be at the theater or the ballet every single night of my life."

Borrowing beautiful clothes, like vintage McQueen: "I love the opportunity to wear something really special and go to a wonderful event at some great cultural institution," she says. "Not to sound too Pollyanna about it, but I really didn't imagine when I was a little girl that I would be there to see it all myself."

On-Set, first week jitters and Pierce Brosnan: "I lose my appetite," she says. "By Wednesday of the first week on I Don't Know How She Does It, I was sobbing, I was apologizing. I was feeling so awful and ashamed, like I had let the director down. If only they would not tell me when the camera was running, I would be OK. I'm like that two weeks into every movie. But the beauty of nerves is that you can always find a comrade in it. When Pierce came"—Pierce Brosnan plays her colleague and potential romantic interest—"he was a nervous wreck! Of course, by then I was really relaxed, but I was so comforted by it." Even James Bond gets the jitters.

The end of her own Sex & the City experience: Parker knew it was time to move on. The 20-hour days on set, during which she also worked as producer, were no longer viable once she became a mother. "It wasn't hard when I didn't have children," she says. "I loved it. But I ultimately chose to stop doing the television series because I felt like it required, and deserved, a lot of time when I really wanted to be a parent." Also, she says, circumstances had changed. "It was such a different time in the city, culturally, socially, economically . . . the kind of liberty that Carrie Bradshaw had. You couldn't start off with a story like that today."

Her crazy schedule: "It's a pretty simple setup," she says of the domestic situation she shares with her husband, Matthew Broderick. There's a nanny for their toddler twins, Loretta and Tabitha, and someone else to help with the logistics of eight-year-old James Wilkie's schedule. "We don't have any live-in help. We're pretty hands-on parents. That's something that's important to both of us, and we don't shirk it, because what's the point in having a family if you're not going to really participate in it, you know?" For now, she schedules her meetings after walking James Wilkie to school but tries to be home after the twins' afternoon nap. "I feel like if I'm only missing up until 3:30, when they wake up, that's not so awful." She doesn't use a cell phone, except in emergencies; for her it's e-mail or texts, "otherwise it's one more thing I'm trying to keep up with."

The twins: After her much-publicized struggles with fertility, Parker had her daughters via a surrogate, and, in their white sandals, slightly outgrown smock dresses, and hair ribbons, they couldn't be more adorable. Loretta is bigger and fairer than Tabitha, who is tiny and olive-skinned, with enormous brown eyes. "Tabitha's very, very outgoing, but physically she's very shy," says Parker. "She shakes in elevators; it's very sweet, like Bambi. And then Loretta is pale, like my husband, with piercing blue eyes. But she's physically bold." Watching them, she marvels at how they could be so different and yet so recognizably related. "I think it's funny how much she looks like my husband," she says of Tabitha. "Except then I look at Loretta and she has my husband's mouth and sort of sad eyes, you know the kind that go down? The Broderick eyes. They both really look like him."

Being an older parent: "I guess I think there are things about it that I hope have made me a better mother," she says. "I've had a lot of opportunities to do the things that I wanted to do, like sleep. I have slept till 11:00 for a lot of years. Honestly, the only thing that I'm concerned about is the energy: I hope I can maintain the energy. I think about all the years I've spent parenting James Wilkie and everything I put into it, and there are two of them."
[From Vogue]
At the end of the day, I think I'm consistently put off by SJP because she's just one of those women who are self-perpetuating hurricanes of multi-tasking, and I just don't see how she finds the time to do any of it, or understand WHY she feels the need to wear so many hats when she could just sit down, calm down and focus on one thing at a time, which is my general approach to life ("Slow and steady wins the race" is one of my favorite sayings). I don't even have kids, and some days I'm so busy that I skip taking a shower. So how does SJP do it? I have no idea. THAT should be the point of the film and the press for the film – that SJP is just a woman on the verge, like me and like so many of us. But that's not SJP's message, at least that's not the way I'm reading it. Her message seems to be: "See a movie where I play a woman who juggles everything in her life, often unsuccessfully, but in real life I have it all and then some." It's off-putting.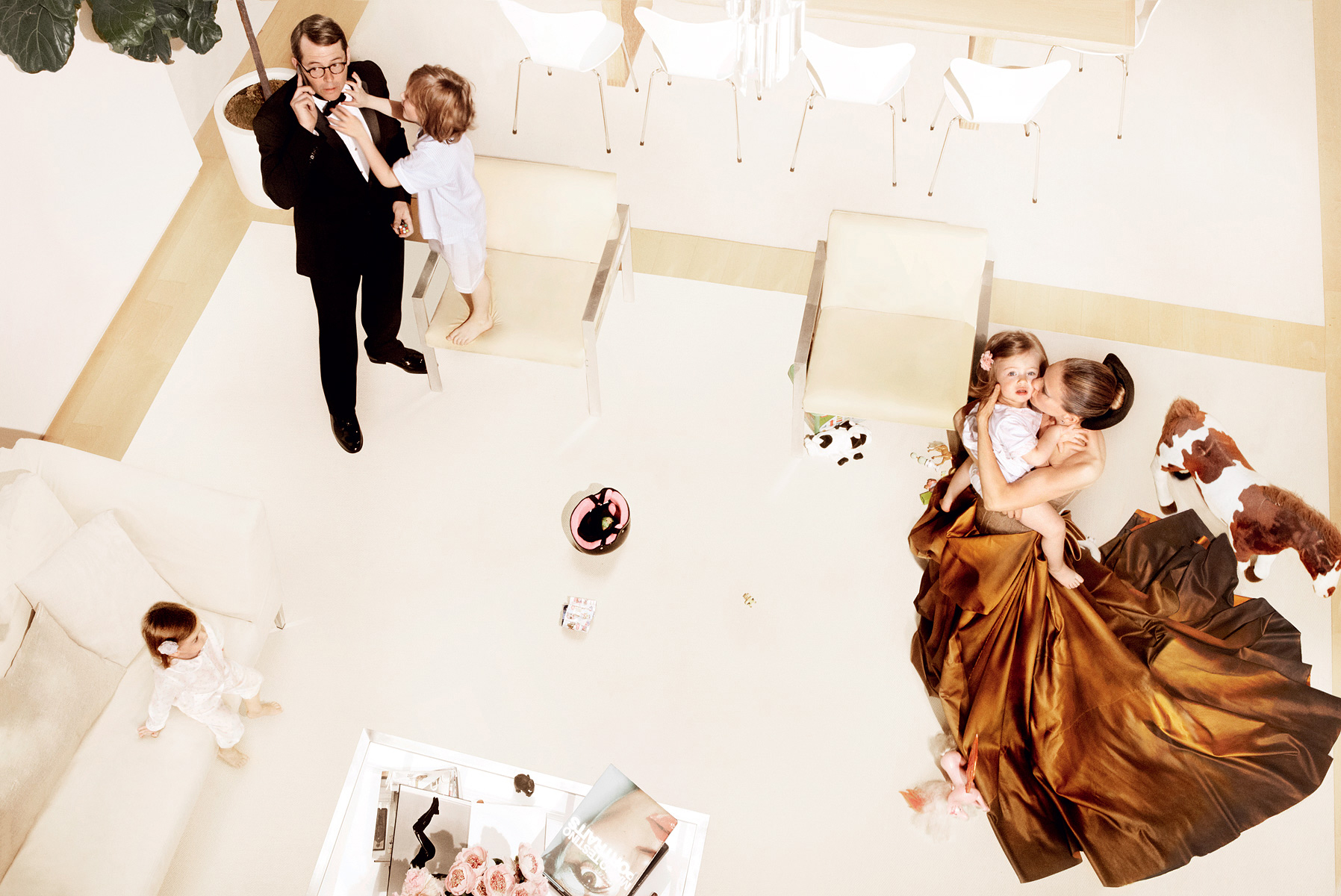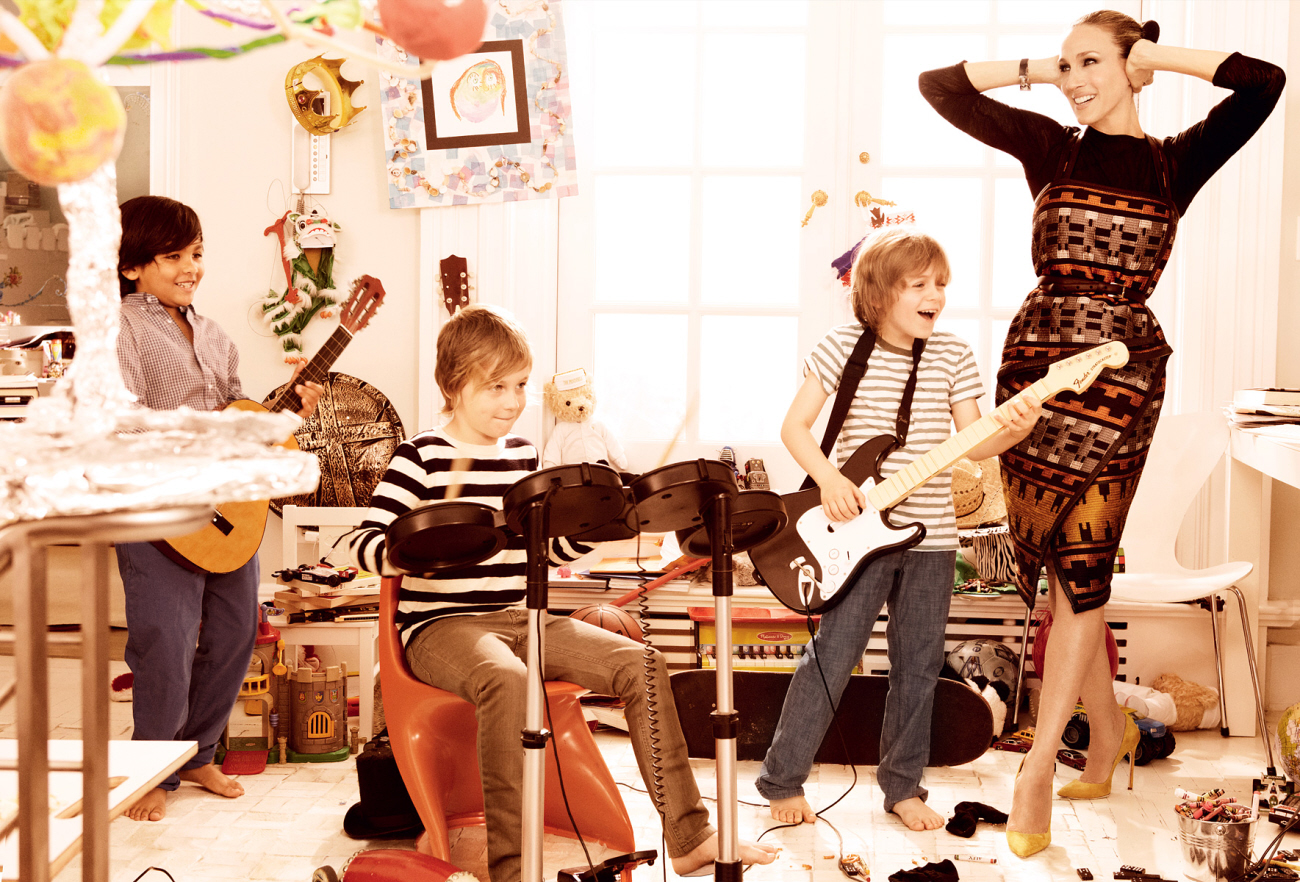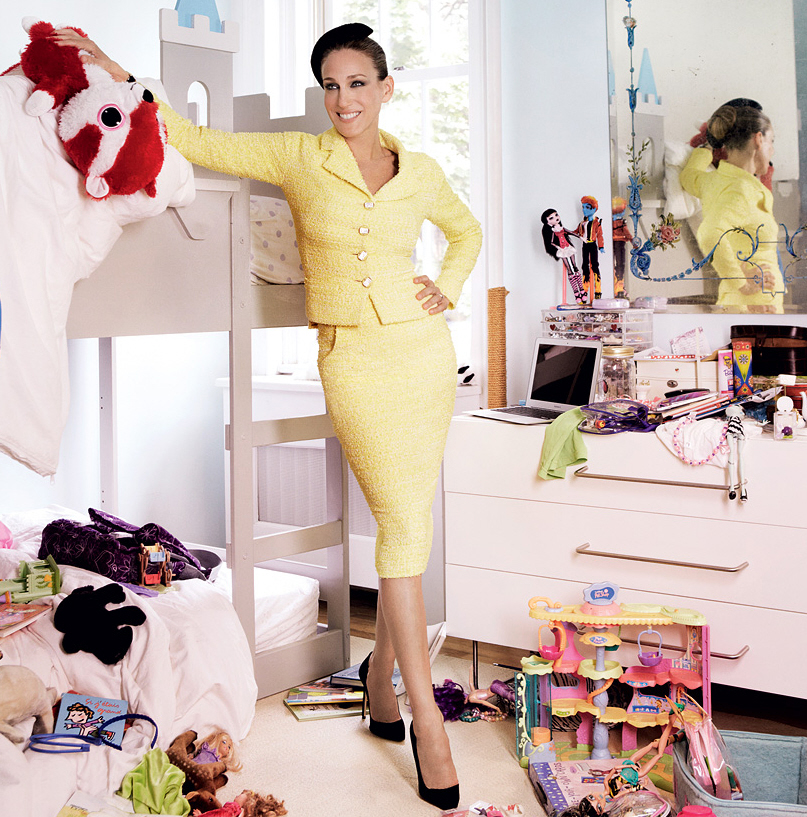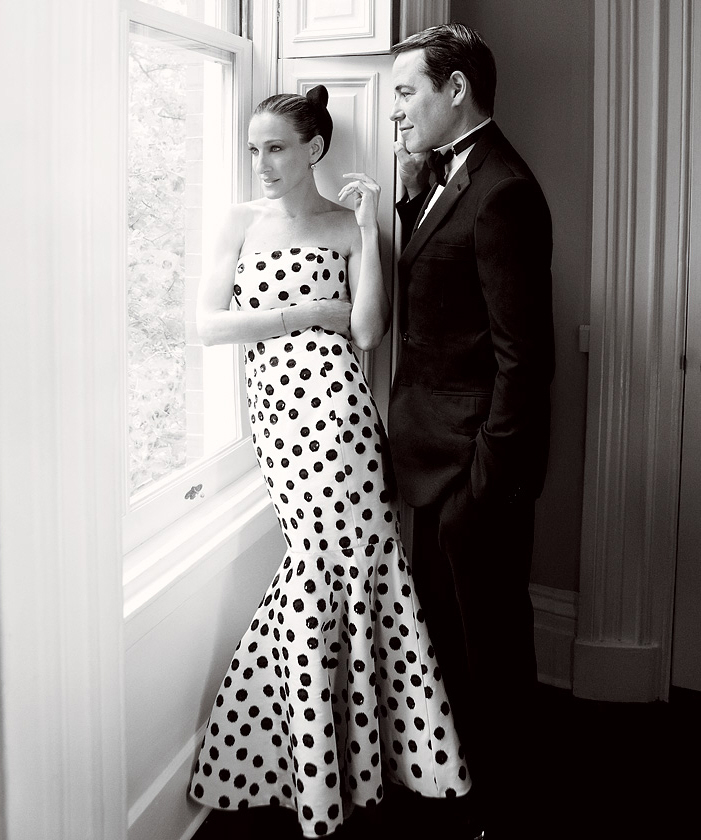 Photos courtesy of Testino/Vogue, slideshow here.