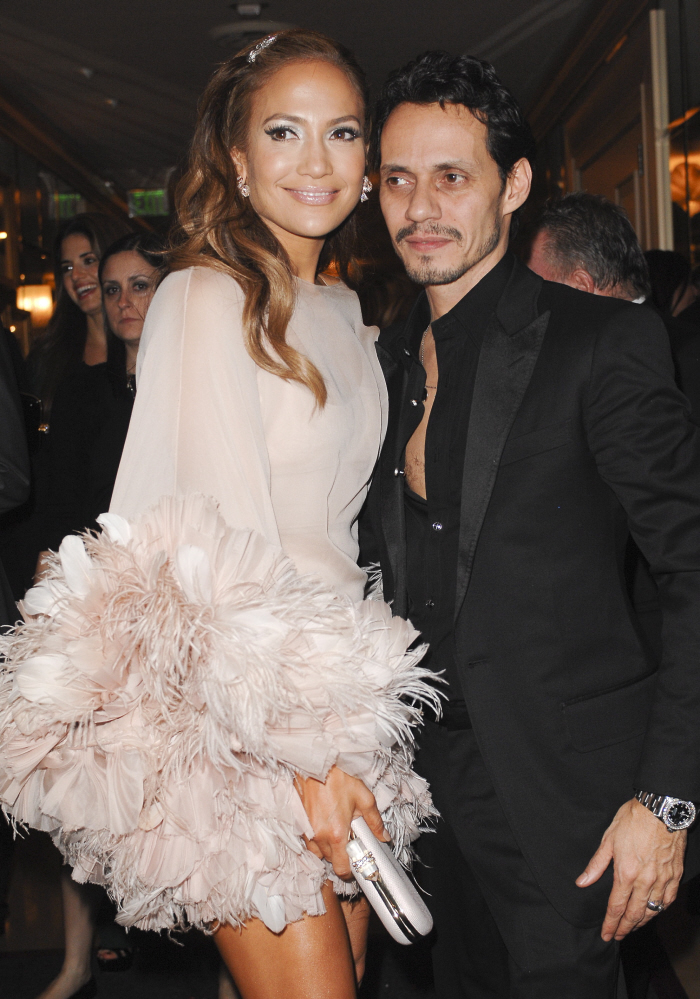 Jennifer Lopez and Marc Anthony announced their split late Friday. My take, at the time, was that it sounded like both Marc and Jennifer were totally done with their marriage, and that they weren't even playing the "maybe we'll reconcile" game. Many of you have theories about their marriage, and now, their separation. Some have brought up those old(er) tabloid stories about Marc being physically abusive to Jennifer – I've always had a hard time believing those stories, but maybe that's just me. What is being said by many is that Marc is very controlling – CB pointed out this story, about Marc "coaching" Jennifer during the commercial breaks on American Idol. LaineyGossip also noted that Marc often seems "intense" and jealous with Jennifer. I could see him being emotionally, psychologically abusive… much more than physically abuse, but once again, we don't know for sure.
Despite my surprise for their split, I also thought that the signal – the event which should have raised the alert for all of us – for the breakup was that Jennifer took her mom to meet Prince William and Duchess Kate last weekend. Usually Jennifer never missed an opportunity to trot Marc out, so we should have known that something was up. The Mail claims that it was last weekend, the weekend that William and Kate were in LA, that Jennifer and Marc's marriage officially fell apart:
It should have been the glittering highlight of their seven-year union. Multi-millionaire superstars Jennifer Lopez and Marc Anthony were due to be guests of honour at the top table with Prince William and Kate at last weekend's glittering Bafta gala in Hollywood.

Instead, J-Lo sashayed down the red carpet in a provocatively clinging green Pucci gown accompanied by her mother, Guadalupe, a former kindergarten teacher from the Bronx. She was also missing her wedding ring. Royal aides, along with the singer-actress's millions of fans, were mystified. But on Friday night in a statement issued through J-Lo's publicist, the couple, worth an estimated £240 million, announced they are to divorce. They called the decision 'painful' and 'difficult'. But The Mail on Sunday has spoken to several of the couple's closest confidantes and can reveal they began to drift apart three years after their marriage in June 2004.

'This is not a surprise,' J-Lo's stylist Phillip Bloch said in an exclusive interview last night. 'Marc is very controlling. In the beginning she liked that because he stood up to her, and in the early days he was very much in love with her and she was with him.'

But the couple are said to have begun to squabble soon after 41-year-old J-Lo's mother moved into their Long Island, New York mansion in 2008 to help look after their newborn twins.

'They also clashed when she learned he owed millions in unpaid taxes on the Long Island estate,' said film-maker Ed Meyer, an associate of J-Lo's first husband, Cuban-born club-owner Ojani Noa. 'The other problem was that they couldn't agree where to live. J-Lo's career is in Hollywood and she wanted to live in their Malibu mansion and Marc loved New York. She was going to move to New York in a last-ditch effort to save the marriage. But last Monday I heard it was all over.'

In November 2002 – after a second failed marriage, to backing dancer Cris Judd – Jennifer became engaged to actor Ben Affleck, declaring he was 'the one'. But The Mail on Sunday has learned that years before, another man, top Latin American recording artist Marc Anthony, had become infatuated with her. J-Lo broke up with Affleck in January 2004. That June Marc, now 42, finalised his divorce from former Miss Universe Dayanara Torres. Four days later they married at Jennifer's home in Beverly Hills.

They presented themselves as a fairytale couple. But soon after the birth of the twins, the couple are said to have begun to argue.

'J-Lo's mother wanted to run her life and Marc wanted to run her life and I don't think J-Lo wanted anyone to control her,' said Meyer.

Friends say J-Lo made one last attempt to save the marriage with her offer to move back to New York.

'She fought to make it work for the sake of the children,' said Phillip Bloch. 'She desperately did not want a third divorce.'
[From The Mail]
Hm… it's interesting that a named source – a powerful hair stylist with his own elite circle within Hollywood – is going on the record about Marc and Jennifer's relationship, it's interesting that Phillip Bloch is blaming Marc's controlling ways, and it's interesting that this is being done so soon. I'm telling you… it's going to get intense, I think.
Meanwhile, Jennifer is already reportedly heading out of the country for her first post-split gig, in the Ukraine. She's being paid $1 million to perform at a wedding on July 19. E! News's source says, "It's a wealthy guy who wanted J.Lo and was willing to pay top dollar." And Max and Emme aren't coming with her.
Here's another thought… Jennifer always bounces back very, very quickly. Who will her jumpoff/rebound be? For some reason, I really, really wish Simon Cowell was still doing Idol, because I think Simon and Jennifer would be… awesome. My theory? She's not going to go for another actor like Ben Affleck or something. She'll go for a power-player, maybe someone behind-the-scenes, a producer or the head of a studio or label, something like that.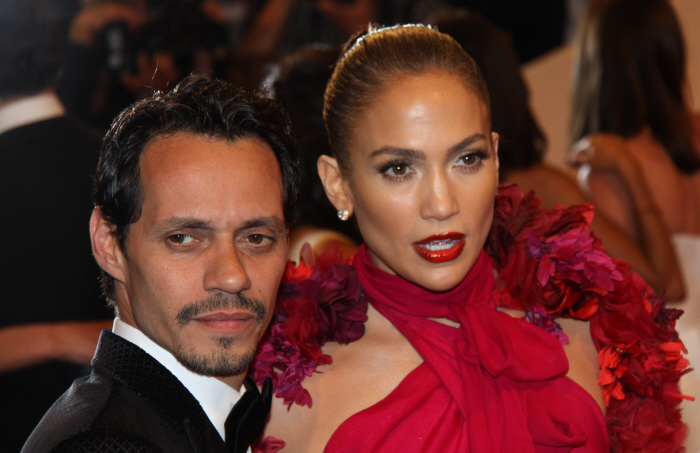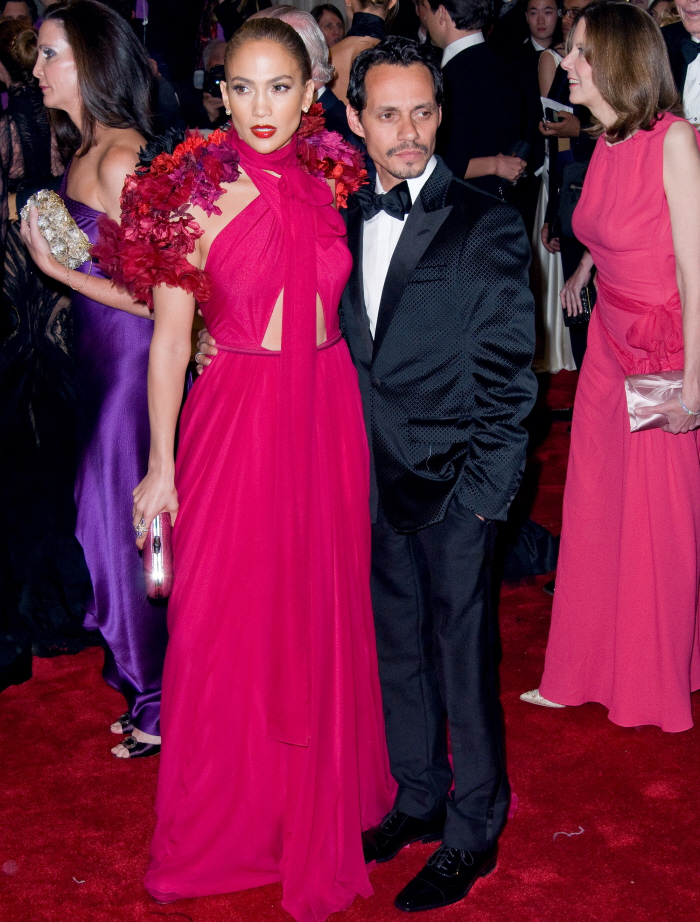 Photos courtesy of WENN.