When Crystal Harris dumped Hugh Hefner a few days before their June wedding she gave the excuse that she wasn't the only woman in his life, saying he "doesn't live a normal lifestyle, there's women around all the time… I was not the only woman." Only according to Hef that's just not true and Crystal was down with other women and more than aware of the situation before they were set to be married. In an interview with Piers Morgan last week, Hef revealed that Crystal "loved the girls," according to his perspective. He also very carefully suggested she was cheating on him, and expressed regret for letting his last girlfriend, Holly Madison, go.
On Crystal's statement that she left because of other women
Most of what she has said publicly is not true. And is clearly not what is really going on. And what her reaction was all about. She loved the lifestyle. She loved the girls. So, you know.

On why Crystal left
I think there is at least one other guy in the picture. I think there's something more we don't know. And I think that maybe as she got — I think that the career was more important to her than she let on.

Why he was willing to marry her – because he lost his chance with Holly
I think that's a very valid question. I think quite frankly now, the day after, I'm asking myself the same thing. You know. Where was my head? I did it — I made the commitment, quite frankly, because I felt that I had — in a previous relationship with Holly not been there for her in the way that she wanted me to be.

On if Crystal took him for a ride
I think an argument could be made that she took me for a ride. But I must say, quite frankly, it was a pretty nice ride.

It was 2 1/2 very good years. And if she was faking it, she did it very well. She certainly convinced me that she was — I wouldn't even kind of play at the possibility of marriage if I didn't think that she was really, really committed to me. So, you know. If she was fooling, and a good case can be made that she was, she did a very good job.

On how Crystal got the Bentley, the ring and a little cash
Well, she asked for a Bentley right before we split. So she got the car. She got the ring. She didn't have to get it. You know….

The ring was I would say around $60,000, $70,000. But to her credit, we had a dog. Have a dog. Charlie. And I love the dog. She brought it back. And felt that I missed it more than she did.

On if he gave Crystal cash
A little but not a great deal. Yes. As I say, she would have gotten a good deal more if she'd gotten married.
[From Transcripts.CNN.com]
Hef also revealed that after Crystal told him she didn't want to get married he said that was fine and they could still stay together. Instead of telling him that she wanted to leave she snuck out with her stuff while he was watching a movie. Hef got choked up retelling this part. He was pretty nice about everything and could have put in a few digs at Crystal but he just kind of told it like it happened.
E! News has more on Crystal and Hef's "runaway bride" special to air on Lifetime tomorrow, July 19th, which was originally going to be their wedding special. In the preview clip on E! (spoilers I guess, that's below) Holly and Kendra visit Hef to comfort him after the breakup. He tells Holly "I think I screwed up with us." From Holly's body language, I think it's safe to assume that ship has passed. Holly wouldn't have ditched Hef at the altar, but she probably would have divorced him after a few years. She wanted children badly and when that didn't happen for her she left. Plus it's not like Hef is pining for Holly. He already has two bottle blonde replacement girlfriends, Anna Berglund and Shera Bechard, and showed them both off on CNN.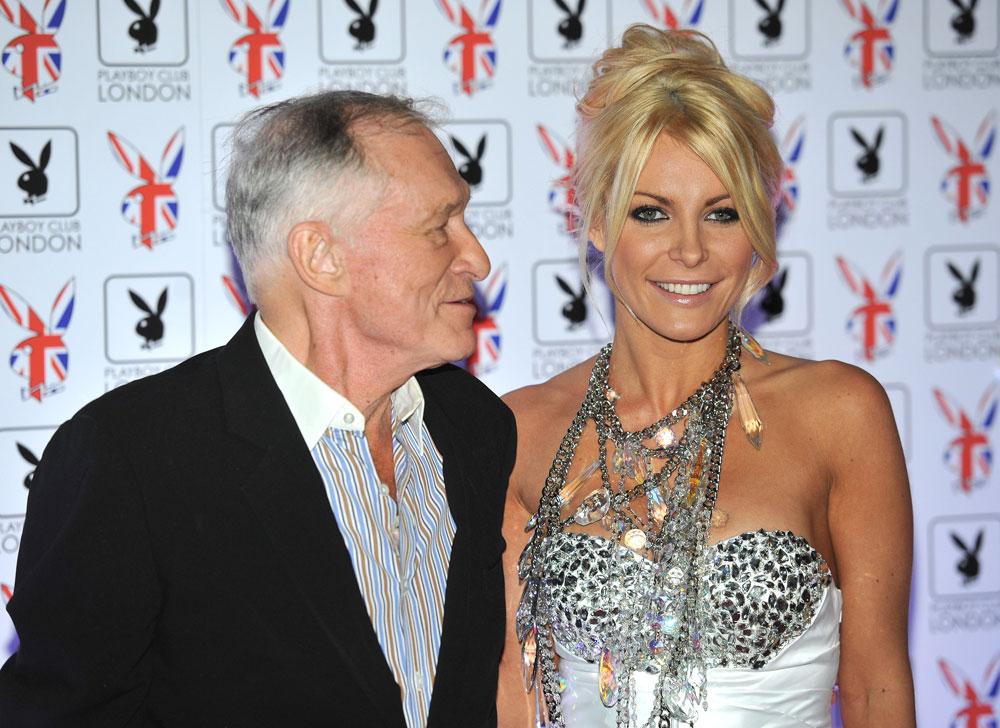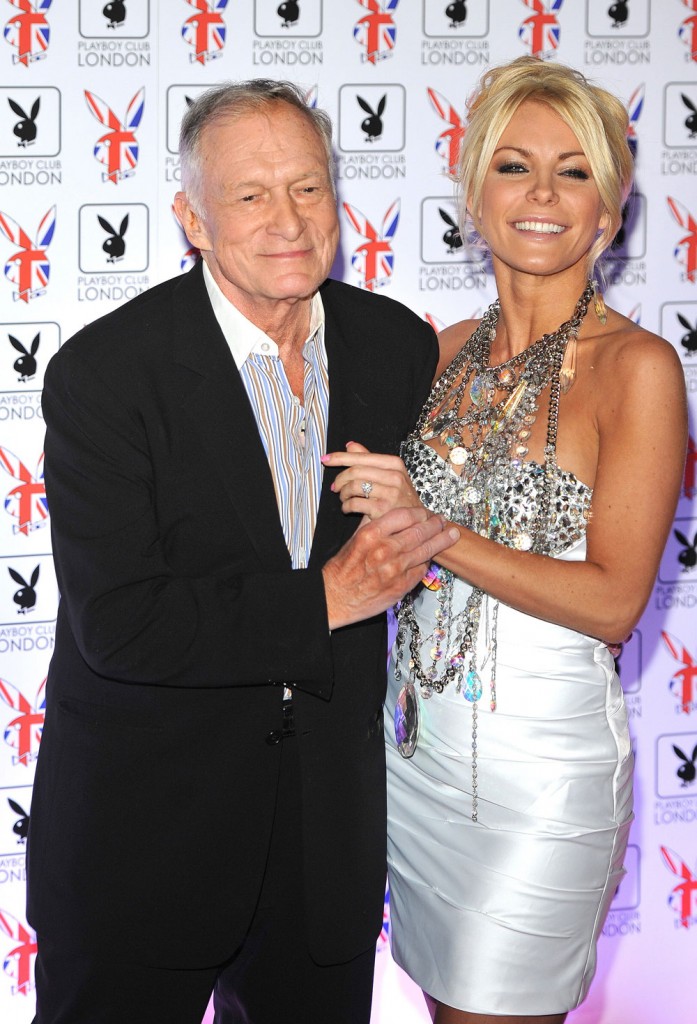 Hugh and Crystal are shown on 6/4/11. Credit: WENN.com