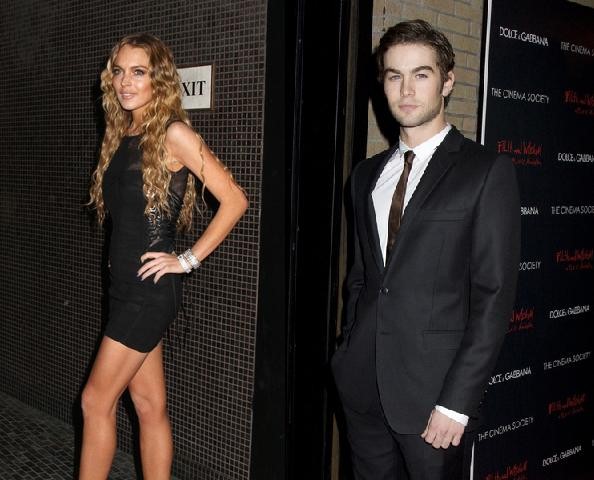 The Mirror seems to think that Lindsay Lohan is really confused. I think she's just very open minded/fairly skanky. According to the British tab, Lohan gave her number to "Gossip Girl" star Chace Crawford at a recent party in New York, and has been hounding him ever since. She calls and texts upwards of four times a day, and is apparently incapable of getting the hint that he's just not interested.
Mixed-up Lindsay Lohan is getting more and more confused by the day. Hours before raving about girlfriend Samantha Ronson on her blog, LiLo was flirting with TV's Gossip Girl star Chace Crawford. We're told the 22-year-old actress, who recently "came out" about her girl-on-girl love for the DJ, has also got a crush on chiselled Chace, 23. After meeting him at the Diesel XXX Rock party in New York, the pair swapped numbers – and she has been calling him up to four times a day ever since.

Our party mole says: "Lindsay took a real shine to Chace and was pretty much throwing herself at him all night. "She was standing in such a way that some part of her body was always touching him – at one point hip to hip. She was also giving him the filthiest looks, whispering in his ear, and turning everything he said into an innuendo.

"Everyone on the set of Gossip Girl has been teasing him mercilessly as Lindsay has been calling him three or four times a day and sending provocative text messages. Although she may just be having a laugh and not have any serious amorous intentions, everyone reckons Sam will go mad when she finds out.

"As a result Chace has been advised to stay well away from Lindsay and give the couple a very wide berth." Of course, Chace is not the first male celebrity Linds is said to have contacted in recent times. The Mirror revealed how the Mean Girls star bombarded Olympic swimmer Michael Phelps, 23, with texts and begged him for a date.
[From the Mirror]
Having Lindsay Lohan flirt with you must be about as embarrassing as having a walking STD ask for your phone number. She's certainly not the classiest girl in the room. Old Lohan would have been even more frightening. She seems a little more put together since she's been with Samantha, but clearly class is still beyond her – she's flirting with another celebrity (so people are obviously paying attention) when she's in a serious relationship.
LiLo's sex drive is a force stronger than nature. It doesn't appear that any amount of emotion or rationale can possibly tone it down. If I were Samantha I'd either throw Lindsay's phone into the Hudson or use this as an excuse to get the hell out.
Here's Chace Crawford on the set of "Gossip Girl" filming on location in New York City last Tuesday. Header of Chase and Lindsay (separately) at the New York screening of "Filth and Wisdom" that same day. Images thanks to PR Photos and Fame.