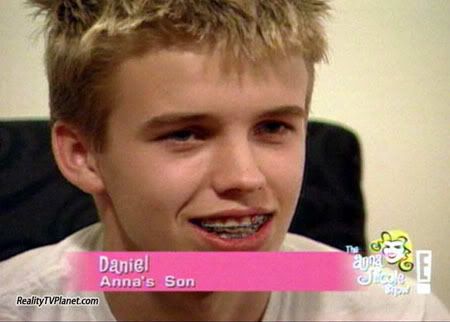 At first it was said that Daniel Smith, Anna Nicole Smith's son, died from a "massive heart attack" while in his mother's birth room in a hospital in the Bahamas. The next rumor was that he was found apparently sleeping by Anna after overdosing on drugs. There was another story that he was vomiting and that there was blood all over the room.
Anna is said to have tried to revive him, to have been understandably distraught, and to have needed sedatives to calm down after the traumatic loss of her son.
It's hard to know what to believe, but the story is getting complicated. Bahamian authorities gave vague statements about the death, saying it will involve an inquest, that that it was suspicious, and that there was a "third person" in the room. They say they know what killed Daniel, that it was "not natural" and that there were no external injuries on the body.
It turns out that the third person was none other than Anna's lawyer and self-proclaimed best friend, Howard K. Stern. Stern is in love with Anna, according to Anna's ex-boyfriend and supposed father of her newborn, papparazo Larry Birkhead.
Anna is now said to be suffering from "memory loss" and cannot recall what happened during those crucial moments when she either found her son unresponsive or he died in front of her. That could be true, but it's also terribly convenient.
She was also heard "screaming loudly and blaming someone" saying "You caused this!" nearly 40 minutes before hospital staff were contacted:
The coroner's move followed a bombshell report in The Tribune, a Bahamian newspaper, that other hospital patients overheard Anna Nicole Smith "screaming loudly and blaming someone" for her son's collapse about 9 a.m. – 38 minutes before hospital officials say a nurse was called to the room and attempts were made to revive Daniel.
The ex-reality show star was heard screaming, "You caused this!" to the third person who was present in the room, The Tribune reported.
Police and the coroner refused to identify the third person in the former Playboy model's room, but they said it was not a member of the hospital's staff.
The person was "a male" described as a "boyfriend" of Anna Nicole Smith's, a Bahamian source told the Daily News, but it was not her ex-flame Larry Birkhead, who says he is the father of her baby.
But Michael Scott, an attorney for Anna Nicole Smith, said the third person in the hospital room was Howard K. Stern, another Smith lawyer.
Scott said both Stern and Anna Nicole tried desperately to revive Daniel, even after doctors had pronounced him dead. The bereaved mother was so distraught that she had to be sedated, Scott said.
It sounds like a drug overdose, but then why did authorities call it "suspicious" and reference the third person in the room? Why was Anna screaming and blaming someone? What's more, nothing suggesting drug use was found at the murder scene.
Howard K. Stern's statement makes it seem straightforward – he was there when Anna found Daniel, checked his pulse, and immediately called for help. The truth sounds more complicated and suspicious, though. The coroner's toxicology report will not be released until the case is underway, which will be on October 23rd. Did Howard K. Stern give Daniel drugs? Did he overlook Daniel's drug use? We're sure to hear more of this in the months to come.