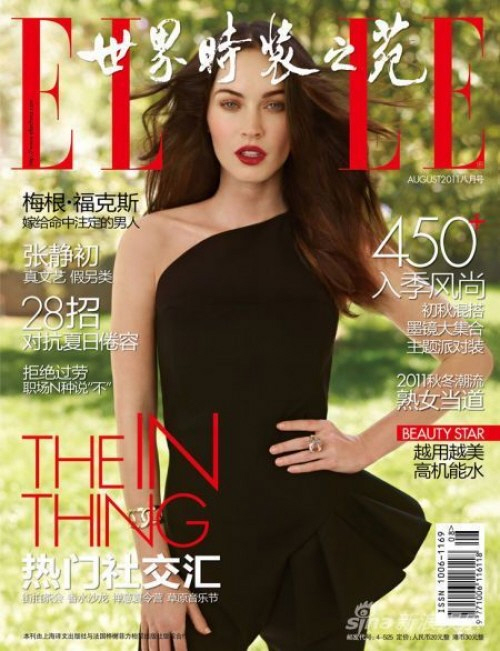 Here is Megan Fox's cover and pictorial for the August issue of Elle China. I have no idea what she's promoting, but I do think that this is a new or relatively new photo shoot. It's being promoted that way on Megan's fansites, and it seems like this is some super-tweaked version of her 2011 Face. Is it racist to say that Megan is on the cover of a Chinese fashion magazine right now because she's tweaked herself to look part-Asian? I don't think it's racist. She honestly looks part-Asian at this point. No disrespect to all of the beautiful Asian women out there – you are much prettier than Megan Fox. And she was much prettier before she screwed with her face.
Meanwhile, Megan sat down with Marie Claire UK to discuss her "beauty secrets". Some are actually kind of interesting:
Less is more: My beauty philosophy is 'less is more', so my daily routine consists of washing my face thoroughly and moisturising with La Roche-Posay sunscreen [Anthelios AC SPF30 High Protection Fluide Extreme, £15.50]. I drink lots of water and think it's important to get lots of sleep.

Hair color: I always wanted to be blonde when I was little, like Barbie and Pamela Anderson, but it would really damage my hair. It was exotic to me, as my entire family has dark hair. If I did it, I would go white- blonde- really platinum.

Femininity: My definition of beauty is simplicity, elegance and sensuality. Ava Gardner is my beauty icon. I think that when a woman is in harmony with herself and remains true to her values, she will glow naturally. Femininity doesn't depend on what you wear or how you look. It's an attitude.

No cardio: Sport gives me positive energy so I exercise everyday with my trainer, Harley Pasternak. Each circuit is 45 minutes long and I lift weights but never do cardio

No diet: I eat five times a day and don't diet, but I do eat healthily- mostly raw and vegan food, with no dairy. It's not always possible with travel and filming, but I try. I also take supplements like silica and fish oil religiously.

Makeup: I try to keep my make-up fresh, clean and pretty on the red carpet. My signature look is red lipstick worn with plain eyes, so I apply a light foundation, then on my cheeks I use blush or sometimes the same lipstick that I'm wearing. Giorgio Armani Rouge d'Armani Lipstick in 400, £23, contrasts well with my pale complexion and dark hair.

No makeup: Even when I'm working I don't like wearing too much make-up, but when I'm on my own I go bare-faced as I like to give my skin a rest.

Moisturize with grapeseed oil: with I have to wash my face every 12 hours and then moisturize. I only take showers as I don't like sitting in bath water. After my shower I moisturize with Grapeseed Oil from Whole foods [Cold Pressed Organic Oil, £12.60]. It's a great moisturizer and lighter than olive oil.
[From Marie Claire]
Some of it seems pretty honest – in candid photos, Megan is often without makeup, and even though her face is tweaked beyond recognition, you can tell that she takes pretty good care of her skin. I've never heard about moisturizing with Grapeseed oil, though! Do you bitches really do that? When my skin dries out on my face, I use Olay's Age Defying night cream. It works like a charm!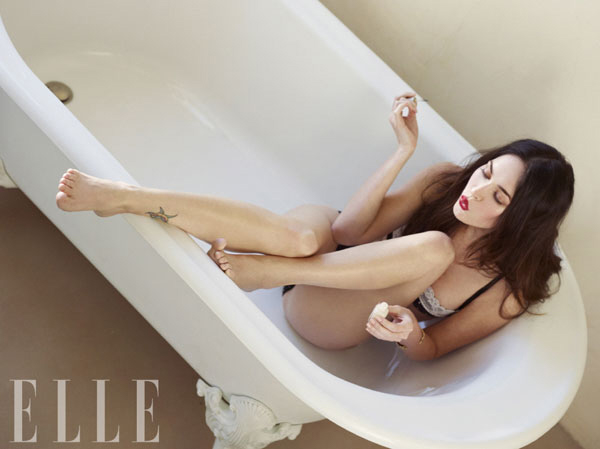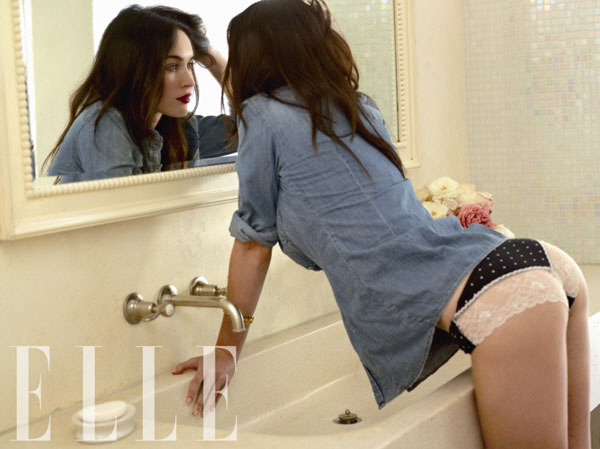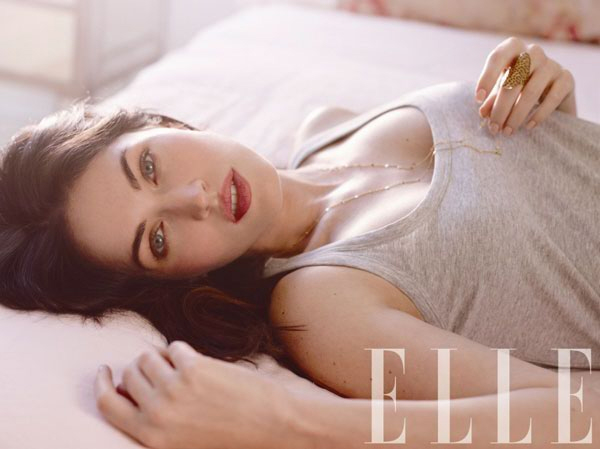 Photos courtesy of Elle China.