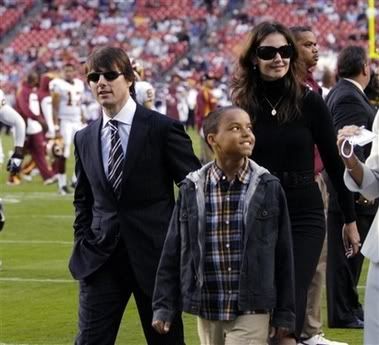 Tom Cruise and Katie Holmes are in full-on PR offensive, according to sources. After spending months holed away with mysterious baby Suri, they released her to the public to great fanfare with a huge spread in Vanity Fair. Next they went out to dinner several times at paparrazi target restaurants, took in Tom's daughter's soccer game, and were seen out with both of their moms, suggesting they're planning something.
Now it seems to be true, and their publicist has confirmed that they're in the "planning stages":
Katie Holmes and Tom Cruise are reportedly planning to marry within the next three to six weeks, Us Weekly reports.
Holmes, who gave birth to the couple's baby daughter Suri on April 18, and Cruise are working toward a date in "early fall."
Cruise and Holmes' spokesman Arnold Robinson says, "The wedding is still in the planning stages. They're really excited about it. They have always said they will be married by early fall and they are still in that window. They can't wait."

Rock and Republic fashion president Andrea Bernholtz tells the magazine, "All I really know is that the wedding is soon! They will surprise us all."
Another source adds, "It's going to happen in the next three to six weeks."
It seems rather suspect that this news comes out right at the same time that Tom's "gay sex" scandal is getting press. What better way to distract the public from Tom's interest in sweaty jerk-off sessions than to have a wedding? I'm not saying he's not interested in Katie Holmes or that he's not in love with her. People say she's his beard or whatever, but maybe he likes to go both ways and is fond of young impressionable women.
Regardless he's done too much damage to his career by defending his weird Scientology beliefs, and a high-profile wedding isn't going to make him into a box office superhero again.