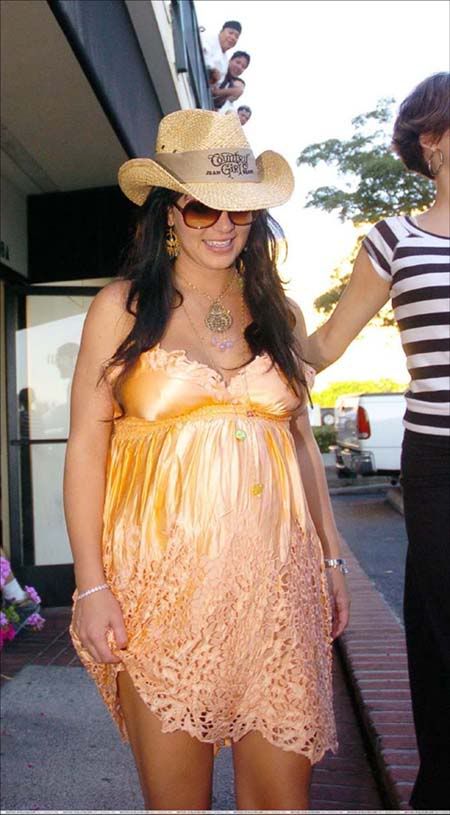 Britney Spears' son Sean Preston celebrated his first birthday yesterday just two days after his little brother was born. Britney was said to be having a baby girl on Sean Preston's birthday and to want to name her "Jailynn" after members of her family. It turns out Britney was trying to fool the press by purchasing and registering for baby girl's items. The planned date of birth could have been true, however, as Britney was said to have received an emergency cesearian after suffering from pre-eclampsia, dangerously high blood pressure that can threaten the life of a pregnant woman and her child.
Now a British newspaper, not the most reliable source, is claiming that Britney plans to name her new one "Sutton Pierce" so that he'll have the same initials as his older brother:
There's been no official announcement yet – let's be clear about that.
But, according to The Sun, Brit and Kev have already come up with a moniker for the tot.
It's reported that they'll call the new addition to the family: Sutton Pierce Federline…

Apparently the reason behind their supposed choice is to make sure the little one has the same initials as his big brother, Sean Preston.
Sutton is actually a pretty good name, in my opinion. It sounds regal but not too snotty and it isn't that common. Unlike making children share birthdays, giving them the same initials is kind of cute. It might be made up news given the source and we'll have to wait and see.
Meanwhile Britney's official website has been replaced with an "under construction" message and a goofy image of a Tiger's face morphing into Britney's. We learned a couple months ago that Britney loves tigers for their "mystery" and she must have dictated the stupid design of the new website. It's surprising that she didn't ask for a flaming logo too.
Thanks to reader Alena for e-mailing me about Britney's website.
Update: The news is out that Britney has indeed called her son Sutton Pierce.