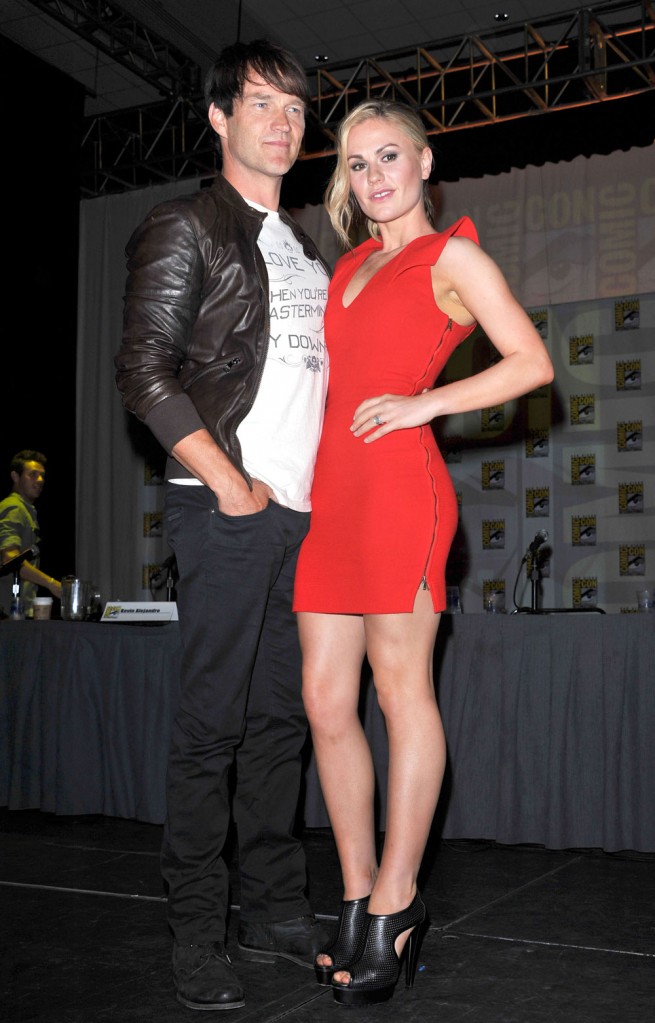 Anna Paquin worked a very tight, very short v-neck red dress with zippers up the side at the Comic-Con panel for True Blood on Friday. She looked great and I wish she would get it right like this on the red carpet. Maybe she should have thought twice before crouching down though.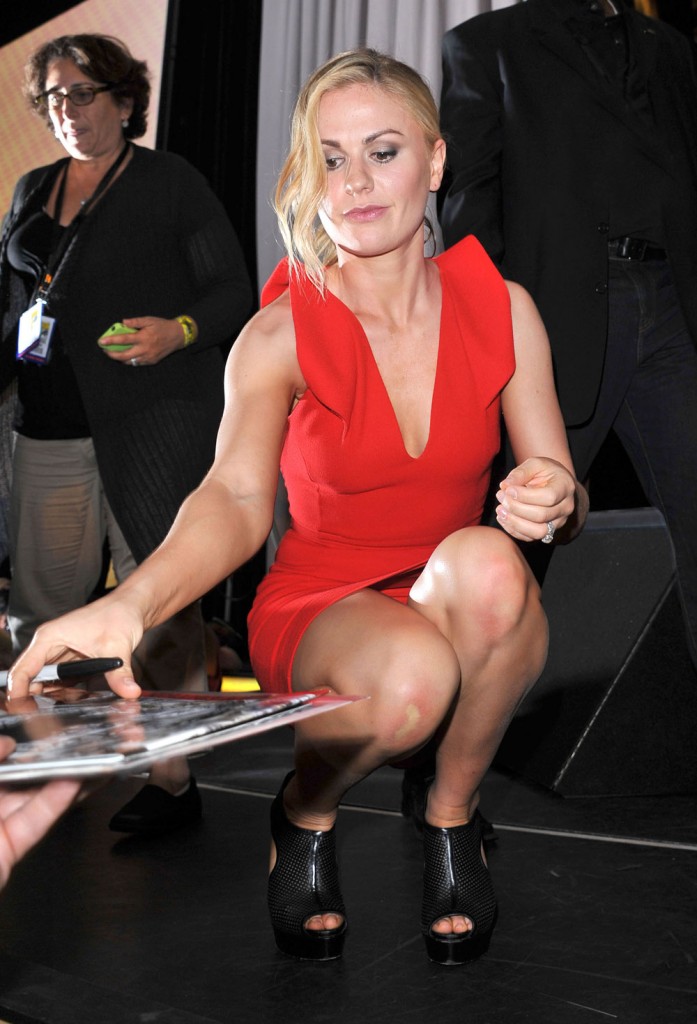 The True Blood Comic-Con panel was large and featured nine of the lead actors including creator Alan Ball, Kristin Bauer (Pam), Alexander Skarsgard (Eric), Kevin Alejandro (Jesus), Nelsan Ellis (Lafayette), Deborah Ann Woll (Jessica), Ryan Kwanten (Jason), Rutina Wesley (Tara), Stephen Moyer (Bill) and Anna Paquin (Sookie.) You can watch the Comic-Con True Blood session in five parts on YouTube and here are some of the better excerpts, with more at the source.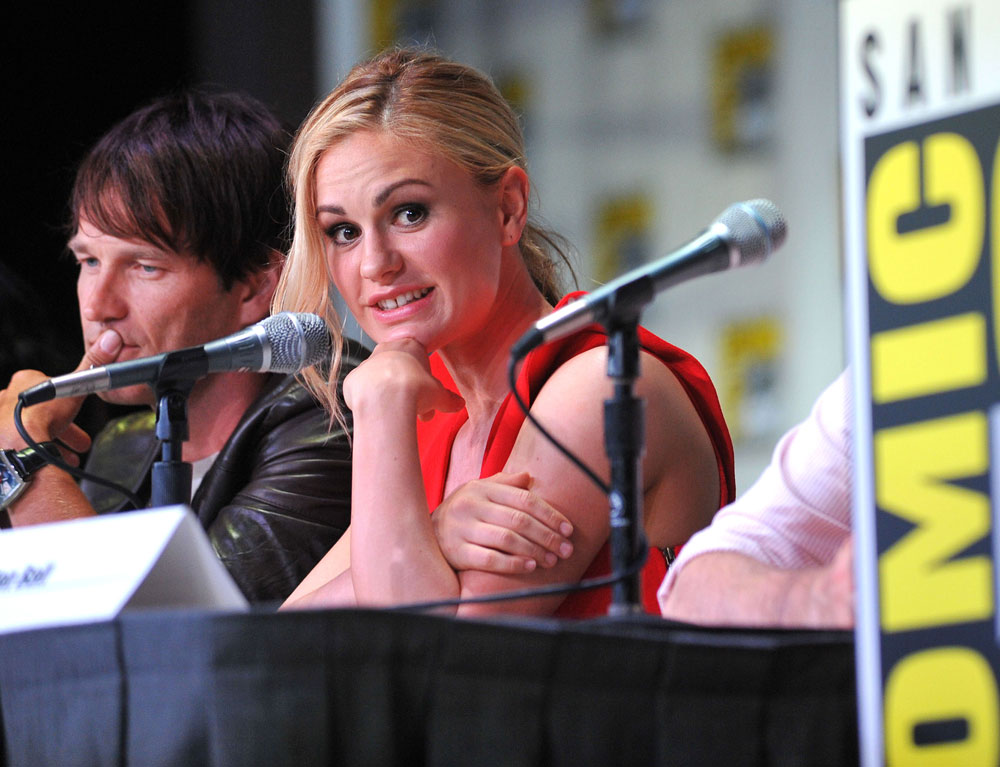 Potential Spoilers
How do you feel about Sookie losing her innocence?
Anne Paquin: There is part of here that is sweet and innocent, and another part that has very dirty vampire sex with possibly multiple vampires.

Since the memory erasing incident, we've seen a lighter Eric. Do you like playing him?
Alexander Skarsgard: Yes

Why does he forget to wear shirts? And what's with that outfit he wears?
Skarsgard: Sookie finds me in the woods. And when she finds me, she dresses me. It's something she found at her house. Where did that come from, Alan?
Ball: If you translate the spell, it will say "You will lose your shirt, but find a dorky outfit that you will wear for several episodes but still be insanely hot."

First you have weird head-twisting sex, than you have sex with your great, great, great granddaughter. What's up with that?
Moyer: If Bill did a little work at the library, she could have figured out who she was. They will see each other again, but Bill has bigger fish to fry.

Is Lafayette along for the ride with the witches because of Angel, or does he believe?
Nelsan Ellis: He loves the dude. He didn't want to step out into the supernatural.

Tara's transformation from victim to kicking ass and taking no prisons. What do you think of the evolution to lesbian cage fighter?
Rutine Wesley: I love MMA. I think Tara was sideswiped by love and didn't know what happened. I think it's awesome that she's happy and smiling.

Ryan, tell us about being strapped to the bed and ritualistically raped?
Ryan Kwanten: It's interesting for an actor when all you have to use is your face, especially for Jason who is a physical type of guy. It's strange for him, especially being called "Ghost Daddy."

We all know what happens when a person drinks vamp blood, so what will happen when Jason drinks Jessica's blood?
Deborah Ann Woll: We all know what happens, but it's more interesting on what happens when it wears off.

What do you think of Pam's "face off" with Marnie?
Kristin Bauer van Straten: We work hard to make you squeamish. It's very physical. I was told to "find the hole in my face and push up." Only on "True Blood" will you get that kind of direction.

Will Eric remember what happened with Sookie?
Alan Ball: That moment if it comes, if you know it is coming, it won't be as good. So, maybe.

Bill and Sookie be together again?
Anna Paquin: It will be a complicated road back. It's impossible for me to call that one.
Moyer: There are only so many telepathic waitresses in town. It's not like I can just move on to the next one.

What is up with creepy baby doll and Arlene's baby?
Moyer: I was with Alan when he looked at the set for Jessica and Hoyt's house, and he said, "This is a great place for that baby to be born. There is something not right about that baby."

Will fans get the infamous "shower scene" from the books?
Ball: There will be a moment where Sookie and Eric are in a shower. It won't be exactly like the books. It might be weirder and dirtier.

What are your favorite moments of this season?:
Ball: I like the ritualistic rape of Jason Stackhouse
Kwanten: Me too. It was a bizarre sense of therapy.
Wesley: The cage fighting
Skarsgard: I enjoyed the swimming in the sun.
[From Showblitz]
Spoilers for last night's episode of True Blood
Last night's True Blood was decent but the show has kind of lost its luster for me. It seems to be meandering a lot lately and there are quite a few plot lines that bore me. I'm also kind of tired of the constant dream sequences. The Jason explained to Hoyt how he was systematically raped in Hot Shot was almost as if the writers were trying to justify it. I found that explanation more disturbing than those scenes. It's telling that Alan Ball says that's his favorite part of this season. The potential romance between Jason and Jessica is very promising, though. I'm looking forward to that as much as I am to Sookie and Eric finally getting it on.
How drunk do Alex Skarsgard and Stephen Moyer look?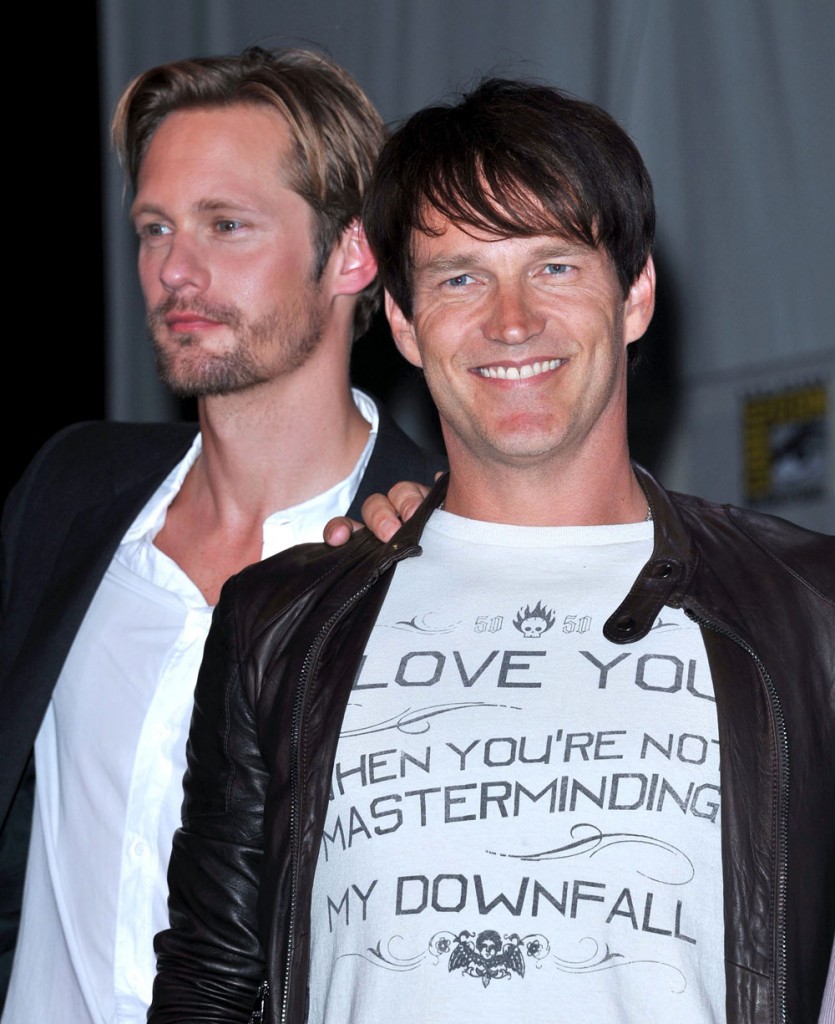 Also, Deborah Ann Woll's outfit is adorable. She's so pretty.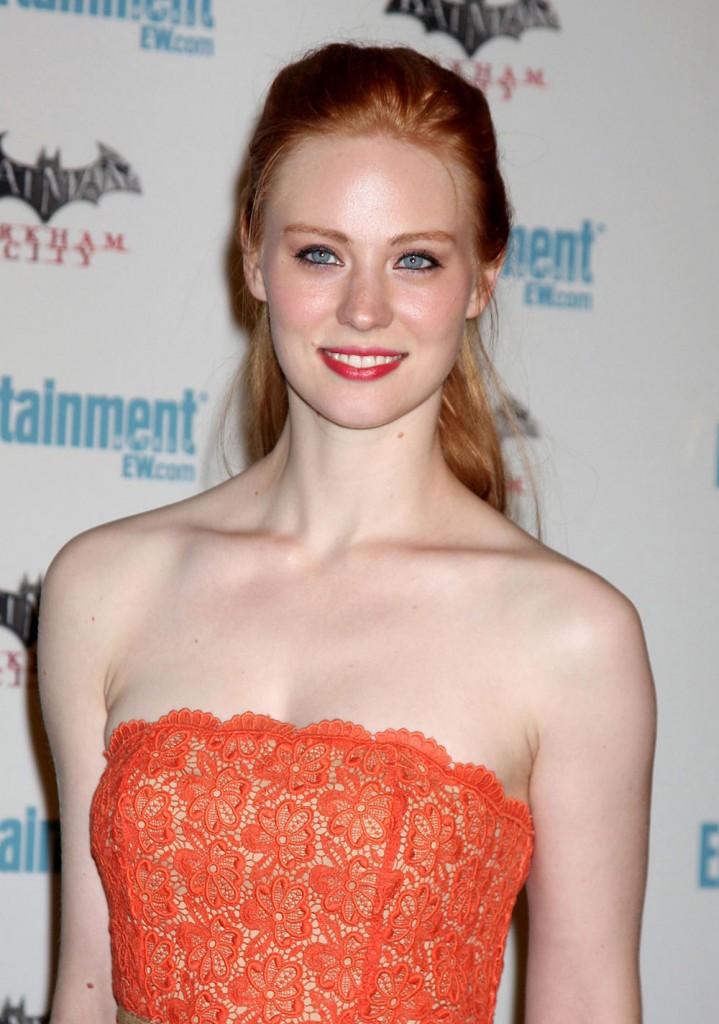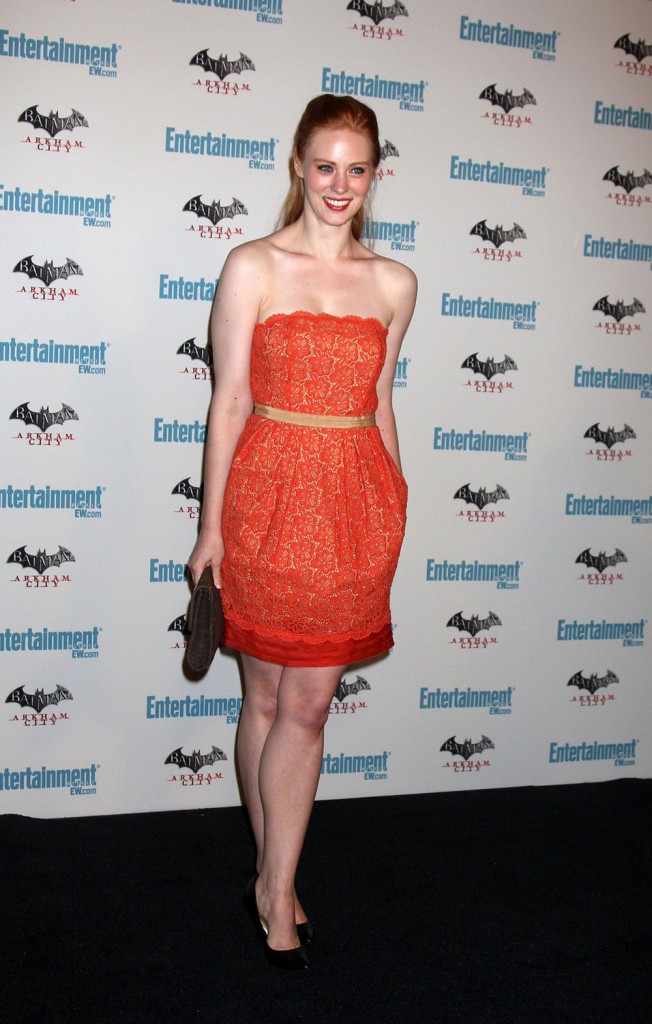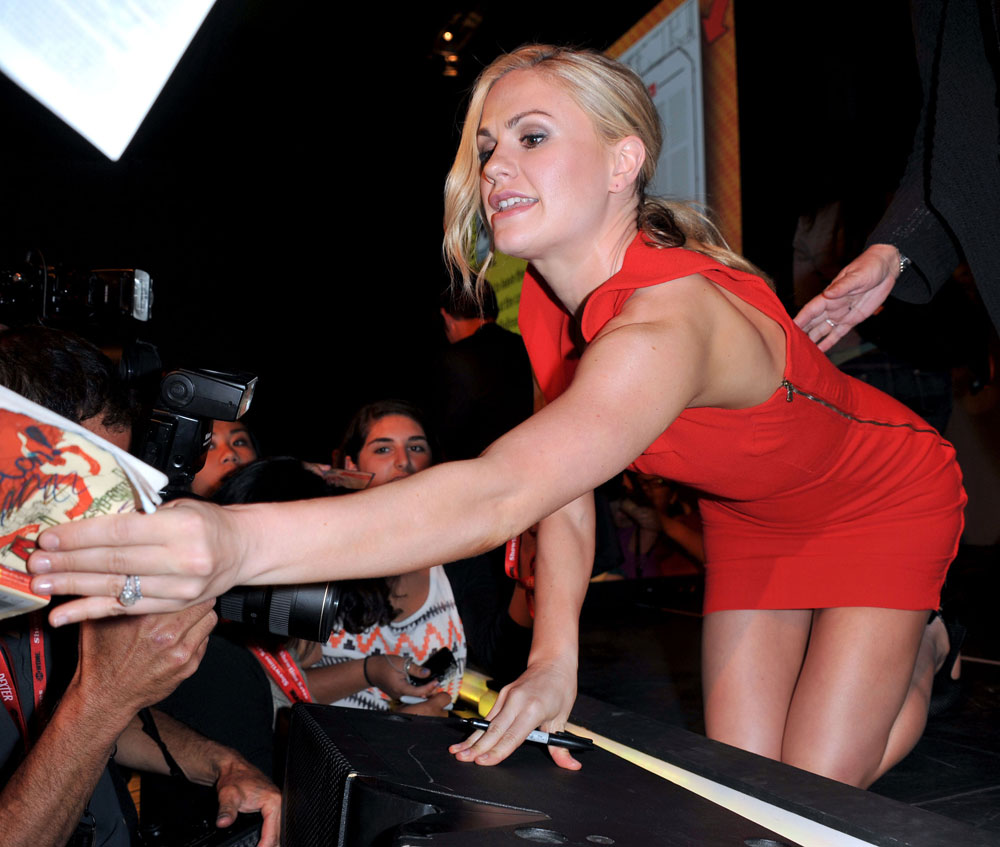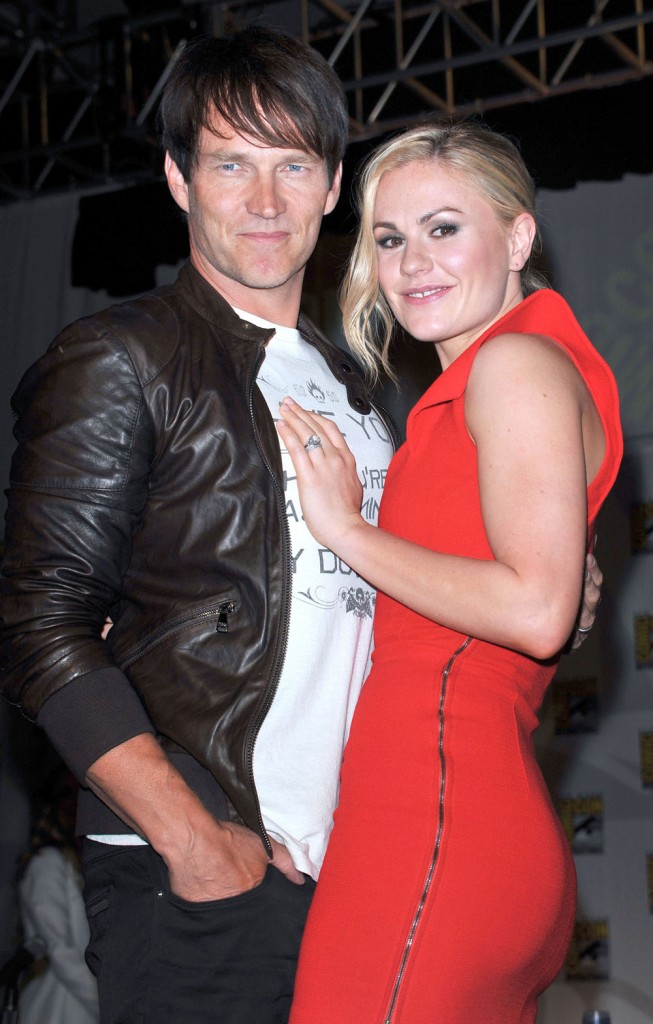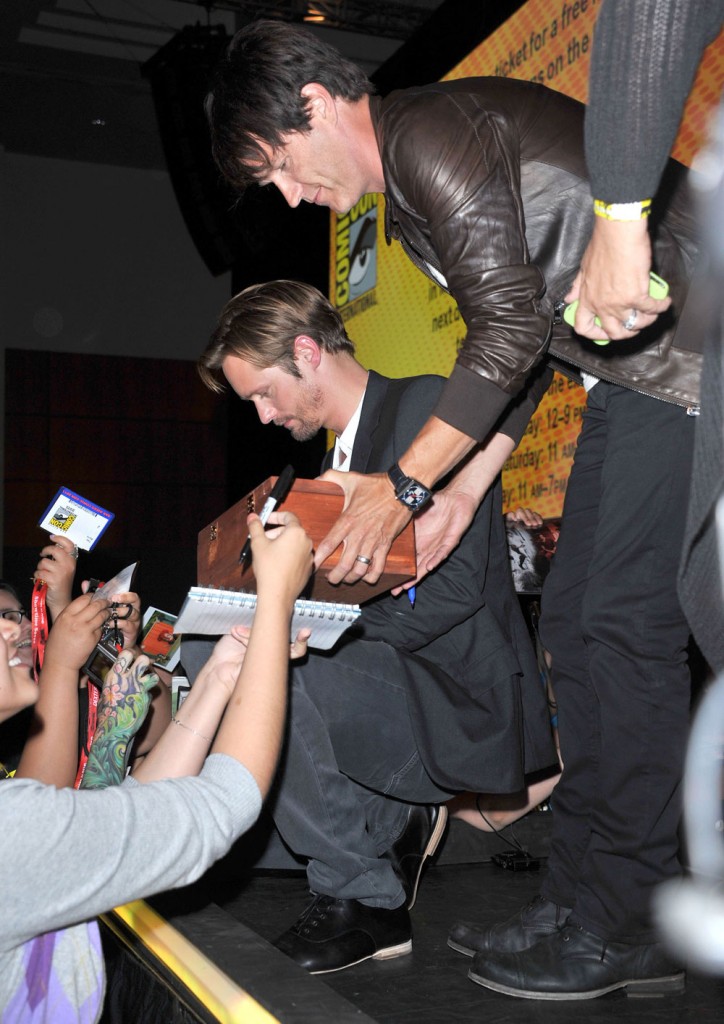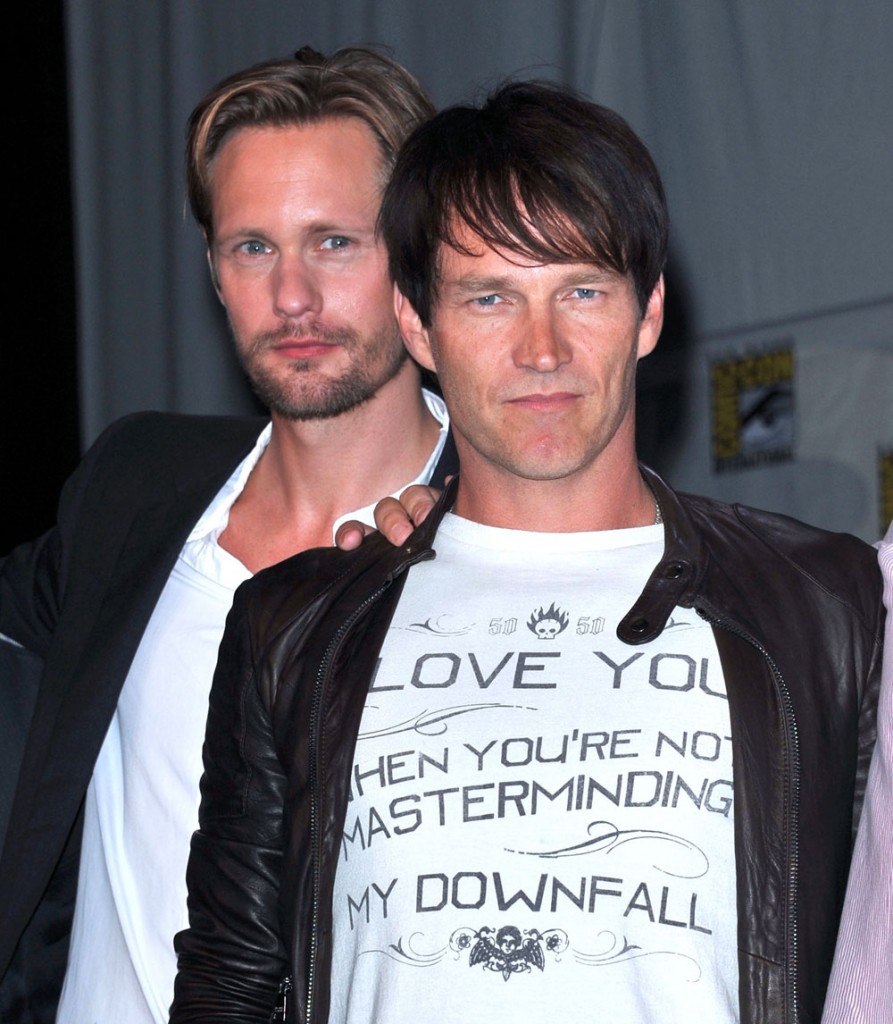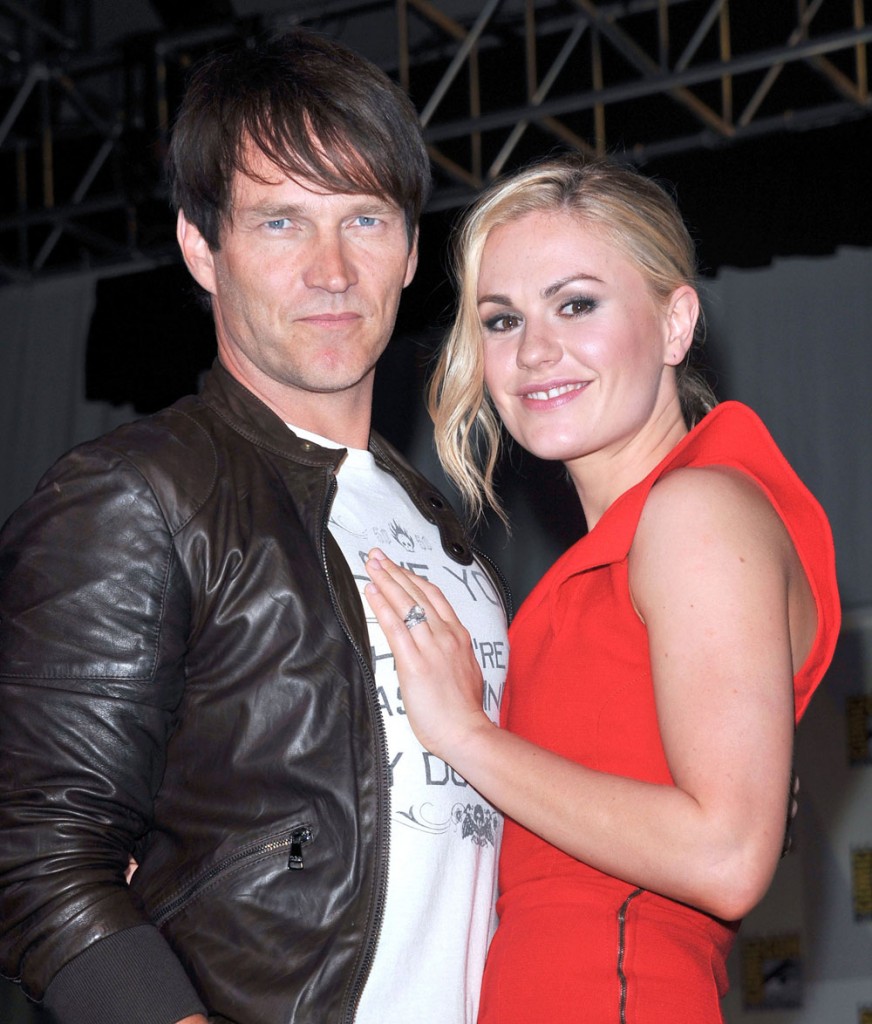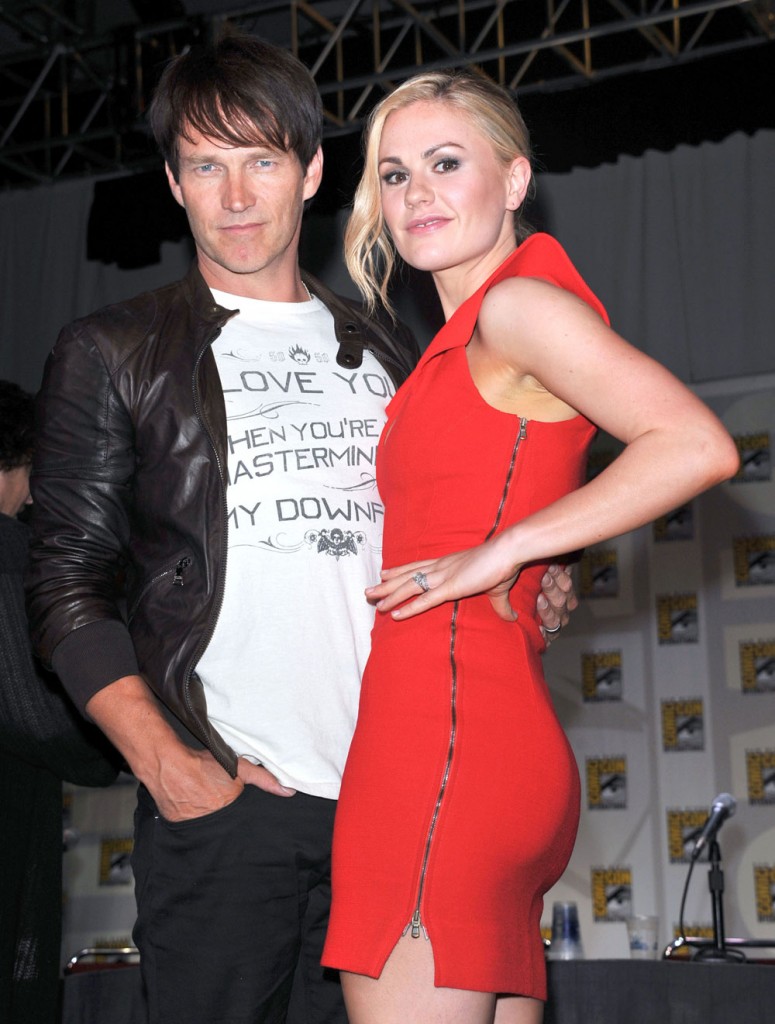 Photo credit: WENN.com