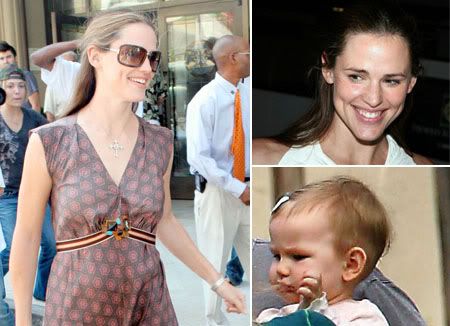 Jennifer Garner was photographed out and about the past few days. Hoards of paparrazi followed her as she went to a hotel in Santa Monica to relax with a friend on Saturday. She was also seen in a parking garage on Friday, and out visiting friends with adorable Violet on 9/14.
Garner's husband, Ben Affleck, has revealed that he deliberately took a two year sabbatical after several of his movies flopped. He is now starring in "Hollywoodland," in which he gives a critically acclaimed performance as doomed 40s Superman actor George Reeves. He said:
"I wanted to take a break and keep things quiet. I made the decision to just do the kind of movies that I wanted and that I could be proud of."
Affleck has also praised Garner in recent interviews, calling her spectacular:
"My wife is a spectacular mother. A spectacular everything!"
Affleck is a lucky guy, and he must be doing something right if he got Garner to marry him.
Despite recent speculation (uh, by me,) Garner does not look pregnant in these recent candids.
Pictures from Jen-Fans.org