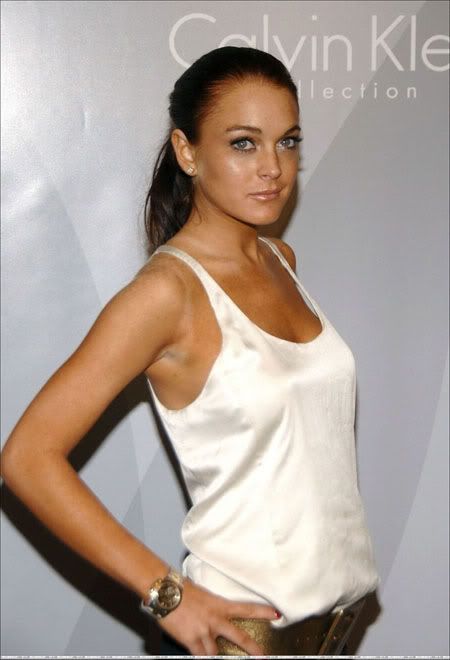 Lindsay Lohan showed up late to her mom Dina's birthday dinner and was loudly overheard telling her to "go to hell" before she stormed out of the restaurant. The two were fighting and screaming at each other, and after Lindsay was gone and the cake came out her mother burst into tears:
The two began cursing each other in front of other patrons in the crowded Chinese eatery, including Ryan Cabrera, Brandy and Serena Williams at nearby tables. "A mortified" Lindsay finally told her mother to "go to hell!" before she exited. After Lindsay left, Dina started "crying and shaking . . . Dina typed vigorously on her BlackBerry for 45 minutes while her friends were just sitting there, and when the birthday cake came out, she broke out crying again – even louder."
(Reported by Page Six on Saturday, September 16, 2006. Permalink no longer available.)
The NY Post also suggests that Lohan's mom is a coke addict. They say she went to the bathroom five times and was sniffling a lot. In true style, Lindsay was seen out partying with friends later that night. While she supposedly looked like she had been crying at one point, she still managed to go to a Calvin Klein party and to club Bungalow 8.
The next night Lindsay met with one of her all-too-freuqent mishaps. She "slipped" and fell at a Fashion Week party, fracturing her wrist in two places. She is considering suing Milk Studios, where the accident happened:
Lohan's publicist, Leslie Sloane, confirmed to
Access
Saturday morning that Lohan had in fact fractured her wrist in two places after suffering a fall at the Milk Studios in New York, where she was for a Fashion Week week event.
According to Sloane, while walking in an outdoor area in flat Channel boots, Lohan slipped. Her driver took her immediately to St. Vincent's. Her mom drove in from Long Island to the hospital (and has been with her ever since).
Sloane also tells Access Hollywood that "there's a pending investigation," because Lohan claims that Milk Studios didn't take adequate precautions to cover the slick ground. A message was left for Milk Studios for comment on Saturday, but Access Hollywood was so far been unable to receive comment.
Sloane added that her client had been scheduled to go back to LA for movie meetings, and that her "lawyers are looking into" the situation because the accident may have affected her ability to work and attend some of the meetings.
It seems like it would be foolish for Lohan to sue the venue for slipping. She's known for her clumsiness and it might come out that she was drunk and/or on drugs at the event. She needed stitches in her shin back in February after slipping on a flight of stairs and breaking a teacup. She was at British pop singer Ryan Adams' house at the time and claimed that she was wet and slippery after taking a shower.
Here's Lohan putting on a happy face after the huge blowout with her mom at the Calvin Klein party on Thursday. Her fake tan needs some work.
Thanks to Linds-Lo.com for these pictures.