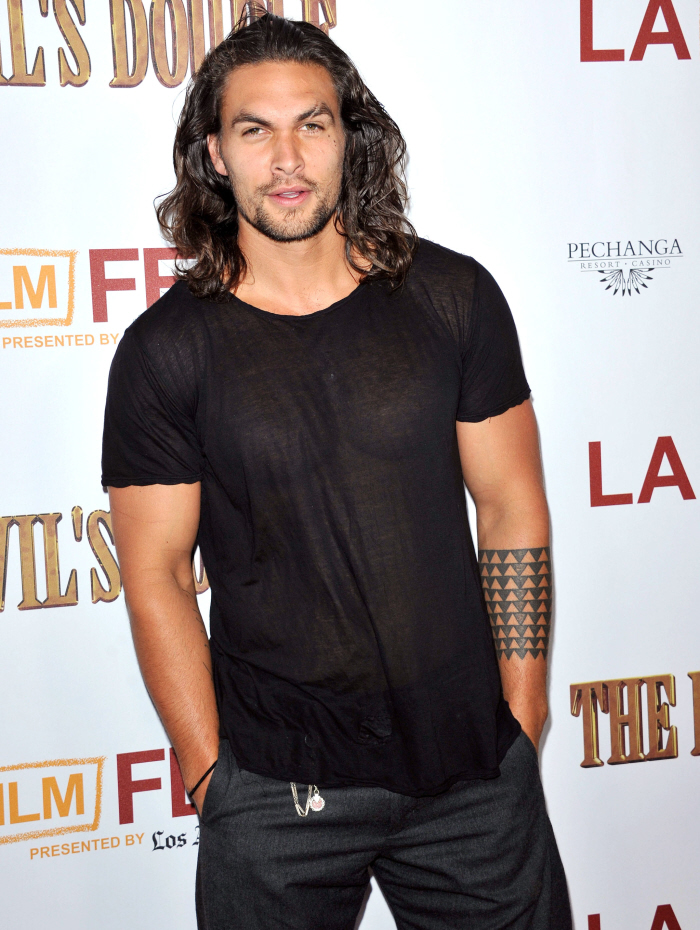 Maybe I'm just using this new interview with Jason Momoa as an excuse to use a lot of photos of him looking sexy. Perhaps. Or maybe I find his words fascinating, because I imagine him whispering all of this in my ear before we go up to the hotel room for sexy times. Whatever you want to think is fine with me. Anyway, Jason was at Comic-Con, I think for both Game of Thrones and Conan the Barbarian. Unfortunately, there aren't a ton of photos of Jason from Comic-Con, so I'm making do with what I've got access to. I think this interview was conducted at Comic-Con, and it's all Jason talking about his amazing body:
Getting in shape for the lead role in the remake of Conan the Barbarian was no easy task for Jason Momoa. The Honolulu-born Game of Thrones actor and model endured a grueling 6-hour daily exercise regimen to play the iconic action hero played onscreen in the '80s by Arnold Schwarzenegger.

"We do two hours of sword work first … then have a little break, eat a broiled chicken, do two hours of weight lifting and have cardio," Momoa, 31, told reporters at a Comic-Con event in San Diego. "Then I'd go home and basically the best thing I could do is sleep and rest."

The routine helped the 6'4″ actor bulk up from 210 to 230 pounds.

"His diet consisted of basically chicken breast and peanut butter," producer Fredrik Malmberg said. "Peanut butter for energy on set because you burn a lot of calories … and not to lose the muscle and the mass that he built up."

When the film's shooting finally wrapped – the finished version opens in 3-D on Aug. 19 – Momoa hightailed it to Italy for some serious carb therapy.

"I flew straight to Rome and just [ate] pasta," Momoa said.

And it was a long time coming. "During the last week of shooting, all Jason was talking about was the amount of food he was going to consume as soon as it was over," said his leading lady, Rachel Nichols, who plays Tamara in the film.

When Momoa returned to the small screen to portray Khal Drogo on HBO's fantasy hit Game of Thrones, the actor put on another 10 pounds – this time of fat.

"I wanted to put fat on top of it so that [Drogo] would be seven feet tall and really, really big, because he's not sitting around doing sit-ups," Momoa says of his current build.

How'd he do it? Said Momoa, "I just ate Guinness [Stout] and pizza."
[From People]
Jesus, he's big. He's 6'4″! And he's all muscle too, just one big, thick, gigantic, throbbing muscle. I need to stop. I won't be able to concentrate all day, thinking about Jason and how he's throbbing. GAH.
So just consider this the early-morning Hot Guy Friday, y'all. You are welcome.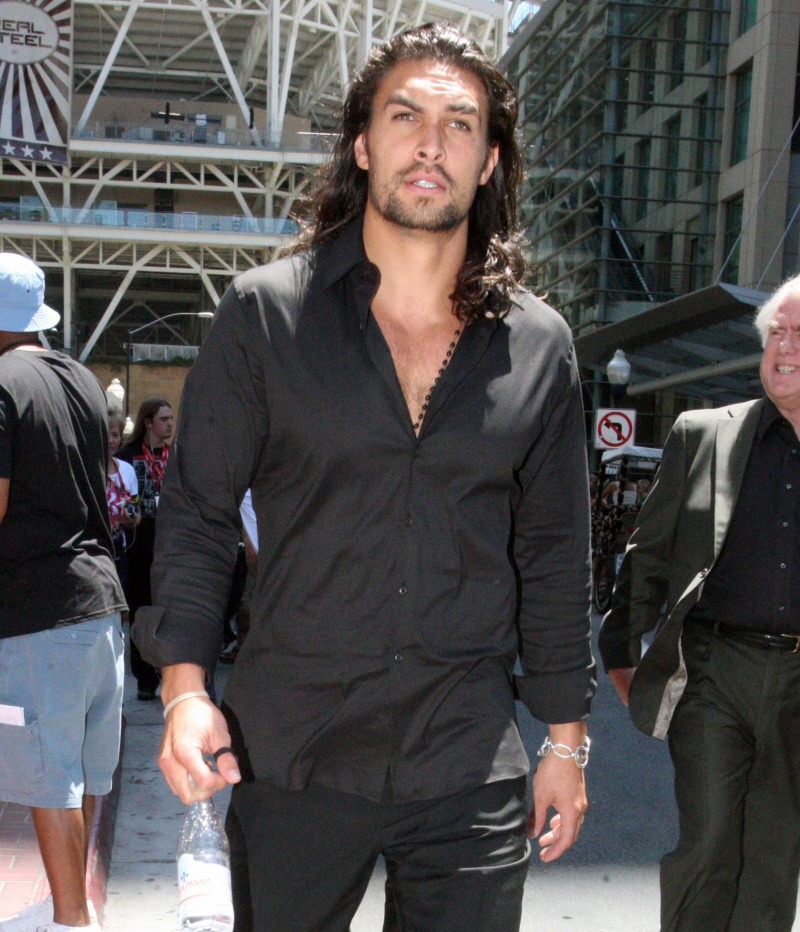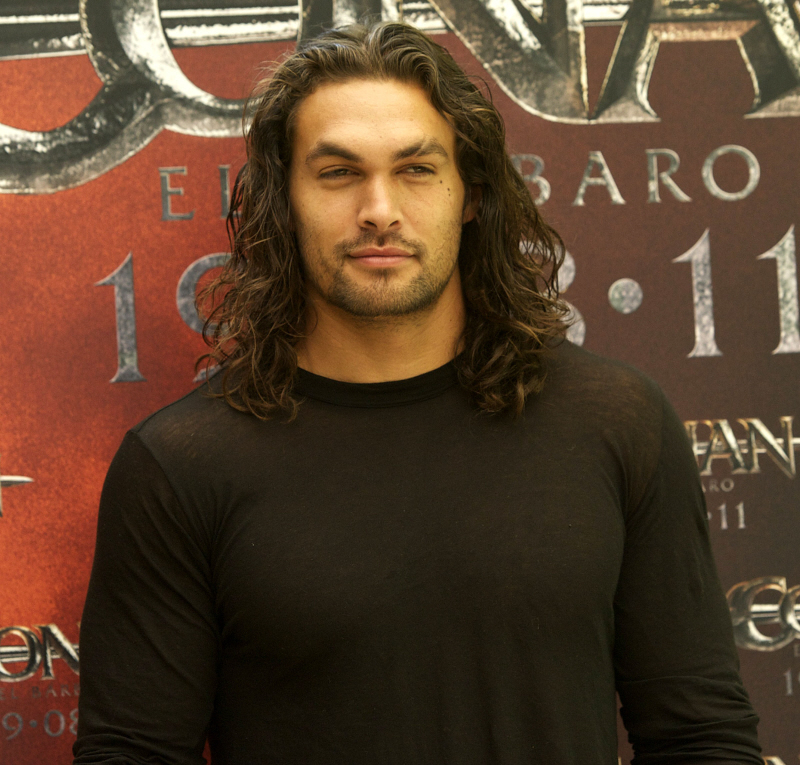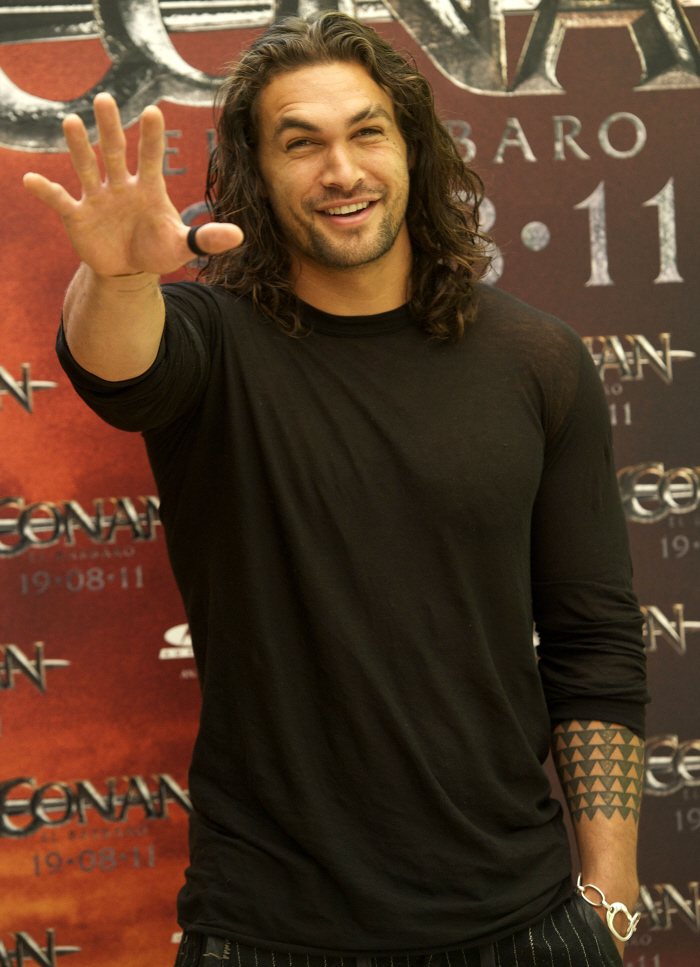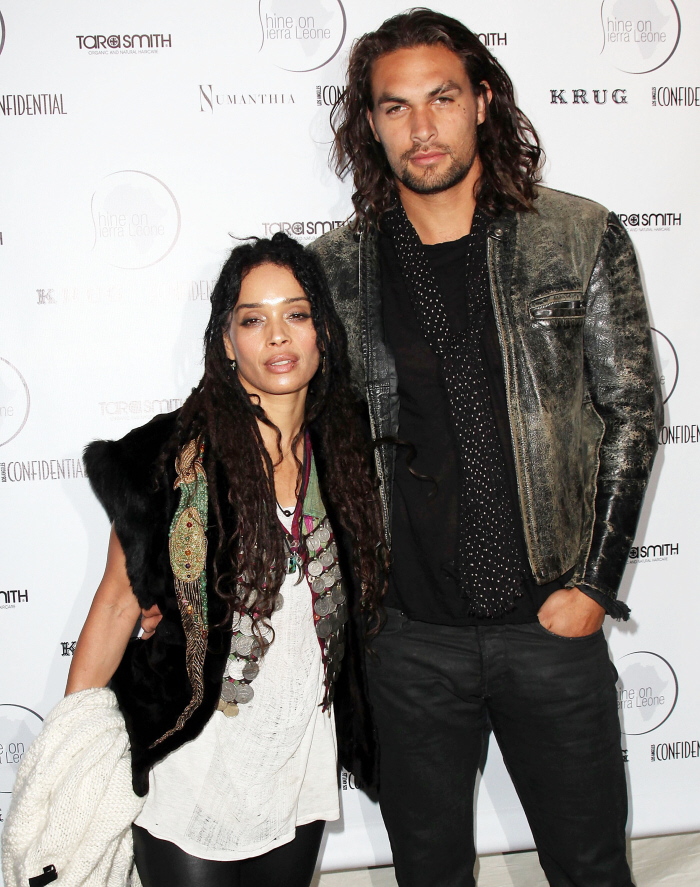 Photos courtesy of Fame & WENN.