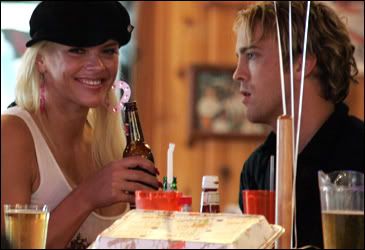 Larry Birkhead, said to be the father of Anna Nicole Smith's newborn baby, claims that Anna fled to the Bahamas to avoid custody issues over her newborn. She has since split with Birkhead and is said to want to have nothing to do with him. It's clear he just want to be involved in his child's life, but he should not be talking to the press this soon after the tragedy:
"The reason why,
I was told, she went to the Bahamas was, I guess if a baby is born in the Bahamas and the mother is a resident of the Bahamas, I think it would be harder for a father who wanted to participate in a baby's life to be able to do so
," Birkhead said in the interview…
"For about 21/2 years, our relationship was personal," Birkhead said. Then Smith broke the news that he was to be a dad – and everything changed, he recalled.
"I've been told that I was the father from Anna. She said, 'We're having a baby,' and ever since then, my life has been totally different," he said.
Birkhead said he spoke to Smith the day before the baby girl, Hannah, was born and was hopeful that at the last minute, she'd change her mind and allow him to witness the birth…
"I've had to look on Anna's own Web site and pay $4.99 a month to get updates about the baby," he said.
He was shocked to hear about the death of Daniel, whom he described as a healthy college kid who regularly lifted weights and was in the process of choosing classes at Los Angeles Valley College. He called rumors surrounding his death – such as a drug overdose – "crazy."
Birkhead has no idea what Smith is feeling at this point, given the unimaginable coincidence of Hannah's birth and Daniel's death. "It's like something out of a bad movie," he said.
Birkhead longs to see both Smith and the baby, saying he wants to be an equal supporter.
"They're thousands of miles away and I don't know who's holding the baby, who's taking care of it. If you're hearing crazy things like Anna's memory loss, that right there signals to me that there is a need for the father more than ever," he said. "Being shut out like that, you just have to hope."
At this point, this is probably the least of Anna's concerns and this guy should know better than to blab to the press. He claims he wants to take a paternity test and to help with little Hannah once it's proven he's her dad. He must be heartbroken not to have contact with his newborn, but he should be talking to some tabloid show and should have waited it out.
It was probably Anna's lawyer's idea for her to go to the Bahamas. Birkhead claimed in an earlier interview that Anna's lawyer, Howard K. Stern, was in love with her and encouraged her to cut ties with the father of her child. How would Anna know to move to a place where it's harder to claim paternity unless a lawyer advised her to do it?
Meanwhile a second autopsy on Daniel Smith has proved inconclusive. A well-known pathologist was hired to perform a second autopsy on Anna's 20 year-old son, who died in his mother's hospital room under suspicious circumstances just three days after his little sister was born.
Most natural causes were ruled out, and there is no obivous evidence of foul play. They are still waiting for results to come back on many tests:
He also affirmed findings by Bahamas investigators that foul play did not appear to be involved in the young man's death, which was labeled "suspicious" by the coroner's office because the cause was still unclear.
He said he has requested Daniel Smith's medical records from the United States and ordered further tests that could take weeks to complete. He said he had sent samples to a lab in the United States for further examination, including toxicology tests.
"I don't find anything that would cause me to believe there is something in terms of some traumatic injury that was inflicted, or somebody having done something to him in some cryptic manner that could not be observed," Wecht told reporters outside the morgue where he performed the procedure.
Daniel's remains will be flown back to California this week. There is no word yet about the funeral.