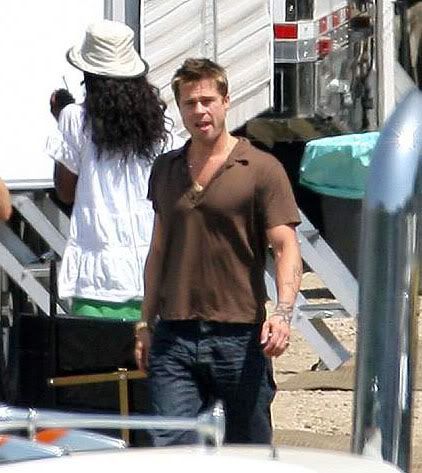 According to insiders, Paramount is set to offer Brad Pitt the lead role in Mission Impossible IV. Pitt will star in the next installment of the MI series, all three of which have featured Tom Cruise as agent Ethan Hunt. Pitt is set to play a new agent who manages his own kick-ass team.
Paramount cut ties with Cruise after offering him a contract paying less than a third of his previous operating expenses. Cruise has since launched his own production company, financed in part by the owner of the Washington Redskins.
Sources say that Paramount will give Pitt an offer he can't refuse, making him the highest-paid actor in history:
An insider told London Lite: "MI:IV will not include Cruise's character, agent Ethan Hunt.
They're considering a brief mention, saying Hunt retired to live a safe life with his new wife.
"They're set on Brad taking over as a gutsy new head operative who puts together his own unique team of specialists."
Sources say Paramount is prepared to do whatever it takes to get Pitt on board, and is even willing to make him the highest-paid movie star in history, with a salary topping £21 million. [39.4 million USD]
Pitt might be able to revitalize the MI series, which seems to be doing fine even with Cruise at the helm. MI3 did well at the box office, grossing almost $400 million, but it didn't do quite as well as backers were hoping. MI2 took in over $540 million.
Here is Pitt on the set of Oceans 13 on 8/24. [via]