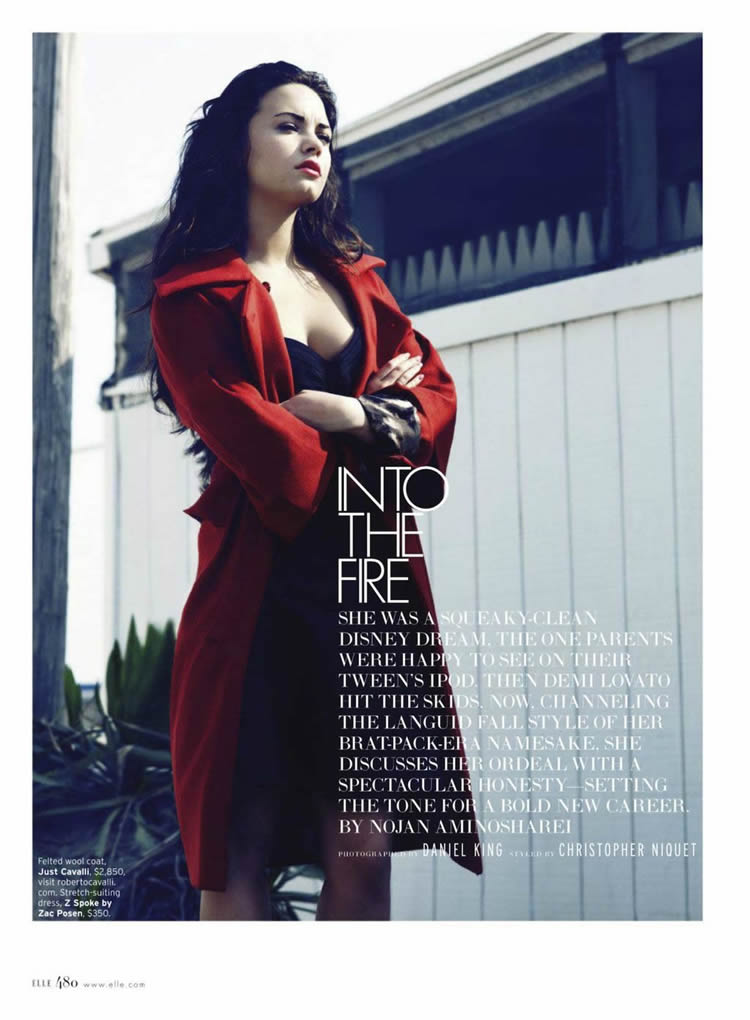 Demi Lovato did a fashion spread and interview in the September issue of Elle (the one with Gwyneth on the cover) to promote her new "Skyscraper" single as well as discuss some issues about bullying and cutting, which she's already talked about in the recent past. While Elle's stylists have gotten a bit heavy handed with the lipstick in this photoshoot, I do love that red coat in the above photo. In addition, the interview contains a few little gems, which allude to an almost unheard of concept to today's starlets; that is, personal responsibility:
On Her 2010 Meltdown: When news of her backstage theatrics on tour with the Jonas Brothers got out, the blogosphere dubbed her "Demi Drama." "I was completely out of line all summer," she says. "Just the worst attitude–totally ungrateful." During a flight to Peru, Lovato walked up to her backup dancer, then friend Alex Welch, and socked her in the face. "I just felt like she'd betrayed me," Lovato says. "That's the bottom line."

On Her Moment Of Reckoning: "When you punch someone on a plane, enough is enough," she ways. "Right after, I texted my mom and just said, 'I'm sorry.'"

On Why She Lost It: Because she and [Joe] Jonas had broken up, rumors persisted that Lovato went off the rails over his then romance with Twilight star Ashley Greene. She admits that heartbreak was an aggravating factor — she and Jonas have had no contact since — but insists the crisis ran deeper than teen angst. "I wouldn't credit my meltdown to a guy. There was so much other stuff in my life."

On Publicists: In 2008, red-carpet photos showed four fading scabs on Lovato's left wrist. Before the singer even knew the pictures existed, her PR team had issued a statement that the marks were indents from gummy bracelets. "I don't think I would have been ready to talk about [my problems] then, but I could've come up with something better than gummy bracelets. Needless to say, that publicist is no longer with us." Pause. "I mean, she's alive."
[From Elle]
While the tabloids would lead us to believe that Demi is falling back into her partying ways, I think she's far from the next Lindsay Lohan. The difference between the two girls is quite apparent in that Demi has publicly acknowledged that punching her backup dancer was out of line and completely wrong on her part. In contrast, Lohan would've claimed that she didn't really punch anyone because the paparazzi (on on airplane) would've pushed her, thereby causing the loss of balance and an uncontrollably flailing wrist. Then, she'd have sued the backup dancer for not catching her or something. While every screw up in Lohan's life is the fault of someone else, Demi seems far more lucid about her own shortcomings, and seeing the whole picture is a huge factor in recovery. If only we could just keep Demi from dating creeps like Wilmer Valderrama and Ryan Phillipe, right?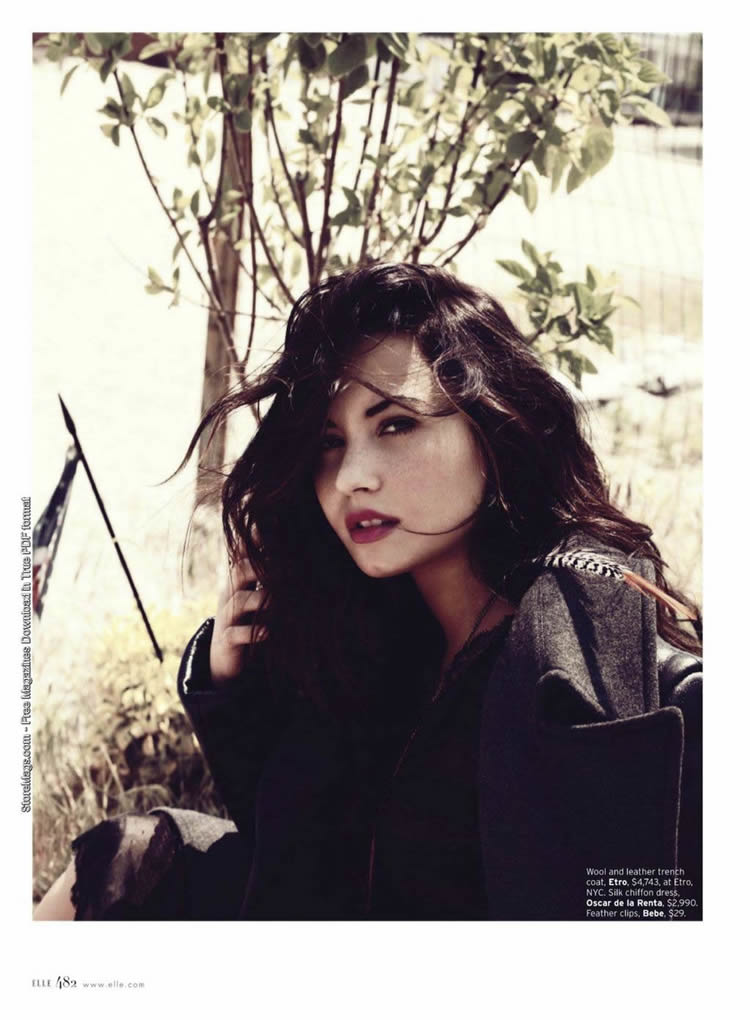 Elle photos courtesy of The Fashion Spot.