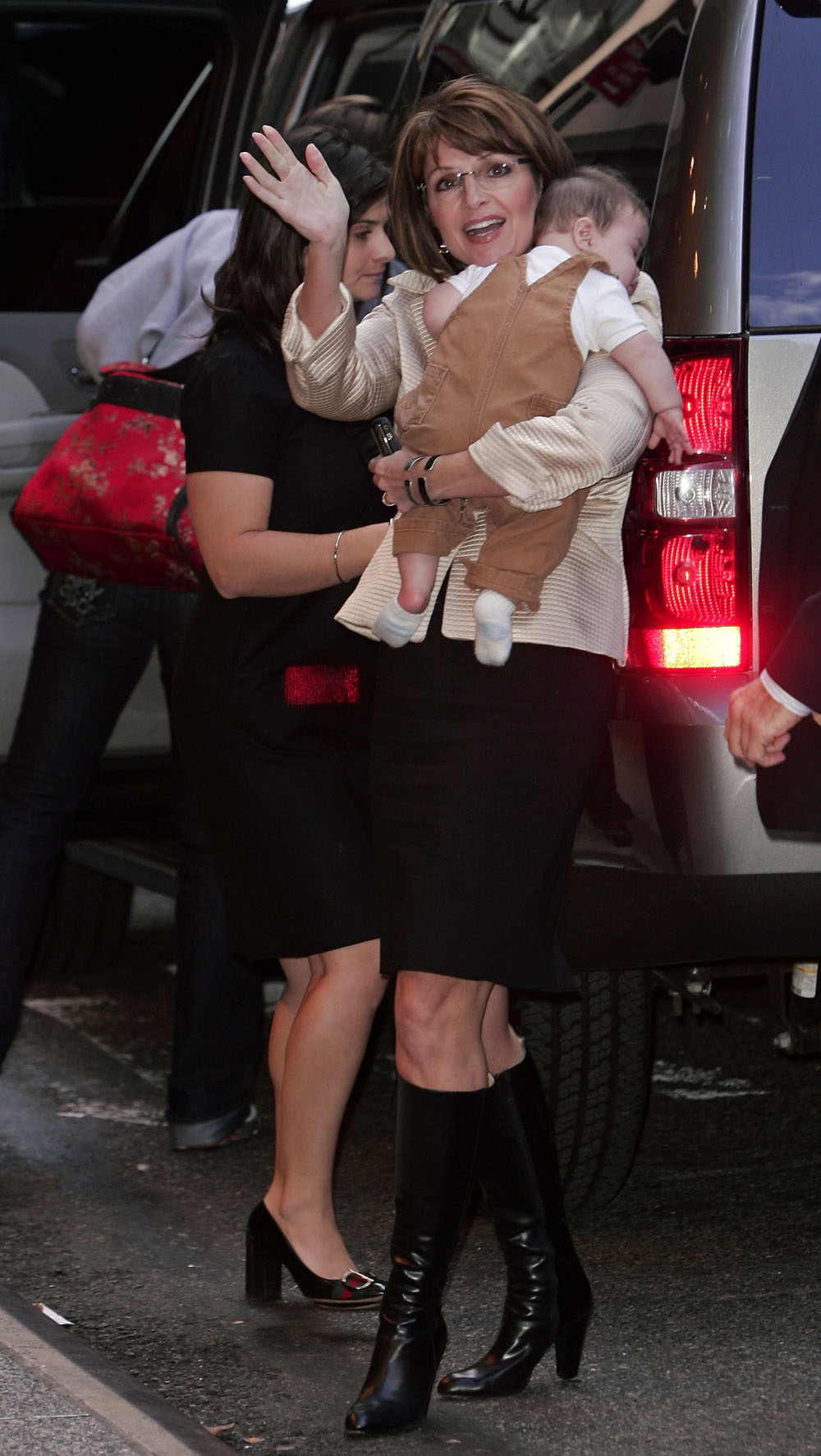 Sarah Palin is taking some serious heat over what she wears. No, not for the excess of pantsuits or those crazy glasses people just can't get enough of – but for the cost of them. Politico.com recently discovered that the Republican National Committee has shelled out more than $150,000 on Palin's wardrobe. At first McCain's office wouldn't answer any questions about the matter, but eventually gave in with some line about how it was all going to be donated to charity anyway.
The Republican National Committee has spent more than $150,000 to clothe and accessorize vice presidential candidate Sarah Palin and her family since her surprise pick by John McCain in late August. According to financial disclosure records, the accessorizing began in early September and included bills from Saks Fifth Avenue in St. Louis and New York for a combined $49,425.74. The records also document a couple of big-time shopping trips to Neiman Marcus in Minneapolis, including one $75,062.63 spree in early September. The RNC also spent $4,716.49 on hair and makeup through September after reporting no such costs in August.

The cash expenditures immediately raised questions among campaign finance experts about their legality under the Federal Election Commission's long-standing advisory opinions on using campaign cash to purchase items for personal use.

Politico asked the McCain campaign for comment, explicitly noting the $150,000 in expenses for department store shopping and makeup consultation that were incurred immediately after Palin's announcement. Pre-September reports do not include similar costs. Spokeswoman Maria Comella declined to answer specific questions about the expenditures, including whether it was necessary to spend that much and whether it amounted to one early investment in Palin or if shopping for the vice presidential nominee was ongoing.
[From Politico]
After a few hours Spokeswoman Maria Comella changed her tune, using the classic, "there are so many more important things to talk about" line before talking about what she didn't want to talk about. It was a half-assed attempt to try to make everyone else look shallow and petty for wanting to know how campaign dollars are spent instead so she wouldn't look evasive.
"With all of the important issues facing the country right now, it's remarkable that we're spending time talking about pantsuits and blouses," said spokeswoman Tracey Schmitt. "It was always the intent that the clothing go to a charitable purpose after the campaign."
[From Politico]
Thanks, that was really useful. Politico goes over several other candidates that have been given a hard time for spending campaign money on clothing and haircuts in the past. The only prominent politician that isn't on that list is Barack Obama – he hasn't billed any clothing or similar items to his campaign. Sarah Palin, on the other hand, billed some things from fancy baby store Pacifier, as well as $295 at Steiniauf & Stroller Inc. I'm sure the baby's hair had to look good on T.V.
Here's Sarah Palin in New York carrying her baby boy Trig on Saturday. Images thanks to Bauer-Griffin.