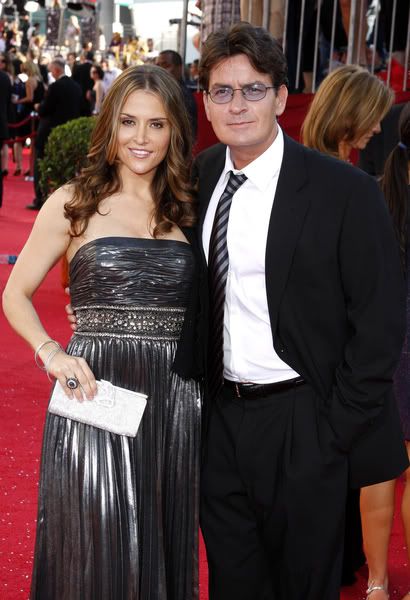 Charlie Sheen, 43, and his third wife, Brooke Mueller, 31, are expecting twins, thought to be boys. Brooke is due in April, and her mom spilled the beans to People Magazine.
"Brooke and Charlie are expecting twins, and they are so excited," Moira Fiore, who spent time with Brooke last week, tells PEOPLE. "Obviously, I am floating on air."

Fiore says that the couple "think the twins are boys" but aren't sure.

"Brooke has had all day morning sickness but is coming to the end of the first trimester so she hopefully will feel better soon," says Fiore of her 31-year-old daughter. "It has been rough for her."

Still, "Brooke looks so beautiful," adds her mom. "She is just glowing."

Sheen, 42, who is already a father to three girls, has expressed interest in having a son. In August, Brooke told PEOPLE she thought they would have a boy. "Odds are it's a boy, but we'll be happy with either sex," she said at the time.
[From People]
Sheen and Mueller join a long list of other celebrities with twins, including Julia Roberts, Jennifer Lopez, Marcia Cross, and Angelina Jolie to name just a few. Rebecca Romijn is also pregnant with twins due this winter.
There's a good reason why Sheen and Mueller keep saying they think they're having a boy/boys. If Mueller is due in April that's not far along enough to tell the sex of the baby by sonogram. Mike Walker in the National Enquirer reported in the October 20th issue that the couple opted for "sperm spinning," which is a lab method of separating the X and Y sperm to increase the odds of having a specific gender. Sperm sorting through a technique called Microsort has a success rate of 76% for boy babies and 91% for girl babies. Sheen is right that odds are on their side that they'll have a boy, thanks to some help from technology. Maybe they'll have a little girl thrown in there too! Congratulations to Sheen and Mueller. Hopefully the new arrivals won't suffer from any opposing views Charlie and Brooke have about parenting.
Charlie Sheen and Brooke Mueller are shown at the Emmy Awards on 9/21/08 and at the opening of the Yellowtail Sushi Restaurant at the Bellagio in Vegas on 8/29/08. Credit: PRPhotos.